It's time to create a new playlist titled, "Awesome", featuring three of the coolest bands around. Sunsquabi, The Russ Liquid Test, and the Floozies all came together in Morrison, CO, at Red Rocks Amphitheatre for the biggest All Goods Record Label showcase.
In case you don't know, Sunsquabi is a three-piece band made up of Kevin Donohue on guitar, Andrew Clymer on bass, and Chris Anderson on drums. They recently released their latest EP, Odyssey, with seven amazing tracks. We call them amazing, because a) we think so and b) everyone from from NPR to Sirius XM thought so too. Earlier in 2016, these "Squabcat" singers headed out on a tour with over 30 different stops, bringing their boundary breaking diversity from the worlds of funk, soul, bluegrass, classical jazz, and live electronica music to venues everywhere.
The next band on your playlist should be The Russ Liquid Test. In 2013, Russell Scott released his debut LP, Foreign Frequency, which brought together jazzy saxophone vibes with dance beats. Scott was then joined by drummer, Nick Mercadel, and guitarist, Andrew Block, to formulate their epic trio. The band just dropped new single, "Honesty", off of their forthcoming EP, 1984 earlier today and it's a banger—stream it after the feature!.
The Floozies, made up of brothers Matt and Mark Hill, were also among the performers at Red Rocks. These two have been called the "kings of electro funk" by Adam Deitch of Lettuce and Break Science—definitely showing us why during their set on the legendary Red Rocks stage. Earlier this year the duo shared who their Top 5 Must-See artists were at New Orleans Jazz fest exclusively with us (don't miss it).
This open-air theater has been considered on of the most world famous stages for decades. Red Rocks has hosted legendary performances by artists like, the Beatles, Jimi Hendrix, and even Carole King.
Now, you're getting an insider's look into the venue below.
Behind the Scenes at Red Rocks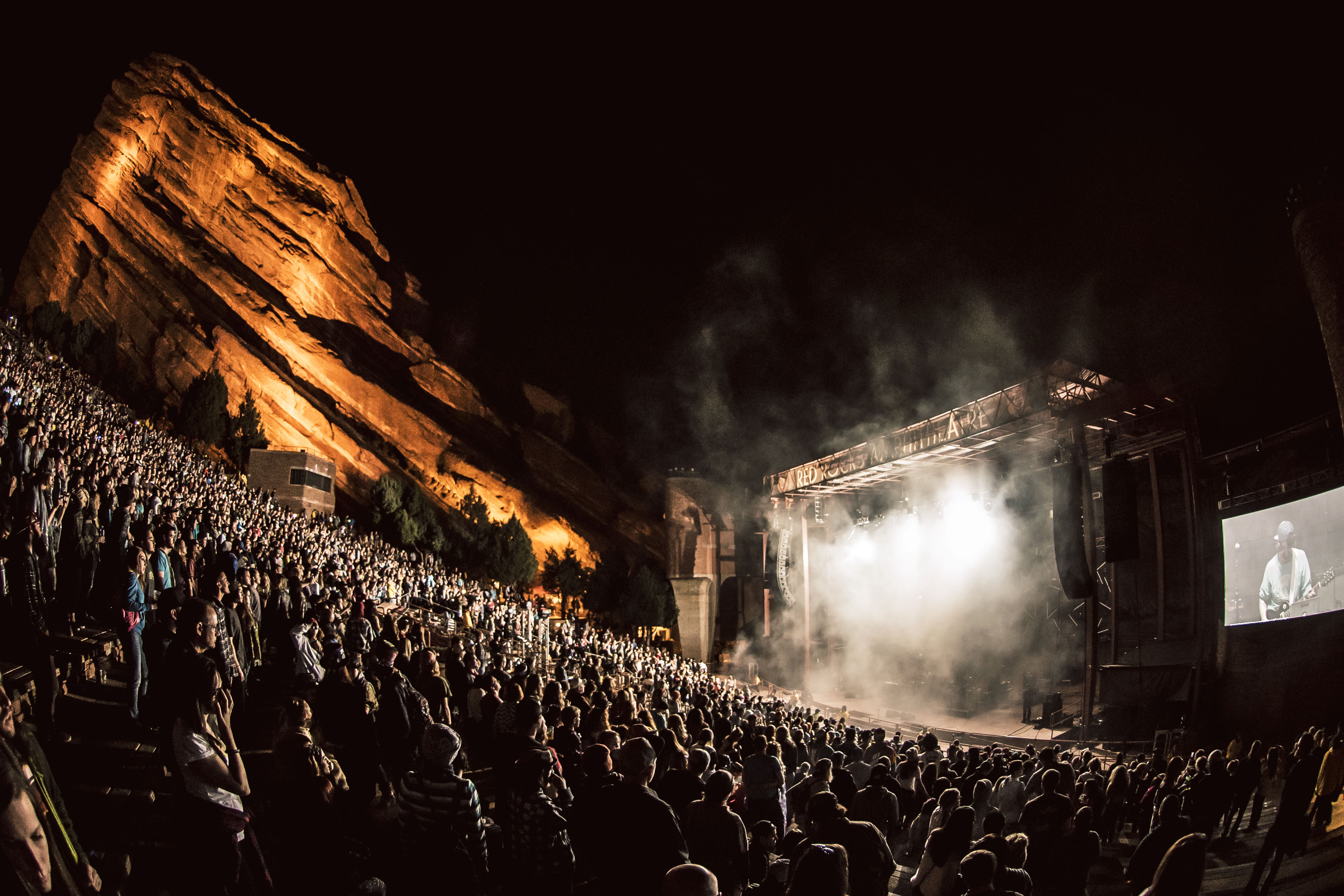 Night & Day @ Red Rocks
The Floozies Family Photo
Kevin Donohue Shredding Like It's His First Time Playing Red Rocks
Kevin Donohue's Solo Deserves Two Angle - Who Doesn't Like a Fisheye Lens View?
SunSquabi Gives Red Rocks a Light Show for the Books
SunSquabi Giving Red Rocks the Black & White Treatment
The Calm Before the Storm
The Russ Liquid Test The One Man Band
The Russ Liquid Test Oozing Swag
At Red Rocks Soundcheck Never Goes Wrong
SunSquabi Dropping New Music for the Hometown Fans
There's nothing else like Red Rocks
SunSquabi Jamming Out on the First Red Rocks Front of House Live Stream
All Good Records & Red Rocks = Perfection