The Young Wild has taken the alternative rock world by storm with their most recent EP, All The Luck, released earlier this year. The Southern California band's single "Not A One" attracted the attention of blogs and music execs right away, eventually landing the four-piece a deal with Fairfax Recordings. And when you listen to their youthful, classic rock inspired tunes, it's easy to see why they got so much attention so quickly.
The band toured with Max Frost last month, and they've given us an inside scoop on all the ups and downs, like icy roads and sleeping arrangements. They've already wrapped up their most recent run, but if you want to check them out live, Track The Young Wild on Bandsintown to stay tuned to all of their future tour updates!
The Young Wild Tour Diary
Tour, it's not a black and white ride along in a van with a few friends spreading mischief where ever you happen to land. It's a blend of every color on the palette along with a few you didn't know existed until you came across them. It's a balance between the temperamental, weary eyed, homesick, somber feelings and the enigmatic, drug-addled, lust for life mentality that will put you at odds with your bandmates and yourself. It's life of wandering, seeing every major city, and most of the small ones too, but only ever in the guise of a one night stand, rarely ever getting into a relationship with all but a few them. It is also the life I chose. Maybe I did it with a delusion of grandeur, maybe I did it with a more realistic expectation of what I was stepping into, to be honest I don't really remember, and in that vein of honesty it was probably a little of both.
(Random bathroom/smoke break in the middle of nowhere)
On this go around, my band, The Young Wild, were embarking on a relatively short run with Sinclair (if you like good pop listen to her music!) in support of Max Frost, a one man indie pop hurricane, and someone who I was a fan of before The Young Wild even formed. I was excited. And that, I cannot say, is always the case. Some tours you know just aren't going to be as good as others, whether it's attendance, the cities you're playing, the life you're leaving at home, or for any other dozens of reasons, that's just the way things go.
(Us, looking as cool as possible. We have to, we're a band)
The band is based out of Southern California, and the tour started in Phoenix and then came back to San Diego the next day. In favor of sleeping in our own beds as much as we could, we decided to drive to Phoenix the day of the show and then drive back that night. That's one hell of a commute.
Driving
(Our van, Morrison. Trailer yet to be named)
If you aren't a fan of tight spaces for long hours then don't go on the road. If weird smells and having someone fall asleep on your shoulder, lap, and just about any other part of your body offends you, don't go on the road, because a quarter of your waking life on tour is spent on the road.
In my band I'm the driver. Not to say that others don't drive, everyone takes a shift now and then, and I'm horrible at parking and navigating ice so Brandon takes over for most of those situations (if you need someone to do the impossible with a van and trailer Brandon is your guy. I tell you without much exaggeration that he is a wizard), but as far as long hauls go, I'm the guy. It's a bit mind numbing at times, but a decent podcast, book on tape, Spotify playlist, or silence will get you through most of it. Try not to be hungover when you're the driver, it's horrible. An eight hour drive is bad enough, an eight hour drive where the first half of it is spent swallowing your own throw up and wondering if the throb from a headache can actually split your skull will make it seem like one of the upper circles in Dante's Hell. But for all the advice I can give you, I, myself, rarely listen to that last bit. Every night I tell myself to take it easy and every morning I wake up cursing myself. It's not always vomit and headaches, but just being drowsy is bad enough. Do yourself a favor, go to sleep. Your bank account and your body will thank you the next day.
(Doug Fir Lounge, Portland)
Our routing on this tour took us from Phoenix to San Diego to Orange County to Los Angeles to Santa Cruz, to San Francisco up into Vancouver, back down into Seattle, then to Portland, into Salt Lake City, and finished in Denver. Most of those drives were fairly mundane. Arriving in San Diego with the sun after playing Phoenix the night before was beautiful if not tiring, and the drive from San Francisco to Vancouver, long as it is, could be the most scenic drive on the West Coast.
We really only had one scare on the entire tour, and came between SLC and Denver in the God forsaken land known as Wyoming. It's a five hour stretch of nothing, where dreams go to die. A friend of ours, TRACE, was playing Denver the night before our show and we were determined to get there in time to catch her. I got us on the road and out of SLC at around eleven am, giving us a four hour cushion for the leisurely eight hour drive to catch her set at ten pm that night.
Backtrack a few days to us leaving Portland, where we were followed out by a massive storm. That same storm went with us into SLC and then moved ahead of us into Denver. Leaving Portland it was beautiful, we jumped out of the van, ran down to a river and screamed into the rain like Lieutenant Dan in Forrest Gump. We courted the storm with open arms and huge smiles on our faces. In Salt Lake City we marveled at the size of the snowflakes that fell from the sky to greet us after the show while the whiskey we had sipped on warmed our bones. On the way to Denver however, our love for that storm turned to terror. Leaving SLC wasn't bad, snow-capped roadsides contained I-80 while snow fell off of cars in flurries and clear horizon led us on our way. Then, deep into who-knows-where Wyoming, as the sun started its descent from the sky, we started to see little patches of ice here and there along the sides of the road. I'm a stubborn guy, always have been, probably always will be, so when Brandon, who is much more experienced with driving on ice asked if he should take over I immediately said no, I was fine, how bad could it actually be.
I wasn't fine.
About an hour later I hit a bridge going seventy and started to drift. Not Fast And The Furious Tokyo Drift type drifting, but slowly sliding into the other lane without any control over our sixteen-seater van that has a huge trailer in tow is scary enough. The van gained traction on the other side of the bridge and we carried on, Brandon again asking if I was good and me stubbornly replying that I was fine. The next incline we hit we drifted two more times. Brandon told me to pull over, and I did. From there on out the conditions just got worse and worse and worse. Brandon handled them like a champ, calmly righting our course every time the van started to slide. In a few of the instances, if my hands were still at the helm, I'm confident I would have put the van on its side. With the worsening conditions, flipped semi trucks could be seen littering the side of the road and our max speed was peaking at a daring forty five mph. All that taken into consideration, we decided that an apology would be given to TRACE and we would bunk up in the college town of Laramie for the night. In the most fear-inducing part of that drive, for a brief moment Brandon and I couldn't decide whether it was easier to see the road through the windshield or passenger side window. We grabbed a few beers, some pizza and called it a night.
(Wind and rain, beautiful)
Sleep
(Our home in Salt Lake City. We are blessed to stay with same amazing people every time we play SLC)
If you get the chance, take it. It's not always easy to sleep in a van and who knows what you're going to get into that night. If you feel sleep coming on and you don't need to be awake, don't fight it, embrace it. I'm a horrible sleeper, so I spend most of my time on the road somewhere between drowsy and down right exhausted. The other members of the band are better at it and better off for it; those bastards.
Sleeping arrangements change on a nightly basis. One day you're in a relatively small, untraveled area where hotel rooms are cheap, so you get two rooms for the price of one. Everyone gets a bed. You're gods for the night. Other nights, to save money because you got two rooms a few days back, you stay with a friend and end up sleeping on cold subway tile wondering if you're going to wake up with pneumonia or Dengue Fever or some wild sh*t like that. I've never woken up with Dengue Fever, I consider that a win. Other nights you think you're sleeping in your hotel room but end up-out-until-sunrise-on-some-sort-of-stimulate-before-crashing-at-a-relative-unknown quantities-place-then-frantically-searching-through-your-text-messages-for-the-hotel's-address-that-the-rest-of-the-band-is-staying-at-so-you-don't-have-to-send-that-shameful-morning-text-asking-for-said-address! You don't live those down. At times a stranger will also randomly be in your room when you wake up. I usually use the age old technique of ignoring them and hoping they just disappear. All that being said, sleep when you can.
(Bryan and Marley. Marley is a gentleman and a scholar that hails from just outside of Portland)
For the most part we're hotel sleepers, but when we can, we'll bunk up with a friend or relative. It's saves a bit of cash and there's something endearing about sleeping in an actual home while on the road. Relatives are usually the most comfortable bet when it come to sleeping arrangements. They're probably a little older and have chosen a more stable life than the pursuit of happiness and glory on the road.
The idea of waking up to coffee and home cooked meal, having a space of your own to sleep in, and all the other creature comforts that come along with a home is hard to turn down when the only other option is a small hotel room, burnt coffee, and rubbery eggs. Hell, I have long hair, so not using hotel shampoo and conditioner is a enough put a smile on my face. Friends are the other option, but their living arrangements might not be quite as hospitable as an aunt or uncles. They may or may not be gainfully employed and probably don't have as large a living space as a relative would, but it is free and they probably keep good coffee on hand along with cheap beer and some passable booze. Take the good with the bad and make sure to bring a sleeping bag and a pillow so those cold subway tiles aren't quite as chilly at 4 am.
The Show
(BZ during Soundcheck)
On every tour, for every show, every venue is different. Size, layout, stage, merch areas, green room (or lack there of) and one hundred other things will change nightly. That being said, most places don't really standout, which, in the end, isn't a bad thing. Only the extremes standout, the really good or the really bad. There are some venues that will treat you so well, with showers and massive green rooms, a whole crew to help you load in and load out of the show, and a spread of booze and food to keep you happy on the most draining of days. Those are the venues you that will always make you smile and always make you want to come back. Then there are the opposites, the ones that make you want to call in sick. They have green rooms that could make most dungeons look accommodating and crews that like to watch you work and give you disdainful looks when they are asked to help. Maybe you'll get a bottle of water for the show, then again, maybe you won't. Those are the places that make you cringe when regaling your friends with stories from the road. I'm not going to mention any venues, good or bad, but if you've been on the road, you know exactly what I'm talking about.
(Green room vibez)
(Bartering)
The day of a show is a hurry up and wait affair. Getting an entire band up and out the door before 10 am is a monumental task that is rarely achieved. More than likely the drive to the next city is going to take a few hours at the very least. Tack on an hour or two for gas stops, bathroom and smoke breaks, maybe coffee on the way out of town or lunch somewhere along the way, and you have a good chunk of your day already accounted for.
When you actually get to the venue, hustle all your gear inside, and then parked the van in an all too tight space on the street, be sure find a comfortable place to sit down, because it could be a while before you actually get to do anything else. There is a loose time frame laid out for load in and soundcheck along with a concrete timetable for the start of the show, but if someone is running late to load in or the headliner decides to take an extra hour to sort out some sound issues it's on you to wait patiently for your turn. And again, every night is different, so you can't just wander off to say hi to a friend who lives in the neighborhood or find a coffee shop to hunker down in and wait.
Just because the band checking before you took an hour longer than scheduled the day before doesn't mean they won't end right on time today. If you aren't there to get onstage for your sound check when the headliners tour manager says you're up, you're just shorting yourself on time. We learned that the hard way on one of our first tours. We loaded in, parked the van and scattered in different directions expecting to sound check to be thirty minutes late as usual. It wasn't. We showed up back at the venue to a smug and angry tour manager telling us we had fifteen to get onstage, get a soundcheck in, and then get back off. That, my friends is an impossible task, hence the smug look on the tour manager's face. After that night we haven't left the venue until our soundcheck was done and dusted.
Merch is seen to after soundcheck. It's a huge part of revenue, a bit of a pain in the ass, and the best way to connect with fans. You're sweaty and tired after having been going since 10 am, it's now 11 o'clock at night, and the last thing you want to do is chat with strangers. Those strangers however are your life blood, especially in the early days. They'll come to all your shows, offer you places to stay, buy you food and drink and eventually seeing them time and time again, become friends, to the point where seeing them actually brings a smile to your face. No matter how tired and antisocial you're feeling towards the end of the night, be sure to show face at the merch booth, its more than worth it.
And after that, after all the people have left and the lights are on, it's time to load out. Don't complain about it or half ass it, just put your head down, get the gear into the trailer and get the hell out of dodge. On that note, have a routine for the trailer pack, every piece should live in the same spot every night, trust me when I say that it will make the process infinitely easier. That done we like to find a nice late night spot that covers all appetites, whether it be food or drink. It's a nice way to top off what is usually a tiring and stressful day. Because tomorrow, well, tomorrow you get to wake up and do it all over again.
(Load out Part 1)
(Load out Part 2)
I've been saying this for a while now, but my favorite part of tour is the day before I leave and the day I get back. It's not that I don't love the road, but it's not the fairytale that everyone thinks it is. When I come home from the road and jump back behind a bar, music does not sustain my life just yet, all of my coworkers ask for the wild stories from, what to them, is the great unknown. I tell them about my select few nights, but in reality you can take the saying "sex, drugs, and rock 'n' roll" switch out sex with long hours and drugs with hard work and have a much more accurate statement for life on the road as a young band. Hopefully I can come back to this in a few years and read it from the bunk of our massive tour bus while we drive through Europe, but until then, this it, this is us chasing the dream. So if you do see The Young Wild coming to your town, stop by the show, sing a few songs with us and say hi at the merch booth after. We could always use a friendly face when we're on the tour.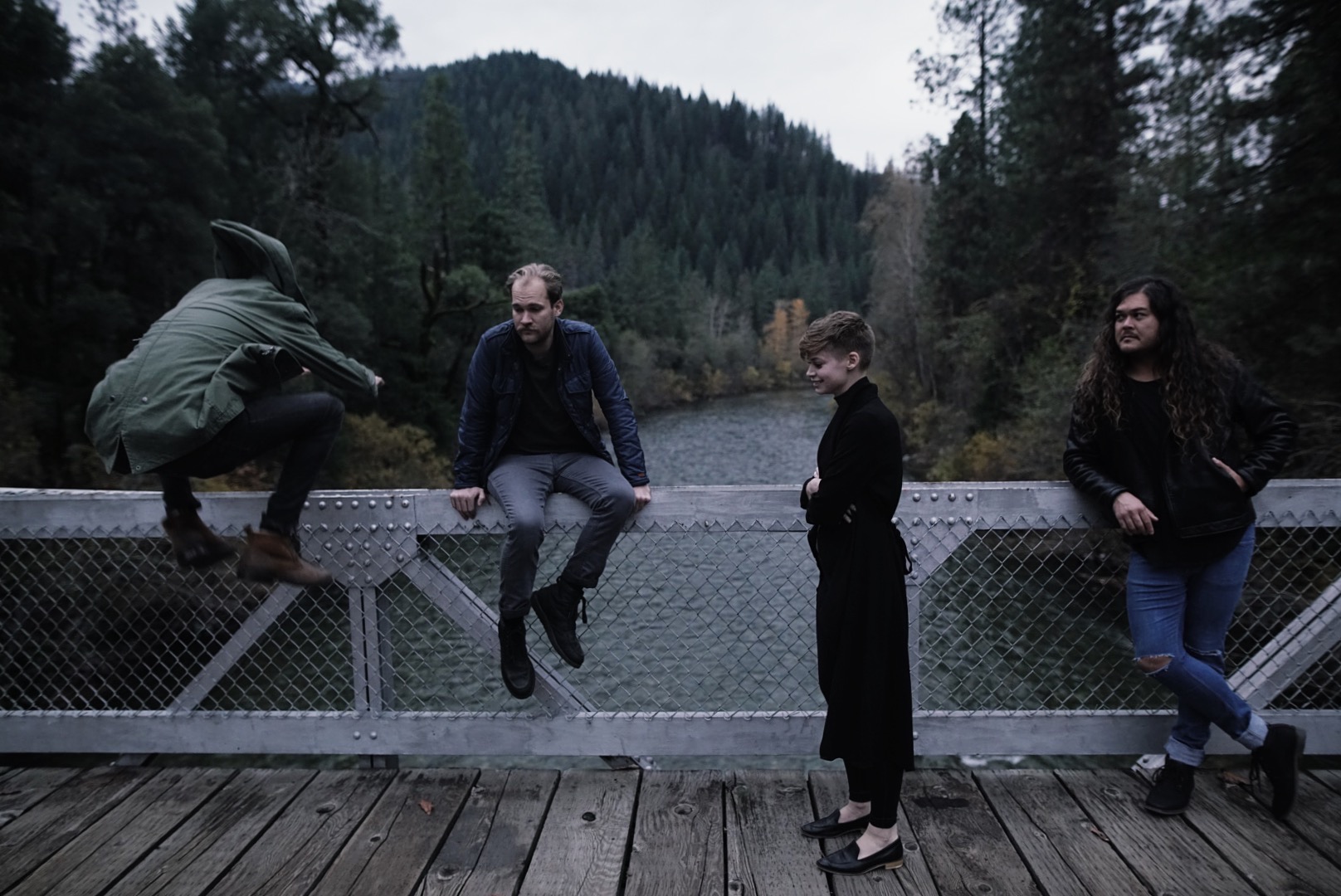 (Until next time, thanks for reading)
-Gareth Moore, bass player for The Young Wild