Plague Vendor have been touring nonstop since their album BloodSWEAT dropped in March, most recently wrapping a trek up the West Coast with hardcore punk pioneers, OFF!. For their journey from San Jose, CA, to Portland, OR, drummer, Luke Perine documented what went down exclusively for Bandsintown, giving us a peek into what life was like on the road for the four-piece.
From In-N-Out to dive bars, the Whittier, California natives did it big. One of the many highlights? At their show in Orangevale, the lights went out at the venue and they played the end of the show in the dark. Please find us something more rock'n'roll. By the time they reached the City of Roses, Perine's cymbal was on its last leg, and as he put it, "sounded like a broken trash can lid".
Check out the rest of the adventures that Plague Vendor had on their six-date mini tour, and then make sure to track them on Bandsintown to find out when you can see them live!
11/9: San Francisco @ Slim's
This was a weird day, and a weird day to start a tour. We had KCRW on during the drive up the night before and listened in shock as Trump took one state after another. Waking up and walking around San Francisco that morning felt bizarre. The city was quiet and I don't think we said much to each other either. The show went off well that night at Slim's, and it was good to see my brother, Lee, who was in town. Also, I met the singer of Death Angel that night, he was there to see us.
11/10 - San Jose @ The Ritz
One luxury of this tour was the short three/four hour drives between cities. We always had time to refresh in the hotel or walk around the city before shows. With time to kill, Jay went on a hot streak of lottery ticket scratching, fueled by Slurpees and Pacifico. Our friend Bori came to the show that night and surprised us with a flier he made. The performance itself had more intensity and we were in our rhythm.
11/11 - Los Osos @ Sweet Springs Saloon
This was my favorite show of the tour. It was at a dive bar and it reminded us of our Whittier spot 'The Frog Pond' where we often shoot pool and become degenerates. The bar was fully packed before we even made it to the little stage. The sound was loud and people were singing along to us and wearing our shirts. They didn't want us to stop. Naturally, OFF! turned the room upside down.
11/12: Ventura @ The Garage
On the way down to Ventura we stopped off at Pismo Beach so Brandon could take a swim in the ocean. We followed that up with a session at In-N-Out. Our friend Garrett put us up for a couple nights at his place in Ventura where we all lost our minds. I need a witness to help me write down what happened in those two days. I do remember that the show was on fire again. We tried out a new song, and Brandon was ripping the panels out of the ceiling. A fan came and shot what had to be over fifty Polaroid shots without us knowing. That was a highlight.
11/15: Orangevale @ The Boardwalk
We rolled into Orangevale, over by Folsom Prison. This was the first night we all didn't go out after the show. I know I was on a bitchin' hangover from the weekend but in good spirits. Brandon climbed up onto the lighting rig above the stage during our second song and something caused the lights to all cut out. We played through the rest of the set in the dark.
11/17: Seattle @ El Corazon
Everyone was feeling fresh again in Seattle. Garrett, our residing Ventura brother flew up to come party for a couple more days, revitalizing the mood. We had lunch at a ramen spot and it ripped mine and Jay's stomachs to shreds. We were both holding it back during our set. I paid a lot of attention to Keith's (OFF!) stage presence this night. They were touring to promote his autobiography, My Damage. I had finished his book by then, so his performance took on more meaning to me that night. After the show he came into our green room to talk, and he generously signed my copy of the book, "LUKE. DON'T DO IT! -KEITH MORRIS."
11/19: Portland @ Hawthorne Theater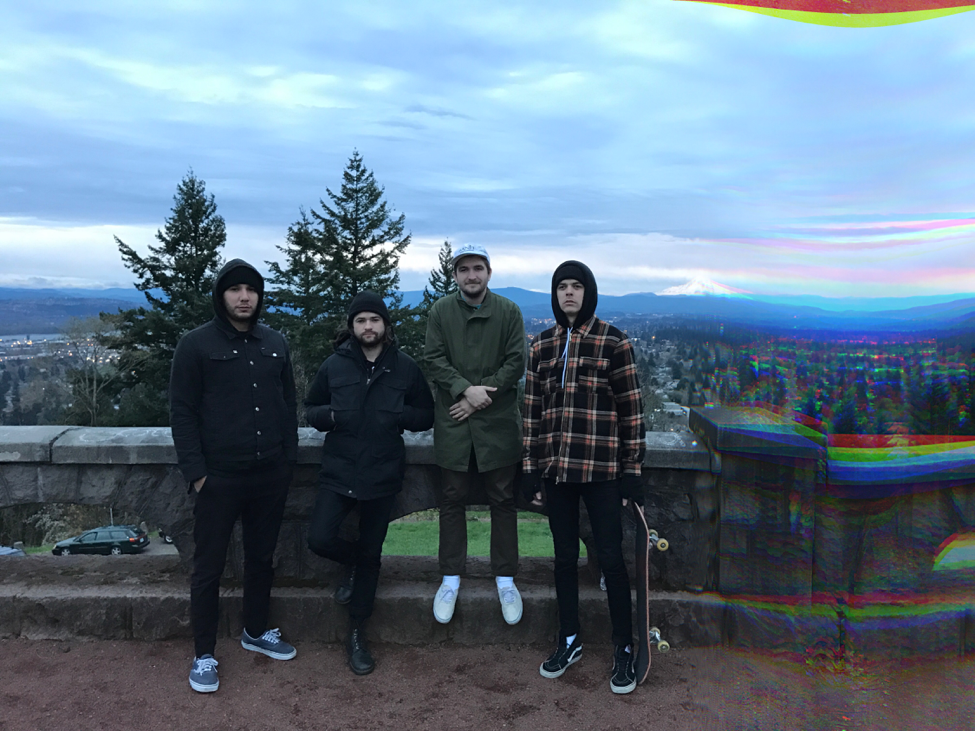 This was the final show and we let it all out on the stage. By then my cymbal was fully destroyed and sounded like a broken trash can lid. RIP to that thing. Some of us went to a bar after saying our goodbyes to OFF! and dropping off the gear at the hotel. We sat in that bar, and as Keith puts it, "shredded our brains with alcohol" and relished in the glory of being in a traveling band.