The story behind American Wrestlers is an interesting one to say the least. The now four-piece was originally created as an anonymous project by Scottish multi-instrumentalist, Gary McClure, as a way for him to record new music on old-school devices that he picked up at a pawn shop when he moved to St. Louis. Having had recently moved to America from Manchester to be with his soon-to-be wife, Bridgette Imperial, he grew as a musician and songwriter thanks to the music scene in the Midwest—a new type of environment for McClure.
Now, the quartet, including Imperial, and with the addition of Ian Reitz and Josh Van Hoorebeke, have two studio albums under their belt, the most recent of which, Goodbye Terrible Youth, was released earlier this year. Touring in support of the album, the "Vote Thatcher" quintet has visited everywhere from Canada to the southern United States, all the while documenting their travels exclusively for us. Check out their tour diary below, then make sure you don't miss American Wrestlers on the January tour extension in 2017!
Nashville, TN
Before we headed to the venue for our first show with Sunflower Bean and The Lemon Twigs (all round nice folks).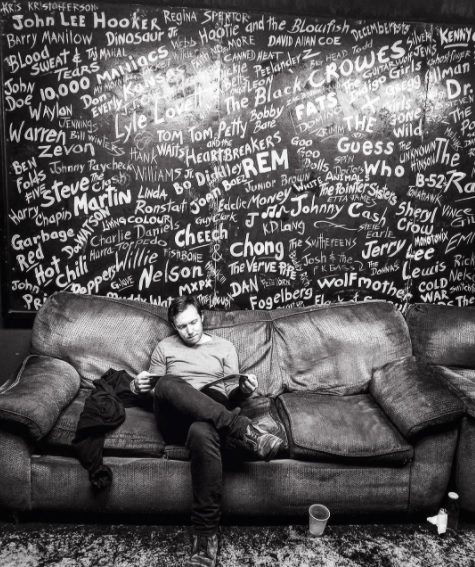 The walls of the backstage area were wrote over with the names of all the bands who played the same stage over the years. I like REM. Tony Bologna took the picture above where I'm pretending to read about Ariana Grande.
Greenville, SC
​We stayed with Lin Young and Tom Goss of Shit Karate. They had to shrink us down to get us into their tiny house so that Bridgette could play the tiny piano and we could sleep on their tiny beds. Unfortunately the shrinking ray doesn't work so good on their dog Hank. We watched the documentary Urgh!:A Music War and I realized that everything every band has been doing since has been a waste of time and how it's all been done better before.
Chicago, IL
​Electrical Audio. We stop off between tour dates to film a music video with Ryan Ohm for our song "Give Up". Here's Josh with a mask we found there that looks suspiciously like the kind Ty Segall sports. It makes him look like an actual wrestler and that he might hurt us, so he had to take it off.
Omaha, NE
On the roof of the apartment building where we are crashing with the band Varsity after our first show with them. While we were admiring the view, the drummers of both bands disappeared only to be spotted on top of the rusty old water tower that was connected to the highest point of the roof. It was pretty deadly looking and these dudes were doing handstands and backflips up there like it was a bouncy castle. It's a nice looking city and they got the best views of it, for sure.
Minneapolis, MN
​Morning after show. Josh heads out for an early morning stroll with another canine friend into the seclusion of the frosty woods. He said he was trying to get some fresh morning air. I think maybe all that "Sword and Scale" we had been listening to in the van was starting to take over his mind a little.
Toronto, ON
​Josh, Ian and some Varsity guys in the smallest backstage area in the known universe. The picture is taken from the dressing to stage doorway with my back to a sea of angry fans who are tearing the place apart looking for us.
Montreal, QC
​I deliberately slipped with my electric razor in the hotel bathroom so that I had to finish it off and shave my entire head while the band wondered what was taking me so long in there. I had woken up with such a strong compulsion to do it but without any good reason. Then I put the clipped hair in a pile back on my head to try to look like someone from one of those young and handsome hip bands that all the girls like.
Brooklyn, NY
​The bluest stage. Baby's All Right. May have been one of my favorite all time shows for a whole number of reasons. The lights on the back wall of the stage are made of a whole bunch of ashtrays with old motel brands and slogans printed on them. We loved playing this show so much that the next morning we threw all of our shoes up in the air only for them to get tangled in these overhead wires outside Dalton's place in ChinaTown. We needed those. We really did.
Washington, D.C.
​Misfits. DC9: We don't take many family photos but the holidays were coming up so we thought it'd be nice
Then Bridgette told us our fortunes from this wheel hanging on the backstage wall. Mine said "You are fond of outdoor sports" which couldn't be further from the truth, but, just in case it really was predicting a future of exercise and socialising, I took it out to the alley and set it on fire
​Morning after show. We headed to the Dupont Underground to film a live session with David Ross who is a DC based artist and flimmaker. There used to be an underground train the ran through these tunnels which have been converted into spaces for artists since the abandonment of the trolley system. The natural reverb was huge and unexpectedly beautiful sounding
Lakewood, OH
Josh finds unexpected single-sleeve-art on toilet stall door. Sometimes this music band sh*t is too easy.
Chicago, IL
​On route to Chicago. IL for the last show of the first stretch of the tour. This might be the 7th truck we saw that had slid off the highway. We were rolling along at below 40 with these crazed fools rushing past us. A few miles down and we would see them with their taillights pointed to the sky.
That's all for now. See you in a couple, for our drive South then up the West Coast and back. (Above: Outside Empty Bottle, Chicago IL)