Before leaving NYC for Houston on Friday, my weather app alerted me that it "felt like 15". I welcomed the 60-degree jump with open arms as I trekked down south for the second annual music and arts festival, Day For Night.
As someone who frequents a fair amount of art exhibits, installations, and galleries, this festival spoke to me in a way that others hadn't before. Putting visual art and music on equal pedestals, the organizers knew that intertwining the two would give rise to an unrivaled sensory experience. They. Were. Right. I quickly came to realize that this two-day event was a beast of its own, deserving its own category within the seemingly endless festival landscape.
The Venue
Playing host to the digital affair was the Barbara Jordan Post Office, a historic, sprawling landmark located downtown, and the space is massive. With countless rooms on two floors and square footage for days, the venue was able to give art installations the room they needed for viewers to interact the way that the artists intended. While it felt like you could lose your way at any moment, the dark-hued lighting and the mystical, looping background music made it feel as though you were navigating through space, searching only to discover more and more rad landmarks.
Art Meets Music: Prime Example, Nonotak
Diving headfirst into one of my favorites from the weekend, was an experience by someone who represented everything that Day For Night stands for: audiovisual performance duo, Nonotak. Made up of illustrator, Noemi Schipfer, and architect-musician, Takami Nakamoto, the French-Japanese pair served up two offerings for the masses over the weekend, their HIGHLINE V.1 light installation, as well as a 7:00 p.m. performance (both days) of "Shiro". Catching the latter was the best decision I've made in a while, and highly suggest anyone going to see it if it's being shown anywhere near you. DJing in adjacent areas within a massive "X" structure, the pair created an experience filled with mind-bending visuals and electronic music that suspended time and distorted reality.
Banks, The Girl Who Broke My Trance
As I wandered between art and music, I found myself in a constant trance from checking out work by visual artists such as Golan Levin, Michael Fullman, Tundra, Ezra Miller, and Jesse Kanda. At one point I broke out of it, and sprinted to the main stage (aka the Red Stage), for Banks' set, a performer who I consider to be the Daria of pop music. The "Trainwreck" singer strutted onstage in an all-black, baggy pantsuit with two backup dancers cloaked in mesh entrapments. Her glitchy productions were even more hard-hitting live, something that was apparent as she sang and danced her way through the second song of her set, "F*ck With Myself". Her movements were reminiscent of '90s Madonna, a theme that was only carried out further by her stylistic choices.
Nick Murphy Is Gold.
I stuck around this stage for Nick Murphy (Chet Faker), the multi-instrumentalist who simply cannot do wrong. Bopping from the keyboard to the guitar to the mic, the Australian performer was profusely sweating—a testament to his dedication to live shows. The second song, "Gold" (which I like to think was written about his voice) radiated throughout the downtown area, and acted as a metaphorical "WE'RE HERE" to the city of Houston.
Blood Orange? Tropically Nostalgic.
Blood Orange hit the Green Stage, where he made sure that throwback vibes were represented in full force. Not only is he a singer-songwriter, but Dev Hynes (his real name) is also one of the industry's leading producers. It makes sense then, that he has the hottest beats and strongest backing band in the game, which churn out music that I like to describe as "tropically nostalgic." His saxophonist is a force to be reckoned with, as well as his backup singers, who on their own, rival some of the best out there.
Seeing ODESZA For the First Time
Despite countless festival experiences, I had never seen ODESZA live before. I hunkered down for the 90-minute set with no expectations, attempting to push all of my friends' opinions and comments out of my head to be able to formulate my own take on the Seattle two-piece. What won me over? Everyone in the audience dancing like they were in their own music video. Acting out, "Say My Name" and "Sun Models" like they were Britney Spears at the 2001 VMA Awards, the crowd was moving more than at any other show in recent memory. The best part? After playing a few new songs, they brought out a five-man drum line for their song "Bloom", which a. they absolutely murdered and b. made me want to re-watch Nick Cannon's 2002 film ASAP. Check out footage from that moment here.
Aphex Twin's First US Performance in Over Eight Years
Whisperings could be heard all day from people in attendance vexing one another, asking what they thought the notorious prankster and electronic producer had in store for fans. Rightfully so, as this was the English composer's first US show in more than eight years. While Aphex Twin is still known to play in his native EU fairly often, his cult following on this side of the pond has been waiting on pins and needles for this day to come. When he finally took the stage for a headlining slot, it was revealed that the artist would be playing from behind a massive screen, made up of 11 smaller ones depicting militaristic imagery. Only photographers were able to catch a glimpse of Richard David James in the flesh from a side angle in the pit. Mysterious as always, the "CHEETAHT7b" creator played a two hour set of hits from his sweeping discography, in the rain, giving way to an epic, wet rave that will go down in dance party history books.
Björk Digital, Björk Forever
How does one follow up an insane day like Saturday? By participating in Björk Digital's Virtual Reality Experience, naturally. When I signed up for my 3:00 p.m. slot, I had no idea what to expect from the 80-minute reservation. Myself and 24 others were led to a room with 25 stools, VR glasses, and headphones for each of us. After being instructed on how to use the oculus toys, we put them on and were welcomed to the iconically eccentric singer's world. With my jaw dropped for the entire duration, I was given an first-hand understanding of just how tightly the art, music, and tech worlds can be woven. Black Lake, Björk's first-of-its-kind immersive film for MoMa was the first of six VR experiences that participants would watch, with one of the last being Notget VR, a clip which I'm still trying to wrap my head around. The takeaway from this hour-plus-long joyride? How groundbreaking the Icelandic singer is in this field, and how she embodies what it is to be a true artist.
Mykki Blanco. Enough Said.
Switching up the vibe completely was Brooklyn rapper and LGBT icon, Mykki Blanco. When I walked up, he had stripped down to just a wig and a pair of blue soccer shorts, which were also quickly removed. Dancing around in his underwear he said to the crowd, "I ate too much BBQ yesterday," followed by, "What do I think I'm doing?" while covering up. Both hilarious and inspiring, the "I'm In A Mood" mastermind is one of the most raw, lyrically sound emcees in the game. Cutting the backing track from time to time to freestyle over silence, his skills shine through his effortless delivery. Songs like the one he dedicated to an "ex lover who got caught in the system" to his YouTube-banned track, "Loner" made this set a stand out.
Kamasi Washington is a Musical Wizard
The definition of a true musician, Kamasi Washington took to the Red Stage for his set with a saxophone slung over his shoulder—a sign the Los Angeles native was ready to rumble. Those in attendance looked on with delight when Thundercat (who performed on Saturday), joined the other members of the backing band unannounced. The "Change of the Guard" performer was met with a roar of applause and cheering as he asked the crowd, "Whatup, Houston?" The jam session that went down after that was epic beyond belief, as his back-up singer, keyboardist, and horn player all shone with their solos. Kamasi's face said it all as he watched the synth player with a face that said, "Yas. Kill. It."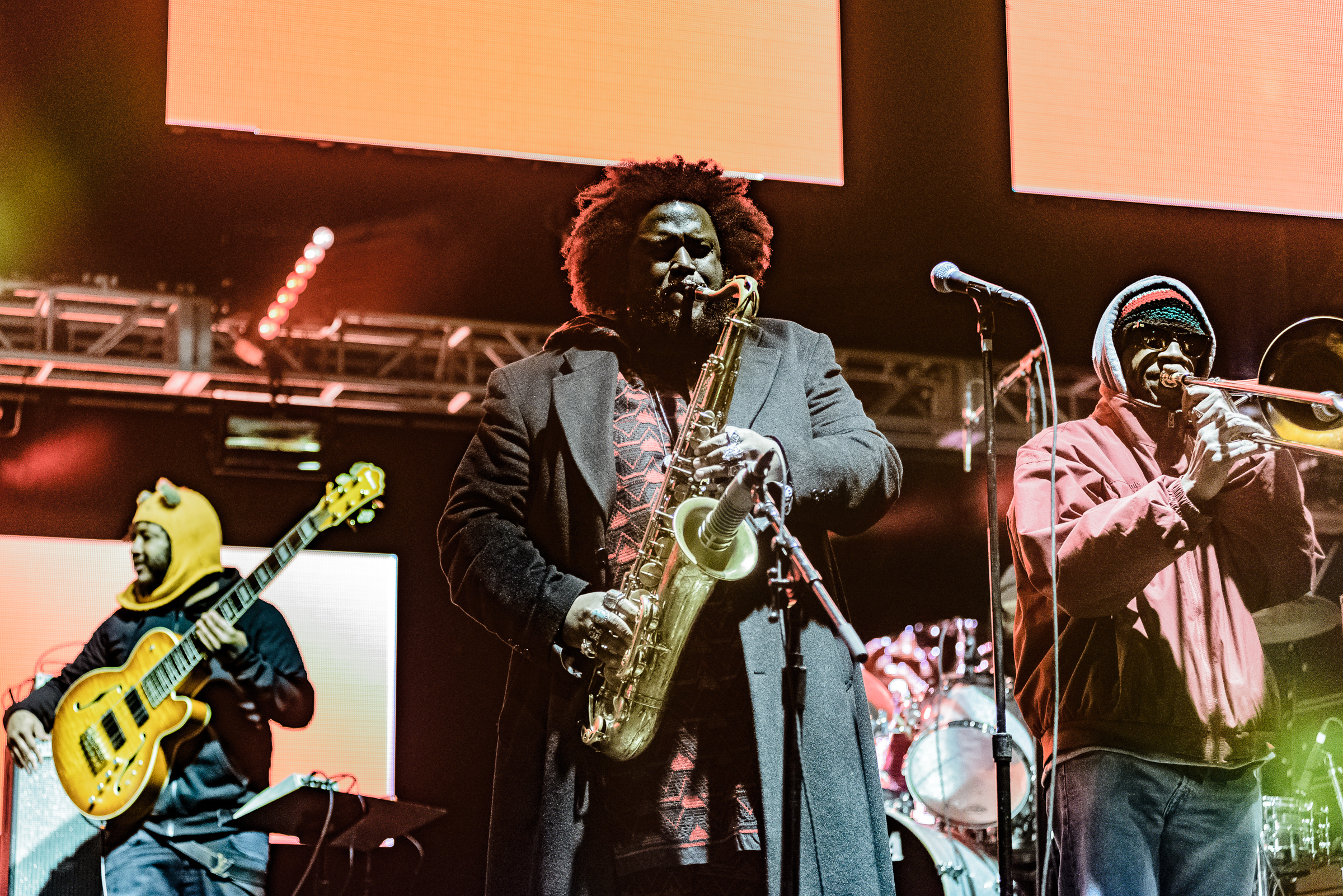 The Legend That Is RZA
The legendarily badass frontman of the Wu-Tang Clan kicked off his set in the most unexpected way possible—a cover of Nirvana's "Smells Like Teen Spirit". With Stone Mecca providing support throughout the set, the duo moved right into GZA's "4th Chamber" on which he provided a verse in 1995 along with Ghostface Killah and Killah Priest. OG fans in the audience could be seen smiling from ear to ear, rapping right alongside the New York-born musician.
Little Dragon Heats Up The Frozen Crowd
Self-describing their sound as "Dreamy, rhythmical, shifting, moody rainbow", Little Dragon was the perfect counterbalance to RZA's set. Led by frontwoman, Yukimi Nagano, the singer couldn't help but address the shocking near-freezing temperature, which was drastically different than the day before's, saying, "We're from Sweden, but this is COLD." After playing the always classic "Pretty Girls" Nagano made a confession to the crowd—"I feel like I have a ghost in my hand—my tambourine that I always play is in London". With or without her safety blanket, she and the other members fought through the bipolar weather conditions, getting the crowd involved for their most streamed track on Spotify, "Ritual Union".
All Hail Travis Scott
As if it had all been a That's So Raven moment, I suddenly found myself standing halfway back in a huge crowd, shivering (both from the temperatures and excitement) waiting for Kanye West-affiliate, Travis Scott to hit the decks. Born in Missouri City, Texas which is only a 20 minute drive away, this was a hometown show for the "Rodeo" rapper, something that could definitely be felt from the love being shown by those in the audience. His hour-long set was stuffed with tracks from his new album, Birds In The Trap Sing Brian McKnight, such as "Pick Up The Phone" and "Goosebumps", the first for which he borrowed a fan's phone to act out a skit to intro.
For a city as diverse as Houston, this lineup made perfect sense. Bringing together people from all areas of the country and walks of life, Day For Night offered something else that other festivals can't—the unexpected. Check out more photos from the event below, and make sure to track the artists below to find out when they'll be playing a city near you.