Blurring genre lines is kind-of Minneapolis rapper, P.O.S' thing. After teaching himself at an early age how to play the guitar, keyboard, bass, and drums, the "Music For Shoplifting" artist was later introduced to the rap game, and the rest, as they say, was history. Fusing punk-rock guitar elements and hard-hitting productions with superior songwriting skills, the Marijuana Deathsquads vocalist deserves a category all his own.
After a nearly five-year hiatus, the Doomtree co-founder is reemerging (much to music junkies' excitement) onto the scene with his highly-anticipated fifth album, Chill, dummy. Dropping on January 27, the 12-song LP sees the emcee discussing health issues that held him back from touring in support of 2012's We Don't Even Live Here, touching on the "confusing world which is becoming increasingly more alienating". Aside from his signature, A1 lyricism, another telling sign that the project is going to be a knockout is the "biting commentary" that will be provided from up-and-coming rapper, Allan Kingdom, hip-hop hero, Astronautalis, and The Julie Ruin's, Kathleen Hanna, among many others.
To promote the album's release, P.O.S is embarking on a North American tour for the books, making stops everywhere from Anchorage, Alaska to Montréal, Quebec. As if that weren't enough, he announced a second hometown show yesterday, which will take place on March 17 at First Ave Mainroom.
As a gift to each city he's set to play in, the rapper has put together a playlist featuring esteemed artists who got their start in said state. Who made the Detroit list, for example? The White Stripes. For Philly? The Roots, naturally. Check out the playlists below, and make sure to Track the "sleepdrone/superposition" musician below so you don't miss his set live.
Minneapolis, MN
Featuring Dessa, Har Mar Superstar, and Poliça. Listen here!
Chicago, IL
Featuring The Smashing Pumpkins, Chance the Rapper, and Vince Staples. Listen here!
Detroit, MI
Featuring The White Stripes, Danny Brown, and Angel Haze. Listen here!
Toronto, ONT
Featuring The Weeknd, deadmau5, and Crystal Castles. Listen here!
Montreal, PQ
Featuring Arcade Fire, KAYTRANADA, and Chromeo. Listen here!
Boston, MA
Featuring Aerosmith, Speedy Ortiz, and New Edition. Listen here!
Philadelphia, PA
Featuring The Roots, The War On Drugs, and CRUISR. Listen here!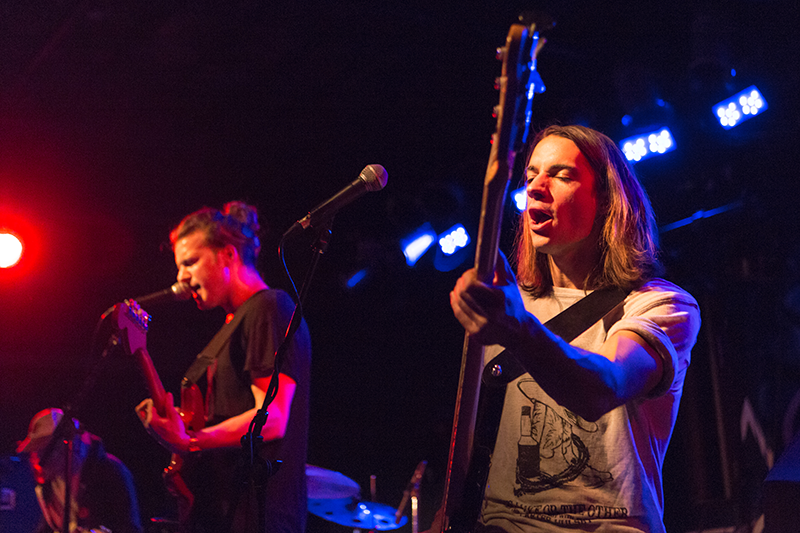 Vienna, VA
Featuring Pharrell Williams, Old Crow Medicine Show, and Butcher Brown. Listen here!
New York + Brooklyn, NY
Featuring Jay Z, Beastie Boys, and Sonic Youth. Listen here!
Asheville, NC
Featuring The Avett Brothers, Big Daddy Kane, and J. Cole. Listen here!
Atlanta, GA
Featuring James Brown, Outkast, and TLC. Listen here!
New Orleans, LA
Featuring Frank Ocean, Mutemath, and Louis Armstrong. Listen here!
Houston + Austin + Dallas, TX
Featuring Leon Bridges, Spoon, and Erykah Badu. Listen here!
Kansas City, MO
Featuring Tech N9ne, The Get Up Kids, and Capybara. Listen here!
Omaha, NE
Featuring The Faint, Bright Eyes, and Icky Blossoms. Listen here!
Missoula, MT
Featuring Cure For The Common and The Boy & The Sister Alma. Listen here!
Seattle, WA
Featuring Soundgarden, Band of Horses, and ODESZA. Listen here!
Vancouver, BC
Featuring Kid Koala, Japandroids, and LNDN DRGS. Listen here!
Portland, OR
Featuring Dolorean, She & Him, and Blitzen Trapper. Listen here!
San Francisco + Santa Cruz + Los Angeles + San Diego, CA
Featuring Odd Future, NOFX, and G-Eazy. Listen here!
Phoenix, AZ
Featuring Soulfly, Travis James, and The Holy Coast. Listen here!
Albuquerque, NM
Featuring The Shins and Femme Fatale. Listen here!
Durango + Denver, CO
Featuring Candy Claws, The Lumineers, and The Fray. Listen here!