Brooklyn's self-proclaimed "surf noir" band, Fruit & Flowers began during the heat of a New York summer in 2015, and the music they make speaks to their origin—the perfect soundtrack for slowly slinking through NYC's July haze, while possibly spotting a UFO over the Manhattan skyline. Fresh off their March tour with post-punk trio Big Bliss, Caroline (bass/lead vox), Ana (lead guitar/vox), Lyz (rhythm guitar/vox), and Jose (Drums), are making their BK return at Union Pool tonight to close out the month-long run.
Grab your tickets here to check them out with their tourmates, plus Beech Creeps and IYEZ, but before you do, familiarize yourself with the "Turquoise" four-piece by looking back on their latest shows, which kicked off in Austin at SXSW!
Fruit & Flowers Tour Recap
Our tour with Big Bliss tour started off in Austin, at the end of SXSW. We finished off the week with a family hang at the Tiny T Ranch, where Chris and Amy of Little Dickman Records set up camp and hosted a last-day show. We played on the bill of NY/NJ local favorites with Big Bliss, The Off White, and Psychiatric Metaphors. We woke up in a beautiful place, made friends with some horses and chickens, and kicked off our homeward tour. We're sad it's almost over but excited to play our homecoming show at Union Pool.
Wallace and Cory of Big Bliss, with their vehicle, Van Haulen.
Morning family hang at Tiny T Ranch.
Chickens, Pat from Twist, and Lyzi. We got to catch so many friends from other states and even other countries while we were in Austin for the week: Twist & Casper Skulls from Canada, Juan De Fuca, Muuy Biien from Athens, GA, etc. We filled our ears with inspiring sounds from outside of NY.
One of the most special and fascinating parts of DIY touring is forming connections—bonds, really—with people that you might otherwise never meet, or may have been a more tangential part of your life, who come together over a shared love of music and DIY ethos. In Austin we stayed with a friend of Caro's who was working on an amazing video game called Everything. In Oklahoma, one of our hosts was a friend of Ana's from middle school. In Columbia, Missouri, we stayed with Ana's former coworker's former bandmate. We stayed with old hometown friends of Tim's, from Big Bliss. We stayed with great local bands. When someone puts you up on tour, or feeds you, or shows you around, that's a bond you keep.
Jose with one of Jackie and Natalie's cats, in Norman, OK.
Caro playing an upright bass that lived in Lou's kitchen – Columbia, MO.
It's exponentially more fun touring with another band we like as much (musically and personally) as Big Bliss, especially following such a fun time touring the west coast last month with Ex-Girlfriends. There's so much to learn from each other, musical sensibilities, luv, friendship, jokes & good times on and off stage.
Our tour babes Big Bliss.
And of course THE SHOWS. The SHOWS, man, dang, the whole point. Tour can be a lot of ups and downs, depending on if a room is psyched or in a more apathetic mood. The room we played to at Emporium Arcade in Chicago was most definitely PSYCHED. We loved it there.
Photo cred Tim, Big Bliss.
Photo cred Wallace, Big Bliss.
More Tour Moments: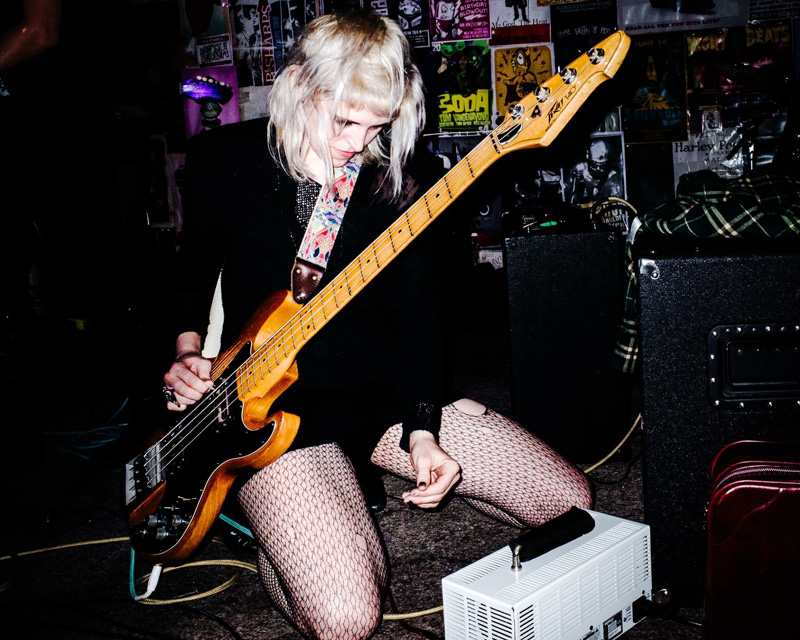 Caro at the Brass Rail, Ft Wayne IN. Photo by rad photographer Steven Anselm.
Austin, photo cred Michelle Soto.
Caro is locked out in the rain. Jose takes a photo.
Lyzi colors.
Ana cocoons.
Moments before Ana, a gas pump novice, lost the fuel cap.