Folk-pop band Branches is made up of the raddest BFFs in the Bay Area. When they're not busy on the road, you can probably find them having a laugh at the local Mexican restaurant or playing foosball at a nearby dive bar. With their new album, White Flag, hot off the presses, the "Tomorrow" performers are currently on a month-long US run, hitting cities everywhere from Philly to Phoenix.
We were lucky enough to get an exclusive, behind-the-scenes look at what a typical tour is all about for this six-piece. On top of that, the band's lead singer, Tyler Madsen, shared some insight as to what he's learned thus far from hitting the road with bandmates Natalie Nicoles, Jacob Montague, Tyler Goerzen, Mitchell Dong, and Michael Springs.
From ensuring that the driving duties are split evenly to remembering to hydrate, check out his 10 must-knows, then make sure you're Tracking Branches on Bandsintown!
Branches Tour Diary
"The opening line of our bio has been the same since we first started writing about ourselves in the third person - "Best-friends turned band-mates..." It's been a defining characteristic of our band's personality, and something we've always prided ourselves on, but there's nothing like a month in a van together to test the substance of this kind of claim. (Spoiler alert: we're halfway through our trip, and still best friends...)"
Here are a few of the lessons we've learned in our time as a band. These are the things that keep us best friends and keep the right things at the forefront of our minds during our travels.
1. Remember Your Priorities
We are friends first, so every interaction, critique, financial decision, etc. runs through that filter. It's worked for us thus far.
Natalie, playing like twelve instruments at once in Des Moines.
2. Get Alone Time When Needed
I have the blessing/curse of being 99.99999% extroverted. But there have been a few moments on this tour where that 0.000001 has crept-up on me. This trip, I've brought along one of my wife's DSLR cameras to document the fun, and it has also proven a good opportunity for me to sneak away from time to time and get some alone time.
From one of my solo-adventures. Somewhere in Idaho, I think…
3. Take Turns Driving
One of the benefits of being a six-piece band is that there's always SOMEONE who is in the mood to take a turn at the helm.
This picture has nothing to do with driving, but how fun are these colors? Photo courtesy of Estorie Photography.
4. Enjoy The Journey
OK, this is cliche, but it's true. Being in a band takes us to some of the greatest places on the planet, and sometimes waking up a little early to carpe the diem on a free morning can totally fill the tank before a long drive.
In Chicago, being tourists.
5. Don't Get Sick
This one didn't really happen for us, but I didn't know how else to set up the story of this next picture...
Don't let the effortlessness of (the other) Tyler's rugged handsomeness fool you in this picture—at this exact point, he was feeling like total garbage (thanks, stomach flu). That night in Chicago, he would leave the stage mid-set to barf up his Shake Shack into the Beat Kitchen bathroom before returning to finish the last few songs. #METAL.
6. Bring Some Games To Pass The Time
We brought along a PlayStation and a few board games to help break up days that are nothing but flatlands and cornfields, and it's turned out to be a life-saver. Also planning on doing a few trips to RedBox and seeing how many of the Fast and The Furious movies we can get through together.
7. Stock Up On Good Podcasts
For similar reasons as listed above. S-Town and Ask Me Another have been two of our faves on this trip.
8. Count Your Blessings
The bottom line is this: people like our music enough to come see us and sing along with us when we're thousands of miles away from home. If we ever lose sight of the wonder and honor of that simple fact, and we fail to recognize how amazing it is that we get to play music for people for a living, we're doing it wrong.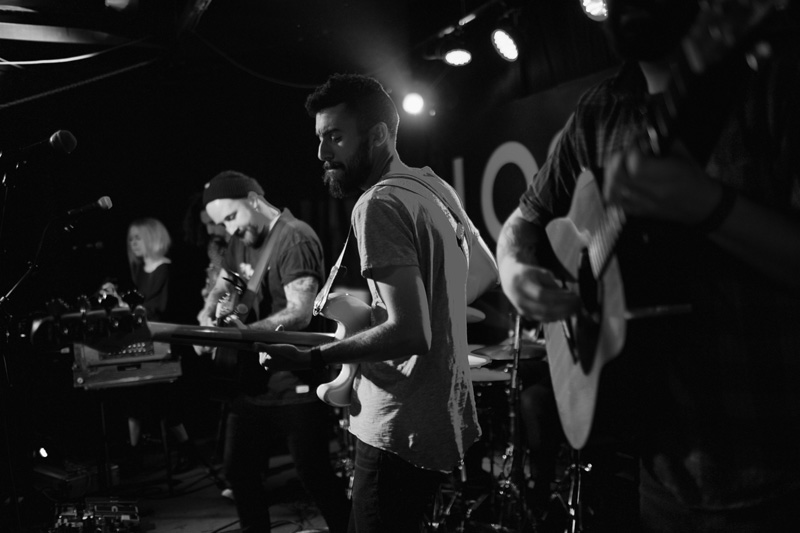 One such moment of conscious-gratitude in Denver.
9. Get Enough Sleep
Sometimes it can be hard for me to make myself go to bed at an appropriate hour if there is something fun happening in the next room over (I'm an Ennegram 7, for any Enneagram nerds out there, which means I often choose the fun thing over the wise thing. But I'm working on it) :)
Here's one such moment: our green room didn't have any couches, so I made a bed out of some chairs. I'm basically the MacGyver of sleep.
10. Stay Hydrated
Our Hydro Flasks have been the silent MVPs on this trip, and have helped to counteract the effects of all those free drink tickets we're given each night.
Tasting the Rockies, somewhere in the Rockies.
This has been one of the most fulfilling, fun, challenging months of our lives, and we wouldn't have it any other way. Still got a handful of shows left. Come hang with us.
Click here for tickets and show info! Hope to see you soon. xoxo