All winter long, music lovers yearn for the months where they can kick off their boots, ditch their parkas, and get down to the sounds of their favorite bands outdoors. That's right, festival season is finally upon us, and we couldn't be more excited about what's on the horizon. To help steer you and your crew towards the right fest, we've rounded up the most hype events going on this summer. From FYF Fest in Los Angeles to Electric Forest in Michigan, check out Bandsintown's Can't-Miss Summer Festivals below!
Hangout Music Festival
Dates: May 19-21
Gulf Shores, AL
If listening to live music along the beach is your thing, Hangout is a can't-miss for you. Taking place in Gulf Shores, Alabama, literally on the shoreline, you'll be able to catch sets by Phoenix, Charli XCX, and Major Lazer, all while sipping tiki drinks, swimming, and getting your tan on. From attractions like the Mega Drop to the Ferris Wheel to beach volleyball and "hammock beach", Hangout is more like a vacation than a show. In case you were wondering, yes, you'll be able to nosh on local daily catches straight from the water. It's like being trapped on a tropical island with your best friends, great food, and your favorite musicians. Sounds terrible!
Boston Calling
Dates: May 26-28
Boston, MA
With only three other years under its belt, you might be surprised that Boston Calling is up there with mainstays like Bonnaroo and Coachella. However, in those three years, the fest (which takes place at the Harvard Athletic Complex) has made a name for itself, and there's no chance we'd miss its fourth installation. Featuring Bon Iver, The xx, and The 1975, you can bet we'll be sporting our love for the city in Red Sox jerseys while rocking out, hard.
Governors Ball
Dates: June 2-4
New York City, NY
Ask any New Yorker: winters in the city can be rough. One thing that makes trekking through the slush puddles a little less excruciating? The thought of frolicking on Randall's Island in June for the always-epic, Governors Ball Music Festival. For the seventh annual festivities going down this summer, music lovers can expect to get down to the sounds of Tool, Chance The Rapper, and Phoenix while chowing down on some of the best food the Big Apple has to offer. Suggestion: catch Childish Gambino's only festival appearance this summer while honkering down on a Ramen Burger, you'll thank us later.
Bonnaroo
Dates: June 8-11
Manchester, TN
When people think of camping and music, they think of Bonnaroo. They think of road-tripping with friends to Manchester, Tennessee with the windows down, on their way to rock out with the likes of U2, Red Hot Chili Peppers, Lorde, and Flume. The 16th edition of the festival will be taking place this June 8-11, and it's top of 2017's festival bucket list. Aside from the general stores, The Grove, the Le Bon Tents, the art installations, and the food trucks, our favorite thing that Bonnaroo does insanely well is the bathrooms. Yes, the bathrooms are so good they're worth talking about right now. Real toilets and clean water? Thank you, festival gods!
Firefly
Dates: June 15-18
Dover, DE
Probably the biggest reason to head to Delaware for this year's Firefly Festival is that fact that you helped pick the lineup. Remember?! This year the annual music party which takes place at The Woodlands offered fans a chance to vote for who they wanted to see on the 2017 bill. Who made the cut, anyway? Glass Animals, Maggie Rogers, The Weeknd, Kaleo, and Phantogram—just to name a few. This one's gonna be a doozy.
Warped Tour
Dates: June 16-August 6
Nationwide
Ready for some pop-punk crowd surfing under the summer sun? Then Warped Tour is the festival for you. With seven stages, 41 dates, and dozens of metal, pop-punk, and rock's hottest acts, it's no wonder that fans come back year after year. When you're not spending time moshing in the pit, you can check out all of the merch tents on the grounds to get some rad, band swag. This year's Warped performers include Neck Deep, Never Shout Never, Dance Gavin Dance, Anti-Flag, GWAR, Beartooth, and more. There will also be a handful of throwback acts featured, including CKY, Bowling for Soup, and Save Ferris!
Electric Forest
Dates: Weekend One - June 22-25, Weekend Two - June 29-July 2
Rothbury, Michigan
Rothbury, Michigan is the new music capital. Well, at least for the two weekends of Electric Forest. This small town along the coast of the mid-western state is where over 100 electronic, alternative, and hip-hop artists will be performing for two separate weekends of non-stop fun. Whether you want to dance along with ODESZA, get down with Big Gigantic, or get a little emo with My Morning Jacket, this year's collection of artists is incredible. Some musicians, like headliners Dillon Francis and Bassnectar, will be blessing festival-goers with performances on both weekends. The fest also includes an array of curated artists showcases, as well as over a dozen art installations by various artists.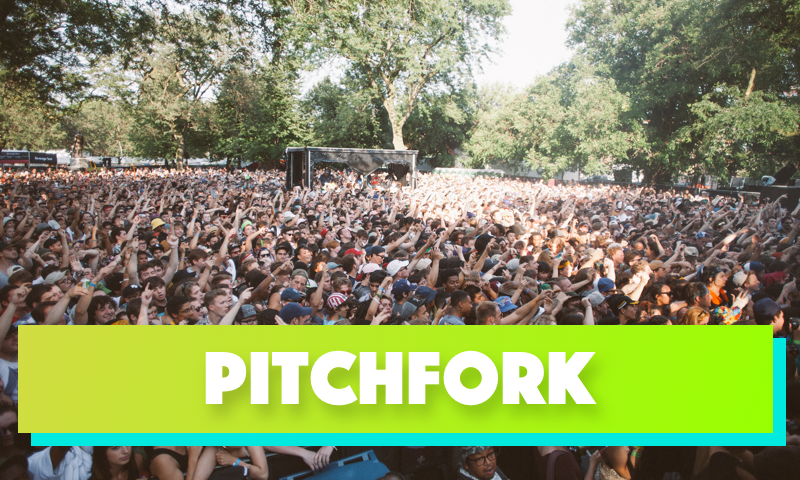 Pitchfork Music Festival
Dates: July 14-16
Chicago, IL
The Windy City is the place to be this July. Pitchfork Music Festival is once again returning to Union Park and the lineup is not to be missed. The streets of Chicago will be echoing with sounds of headliners LCD Soundsystem, A Tribe Called Quest, Solange, and many more. In addition to this amazing group of acts, you can also check out sets from PJ Harvey, Danny Brown, Vince Staples, and others from various genres. If you want to rest between sets, why not check out the CHIRP Record Fair? This annual onsite event will include a wide variety of vinyls from over a dozen local music store vendors.
FYF Fest
Dates: July 21-23
Los Angeles, CA
Missy Elliott, Björk, Frank Ocean, Nine Inch Nails—four names we never thought we'd hear in the same sentence. That all changed when FYF Fest revealed 2017's headliners, making this weekend a must-attend for music enthusiasts everywhere. The cherry on top? It's held at Exposition Park in Los Angeles, so you know the vibes will be on 100. With A Tribe Called Quest, Iggy Pop, and Erykah Badu rounding out the lineup, we may even dare to say this may be the creme de la creme of music festivals this summer.
Newport Folk Festival
Dates: July 28-30
Newport, RI
Perhaps one of our favorite festivals to focus more on one genre than any other, is Newport Folk Festival. Featuring a lineup of artists who make music for fans of folk (obviously), Americana, and singer-songwriters, Newport Folk Festival doesn't hate on alt-country, blues, jazz, or rock'n'roll either. Set to the backdrop of "national treasure", Fort Adams State Park in Rhode Island, live jams come with incredible views of Newport Harbor, making this one of the most excitingly chill fests around. Fleet Foxes, Wilco, and John Prine, we'll see you in July.
Panorama
Dates: July 28-30
New York City, NY
Still feeling some post-Coachella blues? Well, the creators of the famous Cali festival are bringing their expertise to the Big Apple with the second annual Panorama Festival. Running July 28 through July 30, Randall's Island will be filled to the brim with festival attendees and an unbelievable lineup of performers. Featured headliners include Frank Ocean, Tame Impala, Alt-J, Nine Inch Nails, and Justice. The three-day extravaganza will also include a handful of emerging acts like Pinegrove, Mitski, Bishop Briggs, and more. There will definitely be something for everyone attending, and, for all you New Yorkers, it's only a ferry ride away!
Lollapalooza
Dates: August 3-6
Chicago, IL
With more than seven stages and 150 performers each year, Lollapalooza has turned Chicago into an official playground for live music fanatics. It's come a long way since beginning as a traveling farewell tour for Jane's Addiction, having since found a forever home at the city's highly Instagrammable, Grant Park. 2017's four-day spectacle means that Muse, The Killers, and Arcade Fire will be hitting the decks, as well as Chi-Town's unofficial spokesperson (and charitable donor), Chance The Rapper.
Outside Lands
Dates: August 11-13
San Francisco, CA
Even without Outside Lands Music Festival, the event's grounds, Golden Gate Park, is something to marvel at. So, when our favorite artists like Metallica, The Who, Gorillaz, and Alt-J head to the 1,000+ acre spot (complete with a botanical garden and famous museum), you know you have to go. From the amazing lineup to the city of San Francisco itself, Outside Lands is the perfect combo of city and escape.
Electric Zoo
Dates: September 1-3
New York City, NY
Randall's Island Park—home to Governors Ball and Panorama (two of our other can't-miss fests this year), the epic (and actual) island is one of the coolest places to catch live music in NYC, especially music as unique as EDM. There aren't many fests around New York where you'll be able to see DJ Snake, Above & Beyond, and deadmau5 all in one place. Even cooler? The 2017 event has its own NYC-inspired theme: The 6th Boro. On their site, we're asked to imagine that "party animals from all over the world turned Randall's Island into a utopian dance-tropolis where wild beasts and beautiful creatures roam free, and live out the fantasy of a world where electronic beats and positive energy reign supreme." Enough said.
Made in America
Dates: September 2-3
Philadelphia, PA
When an entire major town reworks its city plans just for a music festival, you know it's gotta be worth it. That's exactly what happens each Labor Day Weekend in Philadelphia when Budweiser Made in America comes to the Benjamin Franklin Parkway. The "scenic boulevard" which regularly features libraries, museums, fountains, and sculptures, is transformed into the ultimate live music experience, welcoming around 60,000 music lovers. With sets on the horizon from Jay-Z, J.Cole, and The Chainsmokers, you can guarantee we'll be in attendance. See you there, we'll bring the cheesesteaks.