Despite hailing from Nashville, the home of country and folk music, Future Thieves have a gritty, rock'n'roll approach to their sound. Since their formation in 2013, the band's incessant touring has brought them immense fan and media recognition. Some of their most recent accolades? Festival slots at Bonnaroo and Summerfest, and recently premiering their new single "Sucker" on Billboard.
As the band hit the road for their first-ever European tour, bassist Nick Goss gave us an exclusive look at the group's experiences across the pond. Bringing along their passion for natural landscapes, the four-piece took to the beauties of Spain, France, Switzerland and more to perform, explore, and play a few games of badminton.
Get a glimpse of the band's wild Euro adventures below, then make sure to Track Future Thieves on Bandsintown so you can see the "Horizon Line" musicians on their upcoming US run.
Future Thieves Tour Diary
"Nick here from Future Thieves. I play bass in the band, but I can also fold a fitted bedsheet, say the alphabet backwards at a convincing rate so you'd think I've practiced, and per recent discovery in France, I'm not afraid to get dirty in a game of badminton.
So happy to be teaming up with Bandsintown to try and relay to you how amazing Europe was. A few of the boys stayed over there for an extra few weeks with their wonderful girlfriends to see Greece and Italy. Austin, Gianni, and myself are back in the states suffering from some kind of perma-jetlag and making our way through stacks of mail. How I became so popular with credit card companies is alarming."
"Where to start...the end I suppose. The last show was a German date at the Grolsch Beer Festival. Around 2500 in attendance, but this crowd was a perfect representation of the rest of Europe. Their passion and eagerness to expose themselves to music and spend money to be a part of a concert really floored us. Everyone we came across in Europe was so full of life, and it was our true pleasure to play for them and meet them."
"Our favorite show was at WAM! Fest in Murcia, Spain. You can see why we loved it so much. Our time slot was incredible and we enjoyed the company of a few thousand to watch us in our 3rd Europe show. The festival was quite a treat and set the tone for the rest of the tour."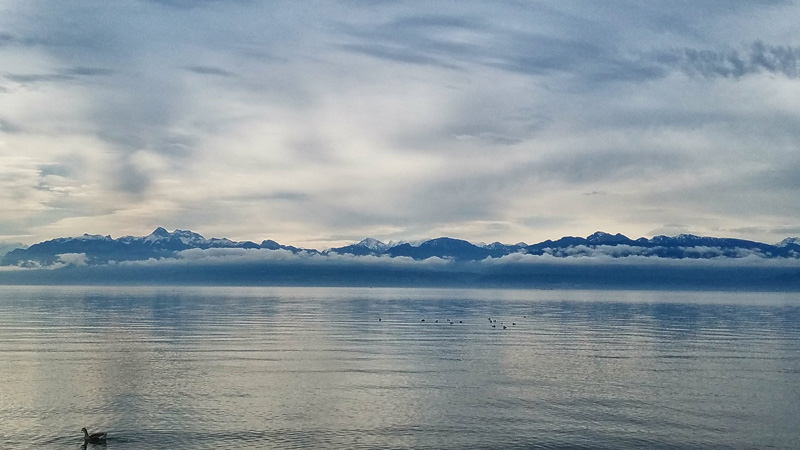 "America is a beautiful place and can surprise even the most travelled explorer. Europe is the same in that regard. The scenery from town to town made up of castles, mountains, churches, farms, and vineyards just blew us away. The French Alps were one of my favorite things we saw. We also had a special experience at a vineyard owned by a friend of our new friend and best tour manager alive Dave Meisner. We were able to see the lifestyle of a young family of 4 working the land of a vineyard in southern France. Their sense of family and simplicity of making exceptional wine was something that recharged us. This was everyone's favorite day by a landslide, and we all decided if it wasn't for music we'd be doing exactly that. Truly peaceful. Thanks to Amanda and Christophe for the hospitality and the delicious wines of Le Combe du Jardinier."
"This man pictured above is Alex Jarvis. He started as our producer and mixing engineer on our debut album Horizon Line, and has now evolved into a writer and performer in the band. He's a mad scientist on the keyboards, and if he wasn't in music, he'd be a household name for his culinary talents. On our nights off we'd find a countryside AirBnB and Jarvis would start cooking. Steaks, prawns, risotto, tomato salads, etc. Our favorite spot was in Journy, France, where we were able to pass through twice. This chateaux was unreal and allowed us to unwind between shows. What a treat to have our producer come play all the songs he's helped us write for our second LP and cook delicious meals as well. Cheers, Jarv!"
"We got to spend a few days in the UK playing some great shows with our pals the Alvarez Kings. If you have not heard of them, please check out their latest release "Somewhere Between" ASAP. You will love it. We enjoyed sharing the stage with them each night and they'll be in the states in just a few weeks for their first US headlining tour! Check em out! We also played a Sofar show in London for a group of attentive fans. Always a treat to strip down our setup and play in an intimate setting."
"Our favorite moments besides on stage were the moments we could sit and hang out with each other. At the venues, we'd eat, drink, and meet the locals. On our days off we'd play badminton, drink, and yell. Hard to beat that. All of the 3 weeks before the UK dates we had the honor of playing with Matt and Sam of The Two Romans. These two young men are the sweetest people you'll ever meet, and their performances each night were filled with intensity and incredible harmonies. They took us out on a boat trip in the Mediterranean off the coast of Barcelona that took our breath away. We can't thank them enough for the good times."
"Well, I've explained a lot and left out even more. We are so fortunate to play music, and getting to Europe has changed our lives. Travel as much as you can, folks. You won't regret it. There's special people, food, and scenery all over this Earth. And see some shows!"
"Thanks so much to Luc Breuer, Dave Meisner, Carmen and Sandro of Black Pike Favorites, Eva Alexiou-Reo of FATA Booking, Taylor Shults of TKO Artist Management, The Alvarez Kings, the Two Romans, and our second family the Butlers of Chevelle's Restaurants in North Carolina. Without you we could not have done this and we can't wait to see you again."
"Cheers, readers and listeners! See you in the states for our summer tours!"
Love,
FT