Have you seen the episode of Bob's Burgers where Louise sneaks onto her favorite band's bus because she knows she'll have an incredible time? Yeah, that's basically how we feel about Dinosaur Pile-Up. The UK alt-rock band, whose music has drawn comparisons to everyone from Nirvana to Weezer, are some of the raddest dudes around, something apparent from just one scroll through their Twitter feed.
Since releasing their latest album, Eleven Eleven, the three piece—made up of Matt Bigland, Michael Sheils and Jim Cratchley—have been dominating the music scene, thanks to songs like their highly contagious single, "11:11" (which has racked up almost five million streams on Spotify).
In support of the LP's release, the rising stars have been on the road since April, playing shows across North America alongside both Chevelle and Frank Carter & The Rattlesnakes. We got the chance to join the "Grim Valentine" artists for the first leg of the tour, where they documented the insanity, which included but was not limited to RV breakdowns (c'mon, Majestic O.G. Shredder), chicken wing feasts, flip cup games, and performances at festivals like Rock on the Range.
Check out the images below, then make sure to Track Dinosaur Pile-Up on Bandsintown to get alerted when they're in a city near you!
Dinosaur Pile-Up Tour Diary
For those who don't know us, we're a three piece alt-rock bank from the UK. This is us. Left to right—Matt, Mike, and Jim. Hi. What's up?
We started this tour in Florida. Three pasty Brits, soaking up as much sun as humanly possible. These were taken in Destin, Florida, where we stayed for a couple of days, and was really beautiful. One of us (we'll call him 'Band Member A'), got himself a bout of sun poisoning. His feet swelled up to like four times the size of normal feet. I've not included a photo of this, because it was f&*#@!g disgusting and I reckon he'd be embarrassed. Mike remained in shoes to avoid a similar fate. Beach goth style.
Our awesome label back home, So Records, bought us an RV to tour the states in. The 'Thor Majestic', renamed the 'Majestic O.G. Shredder', with Walmart bought stickers. Here she is, in Tampa, FL, before a festival show. We've never been hotter than we were in this photo. I don't know why we always wear black.
In the six weeks on the road, we had to change out three tires (this being the first time), as they kept blowing up.
Because we drive ourselves everywhere, we are always late. You have to make use of the time you have, even when you're broken down.
For people who aren't familiar with luxury travel, RV's have toilets too. But ours doesn't work. About two minutes after this photo of me in blue gloves trying to fix shit, our tour manager and I got covered in a LOT of piss. Tour life.
Between shows, we sleep in the RV at truck stops or Walmart car parks. Mainly because there's normally a diner or something close by, but it's also safe and reassuring. We don't keep a baseball bat under the sofa or anything… promise.
Northern Invasion Festival in Wisconsin. We were super lucky to see Soundgarden side stage that night, a few days before Chris sadly passed away. We've all been fans since we were kids, and they were amazing. We had a ball. A big drunken ball.
Besides shredding and eating up asphalt, there's two other things we love doing: flip cup and beer pong. The best thing about being on the road the whole time is meeting other bands, and playing either beer pong or flip cup with them. Or both. We met Bleeker about a year ago on a UK tour, they're a bunch of true gents. We love crossing paths with these guys, they love beer pong.
Aftermath.
We've been out with Chevelle on this tour, as well as doing a bunch of festival shows. But we've also been playing with Frank Carter and the Rattlesnakes, who are a fucking killer UK band, and a total pleasure to tour with. Here's Frank, "going for a walk," in his words.
One thing you can't tour without is a cooler. Keeps your beers cold and your hearts warm.
The other things you can't live without are a solid crew. Introducing Olly and Ali.
We'll take any opportunity to see something new, so on the way back from Toronto we stopped off at Niagara for a 'Maid of the Mist' trip. So much fun, but shit, we got wet.
Sorry, we love hot wings. While in Buffalo, we went to the Anchor Bar to try the original buffalo wings. They were INVENTED here! It might not seem like a big deal, but it really was to us. Minds blow, we went down to The Founding Fathers pub, around the corner. This might be the best pub outside of the UK. The guy behind the bar asks you pop quiz questions as you drink. They also have free nachos. If you're in Buffalo, go to both these places, they're really really good.
Soundchecks are boring as s#*t.
Mike getting a ride at Rock on the Range Festival in Columbus, OH. Then a massive storm rolled in. This man loved it. Until they evacuated the site.
Six weeks on the road has been fun, but exhausting. Back in the USA for another four week run with Chevelle, and we cannot wait.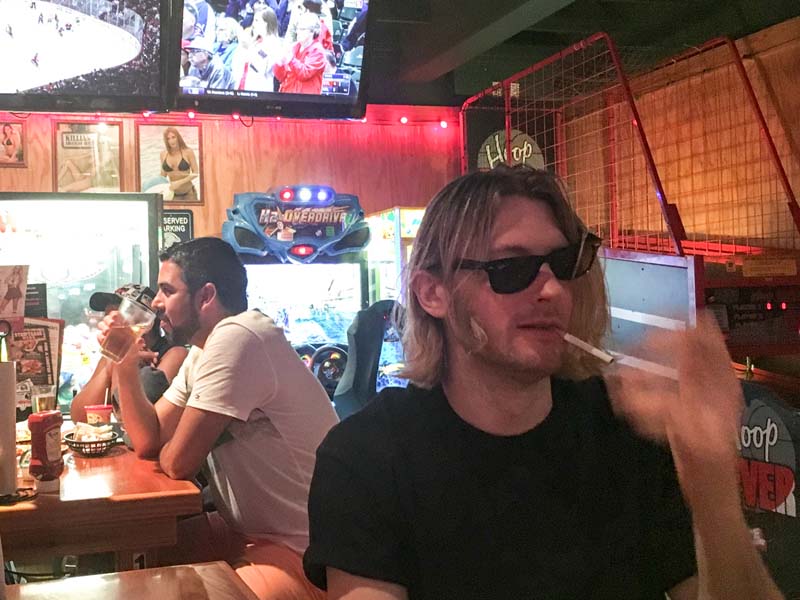 Fin. I had to include this one.