If you often peruse Spotify's curated playlist section, there's a good chance you've come across singer-songwriter, Common Holly. Featured on "Deep Dark Songwriter", "undercurrents", and "Fresh Finds"—three of the streaming service's best hubs for finding new indie tunes—the Montreal native's music immediately stands out from the pack, thanks in large part to her unpredictable instrumentals, angelic vocals, and thought-provoking lyrics.
Even more impressive? She only has one song available online.
Ahead of the release of her debut album, Playing House, Common Holly (real name Brigitte Naggar) will be hitting venues across Canada, making stops in Quebec City, Ottawa, and Peterborough before wrapping in Toronto on August 25.
We recently followed the "If After All" artist on the road to Brooklyn, where she performed at Baby's All Right, recorded a ThrdCoast Session, and experienced the magic that is the MTA.
Check out photos from Common Holly's NYC travels below, then make sure to Track her on Bandsintown to find out when she'll be playing in a city near you!
Common Holly Tour Diary
Steven and Mo mastering the historic art of sales at the merch table at Baby's All Right in Brooklyn, NYC.
Common Holly, well protected on this refrigerator.
Brigitte + Steven feelin' sassy at the Blue Room, setting up for a Common Holly ThrdCoast Live Session.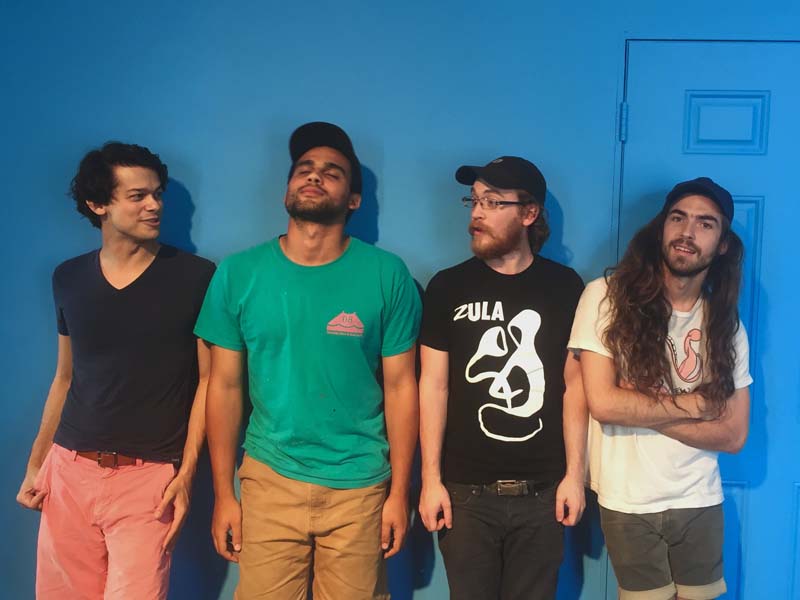 Jordan, Bucky, Eric, and Jesse at the Blue Room (Thrdcoast). Apparently they had never had their photo taken by any of the artists they did sessions with before this, which was a pretty big shock to me considering how seriously photogenic they are.
Picked up some free law advice on the subway in Manhattan. Good to know there's an option for "when diamonds aren't forever."
This is Australia Dan, Common Holly's label manager at Solitaire Recordings (New York/Melbourne). He has just taken up basketball. He says he is not very good. He really loves basketball, though.
Some wall art on a summer night in a hot city.
Some spring water in a big jug surrounded by milk in a bodega.
This is Steven showing off my favourite brand of ambiguously labeled tea, PG Tips.
Sexy blue stage at Baby's All Right, Brooklyn NYC.
Me and my dog in Brooklyn.