As I turned right into the entrance to the majestic Fort Adams, I grinned and realized I was home. The Newport Folk Festival in many ways is the epitome of everything I love about live music because it's not about over-the-top stage production. There are no fog machines or confetti cannons, and you definitely won't find a artist in a plastic hamster ball crowd-surfing. Rather, at the core of what makes the Newport Folk Festival so special is the unity shared between the artists onsite.
For that reason, the festival has grown to be less about the lineup and more but who could show up last minute. This year's surprise guests? Bon Iver's Justin Vernon, Zach Williams of the Lone Bellow, Margo Price, Kam Franklin of The Suffer, Nathaniel Rateliff, Lucius, and Roger Waters. Yes, Roger Waters, the man behind Pink Floyd, made an appearance to honor legendary folk singer, John Prine.
These show stopping collaborations weren't the only stand-out moments from this year's event. Newcomers such as L.A. Salami and Jalen N'Gonda shined, along with unforgettable solo sets from Jim James and Death Cab for Cutie's Ben Gibbard. Strong headlining performances from Fleet Foxes and Wilco showed how high the bar is for Folk music now and how the genre has progressed over the years.
Newport, the oldest continuously running music festival in the US, has helped shape the foundation of a genre that is rooted in tradition, and most importantly, and standing up for what you believe in. Last year during Patti Smith's Saturday set, there was a call to arms, with bleak political circumstances foreshadowing the festivities. Speaking of music, she said, "This is the only #$@*#$& weapon we need. Don't give up. Love one another." She continued, saying, "These are the chimes of freedom. The greatest revolution in the history of man: we can do that." You can tell that this moment changed the entire tone of the festival, awakening something within the folk community. With Sets from Hurrray for the Riff Raff, Drive-By Truckers and a special protest set Called SPEAK OUT, we got to see a new generation of artists taking this call to arms seriously, using their guitars as swords against the hate and division they have witnessed as of late.
Check out photos from this powerful weekend below, then make sure to Track all the performers on Bandsintown!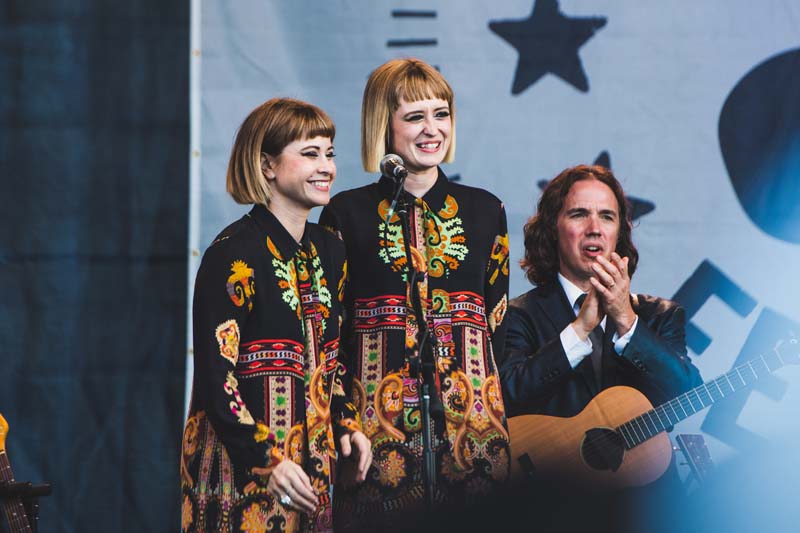 Speak Out