While only a few days of summer remain, the good vibes and spirit of the season live on in *repeat repeat's sunny discography. Their sophomore album, Floral Canyon, which was release last Friday, represents everything about that we love about the trio—a surf rock sound with an east coast swag.
In support of the LP, the band—Jared Corder, Andy Herrin, and Kristyn Corder—recently hit the road with Beach Slang to play their new music for fans across the country. Kicking off in Morgantown, West Virginia, the run took the "Girlfriend" musicians to cities like Asheville, Detroit, Toronto, and Buffalo before it wrapped in Akron, Ohio.
We got an insider's look at what went down on said run—and trust us, *repeat repeat are tour goals. From gettin' blue (Eiffel 65 style, baby) to unplanned hikes down the freeway, the Nashville natives had quite the adventure. Check out their scrapbook below, then make sure to Track them on Bandsintown to stay up-to-day with all their touring news!
*repeat repeat's September Tour Diary
We typically play with our own lighting setup. We saw The Raveonettes play in Chicago one time and all they used was a big white sheet and a huge strobe light, and the singular flashing black-and-white was insane. So we try to go for a similar light and dark look (with some color thrown in). This venue in Lexington had a huge wooden, cabin style backdrop. It cast these huge shadows behind us and we loved it.
This is a picture of us with Ed Mcnulty of Beach Slang. We were on our second date with them in Asheville at the Mothlight. Also, I don't really know how to pose in pictures like this, so lately I've just been giving the peace sign and making the same face Paul Stanley from Kiss made when they photograph him without makeup.
About halfway through the tour Beach Slang surprised us with some laminates. We travel with Lucky Cat velcroed to our dash for good luck.
We went from having all of our merch sold out to having all the merch in the world. Shirts, buttons, stickers, tube socks, luggage tags, it all comes with us in a huge bin bigger than Kristyn. Here she is being adorable and probably seeing someone we know. Isn't she cute? I think so.
Day one of tour: We have an eight hour drive to West Virginia. We think we're making great time. We are about three hours out and traffic is completely stopped. Two-and-a-half hours later we come to find out that the freeway is shut down. This is me walking a mile down the road to get some info from fellow travelers. We ended up turning the van around, driving the wrong way on the shoulder for a few miles, dodging oncoming traffic and taking a detour.
We stayed with some friends in Asheville. They have a cat that likes to hang on people's shoulders. We have an afinity for all living creatures, Kristyn and I share our lives with 10 animals including five cats (we also have a parrot, a horse, and a few dogs). Whenever we are at friends' houses with pets, we like to cover ourselves in them, sometimes literally.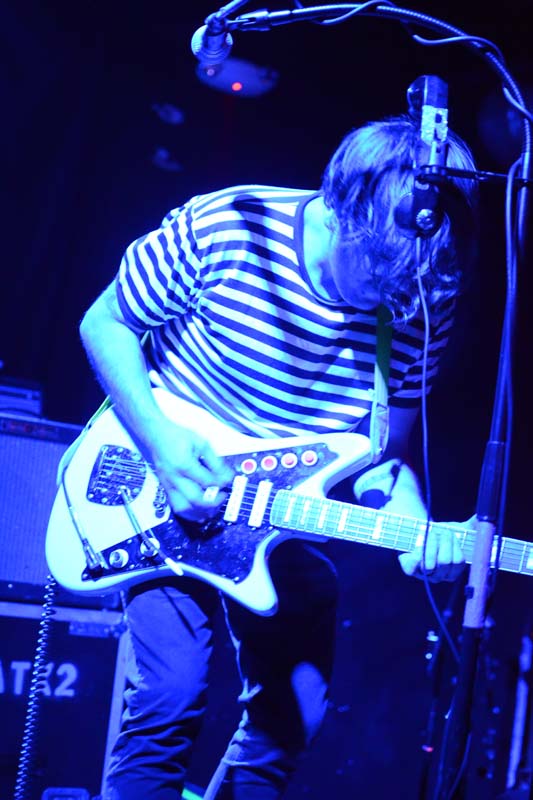 Here we are covering Eiffel 65's "I'm blue, da ba dee da ba die". LOL.
On the road, we send each other memes to keep up good spirits. Usually we'll hear someone laughing in the back of the van and then everyone gets a text and we all start cracking up. Judging by Kristyn's face, this meme is probably pretty offensive.
This picture perfectly represents the feeling halfway through a tour. Swirly but hanging on. Also my mustache FTW.
This is Neal. He travels with us and plays bass and guitar live for us. We never get to eat real food on the road, but in Memphis we had a second to get away and eat some vegan Thai food. Neal was happy. So were we.