Though its only been out for a week and some change, Seaway's new LP, Vacation, has already become one of our favorites of 2017. Bringing together infectious guitar riffs, confident lyrics, and unforgettable hooks, the five-piece hit it out of the park with this pop-punk stunner.
"Vacation is a step in a new direction for us," said vocalist Ryan Locke. "While still holding onto familiar aspects of the band, we definitely explored new destinations for Seaway."
In support of their latest release, the band—Ryan Locke, Patrick Carleton, Andrew Eichinger, Ken Taylor and Adam Shoji—hit the road with Four Year Strong and Like Pacific, traveling everywhere from Portland, Maine to Salt Lake City, Utah. We joined the "Apartment" musicians for the first half of the tour, where they let us in on what exactly goes down behind-the-scenes. From finding the best, local ramen spots to playing cornhole in Connecticut, we got a glimpse of it all.
Check it out below, then make sure to track the five-piece on Bandsintown to catch them performing their new songs live!
Seaway's 2017 Tour Diary
Ken, enjoying a tasty cold brew at the first stop of tour, the LL Bean flagship store in Freeport, ME.
Next stop, ramen. Ramen, Pho, or pretty much any kind of soup noodles is always a go-to meal for these lads on tour.
Ryan's new all-white everything look has been turning heads on this tour!
Looks like Adam just got some stressful news in Philadelphia! That's ok, I'm sure he managed his way through it and all was cured with a Jumbo Cheesesteak from Jim's!
Wow! Look at that crowd at the TLA in Philly! What a great night. One of our favourite cities to play.
One of the many stops at Guitar Center that every band must deal with on tour, replacing miscellaneous gear or what have you. Andrew is not impressed by all the Gibsons. Where are the Fenders?? Lmao.
Good bags, Patrick! Hamden, CT.
I'll tell you what. My friend Ryan really enjoys a nice pint of cold crispy suds every once in a while.
Hey, Adam! Why do you need those sunnies on in the venue? Pretty sure it's dark in there lmao. Neat look though.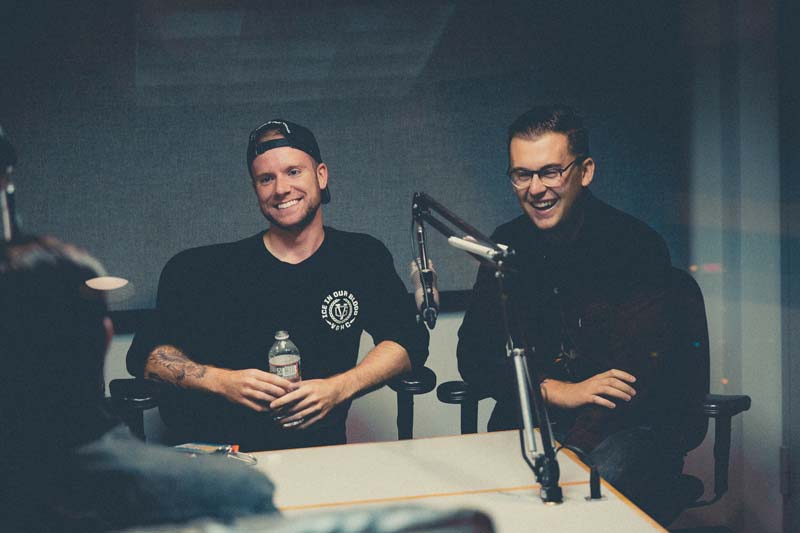 Patrick and Ryan probably laughing about some lead singer stuff on 'The Gunz Show' on Idobi Radio in Madison Square Garden, NYC!
On a rainy day in Salt Lake City the guys thought, "What better way to spend the day than at a local brewery?" Even though the beer is low-point, it was still very tasty and they were able to snap this photo on the walk over.