Moon Honey aren't just a band—their performances are a visceral experience of theatrics, psychedelic art, and avant-garde fashion. The two-piece, made up of Jess Elaine Ramsey and Andrew Martin, make music that's hard to categorize or label. Ramsey's operatic vocals fuse with Martin's prog-rock instrumentals to create sweeping orchestral songs that defy genre.
If you've had the pleasure of seeing the dynamic duo live, then you probably definitely noticed their one-of-a-kind, show-stopping ensembles. We had to find out more about the making of said looks, so we got the low-down from Ramsey on the history and process behind her incredible, handmade pieces.
Check it out below, and to get a taste of the spiritual journey that is Moon Honey's live show, be sure to track them on Bandsintown!
Jess Elaine Ramsey's Touring Wardrobe Walk-Through
Moon Honey is a cathartic, flowery, guttural, electric art opera coming to Doug Fir in Portland October 29th and the Sunset Tavern in Seattle October 30th. I hesitate to describe our music as anything but "rock," but to me, the project has always been a left field art project. The music was wildly theatrical before I even stepped onto the scene, inspiring me to be experimental in vocal structure and visual translation. I've always had a great love for avant-garde, fantasy, sci-fi, punk, and psychedelic fashion, but it took a good bit of time to work any of those inspirations into our aesthetic. My low income level was originally of great frustration, but now I see that working with limitations pushed us to find unique solutions.
My first attempt began with simple augmentation—I tore the satin off an old bridesmaid's dress and stitched a thick belt to the underlying black, ballerina-esque tulle. With the vision of a long train of pearls tumbling out beneath the transparent skirt, I hand-sewed an eight foot pearl door curtain around its inner circumference. I have many tour memories of putting my big ensembles on in the nastiest of bar venue bathrooms—the worst being a college commune dormitory where I laid toilet paper down to straddle piss, feces, and used condoms on the floor in order to slip on my panty hose, layers of skirts, pearls, and thick, glittery black makeup. I curled, sprayed, and teased my hair while kids made out and banged on the door for their turn. Hardly glamorous, but I was committed to say the least.
When we first moved to Los Angeles, I found an incredible artist and designer named Corinne Loperfido, who I still buy beautiful, eclectic headpieces from. She taught me a lot about confident self-expression, defining a valuable voice, and constructing wearable art using end-of-spool and leftover scrap fabrics from the garment district. My mother taught me sewing machine basics, and I decided I would start incorporating my painting, sewing, and fabric collage knowledge to piecing together some of my own amateur work.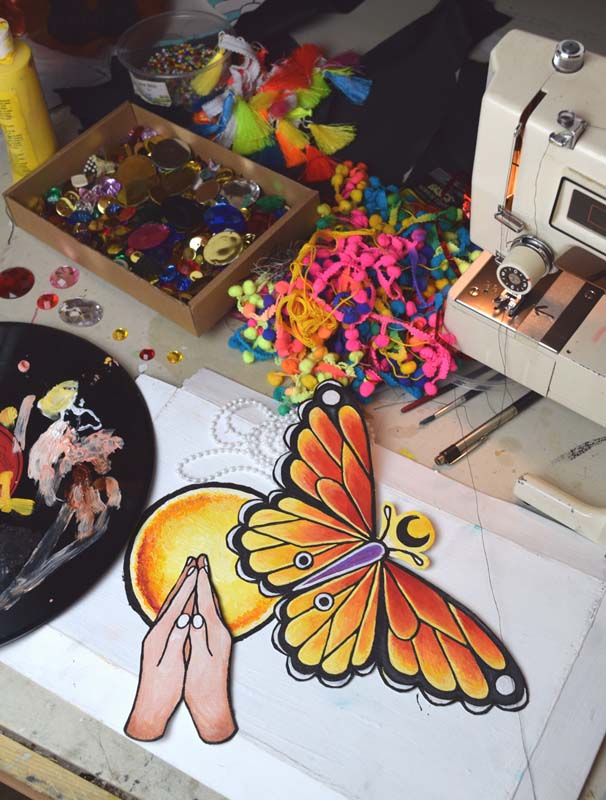 Hand-painted costume elements.
Costume construction.
Finished Moon Honey pieces.
In the butterfly garb pictured, I cooked from scratch, basically using trash from other art projects I had stored up in the garage. I began by painting the monarch and hands on leftover shoebox cardboard. The helmet and wing support was constructed from thick galvanized wire I wrapped in ribbons. I sewed '70s hippie pajama pants around the wire wing structures to which I glued the painted monarch wings. For Andrew, I top stitched vintage fabric scraps on an upcycled black blouse from Goodwill. Working with scraps not only creates a hand-made, nostalgic aesthetic, but it saves money and helps lessen fashion industry waste. My white, vegan Cri de Coeur boots are one of my favorite possessions, which I've worn to the bone and stomped around on stages all over the country.
Jess Elaine Ramsey at the Echoplex in LA.
Andrew Martin at the Echoplex in LA.
Augmented, upcycled clothing and hand-made headpiece by Jess Elaine Ramsey.