The Wrecks' Facebook bio reads: "Five kids who snuck into a recording studio to self-produce their debut EP." That's a pretty good segue into understanding this LA-based rock group. Since forming in 2015, the quintet—Nick Anderson, Aaron Kelley, Nick Schmidt, Westen Weiss, and Billy Nally—have already earned a reputation for their kickass live shows and amassed a ton of diehard fans. Loud, fast-paced, and undeniably catchy, The Wrecks are a band you need to be paying attention to.
The "Favorite Liars" musicians just wrapped up their Robot Army Tour, and the photos are giving us serious FOMO. Check out their diary below to get a sense of the wild times they had on tour. And if you're in the mood to crowd surf, make sure to track them on Bandsintown so you can to see them in your city when they hit the road again in February!
The Wrecks' Robot Army Tour Diary by Nick Anderson
On November 17th, 2015, we finished recording our first three songs.
On November 17th, 2017, our photographer Kyle Lehman snapped this picture of 300 sweaty kids at a sold out Philadelphia headlining show.
We're all still trying to figure out how that happened.
This is the Robot Army Tour Diary for Bandsintown.
Before we get further into this, I'd like to give a well-deserved and heartfelt shoutout to our photographer Kyle/Kevin (pictured on the right, gripping a handle of Jack Daniels Honey Whiskey and sporting the best goddamn wig you've ever seen.)
One thing that Kyle has a particular knack for is capturing us in our most honest, artless states. He doesn't become invisible, but rather disguises himself as a best friend in order to invoke social vulnerability and capture us being our true selves. Okay, that sounds evil, but it's actually really awesome.
So, behind the scenes, touring looks a lot like this:
It's loud. It's fun. It's drunk.
It's trying new food everywhere you go.
It's laughing until your insides twist and harden.
It's traveling the world with your best friends doing what you love.
But it also looks like this: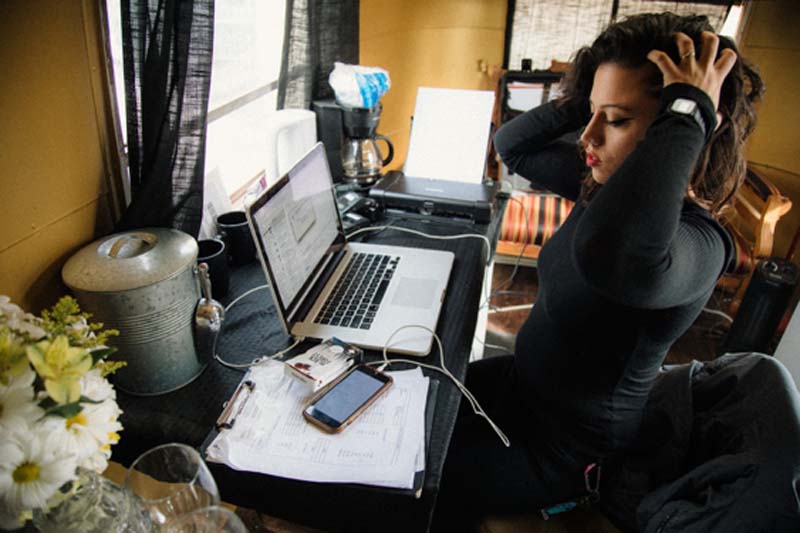 It's work. It's exhausting. It's lonely.
It's calling your girlfriend after soundcheck.
It's 7 a.m. van calls.
It's sacrificing stability for passion.
But then this happens:
And you're immediately reminded why you do it.
Because that kid right there in the blue t-shirt - that used to be you.
(This second person narrative is getting confusing) - that used to be me.
Crowd-surfing, feeling unapologetically alive for a few hours.
This is my favorite photo from the whole tour. I've gone through thousands and thousands of Kyle's photos, and I'm certain that this is my favorite.
>The image of this beautiful person in such a triumphant moment of expression was captured with our music as the ignition.
>Really makes me want to go back in time and tell my 15 year old self to stop beating himself up so much. I'd show him this photo.
But instead, I'm showing you. And I'll show my kids. But they'll likely think this is all just melodramatic nonsense and ask me when they get to go back to their mom's house.
But for real…It's humbling and inspiring that anyone even shows up to these shows.
Friendship
Music
And a little bit of bad behavior
Thank you for reading. Thank you for listening. Thank you for buying merch and concert tickets. Thank you for making our first ever headlining tour successful beyond our wildest expectations.