There are few bands who can work a room like electro-folk duo Handsome Ghost. We caught their show last week in NYC and found ourselves swaying with the rest of the crowd as the first few chords hypnotized the audience at Bowery Ballroom. The duo, comprised of singer-songwriter Timothy Noyes and producer/multi-instrumentalist Eddie Byun, blend electronic and acoustic soundscapes together seamlessly, creating music that's equal parts vibey and uplifting.
Their opening set for was raw and emotional as they moved through hits like "Steps", "Fool", and "Better Off". They were endearing, nostalgic, and self-deprecating—at one point Noyes introduced a track from their debut album, Welcome Back, smiling as he said, "We're so excited to bring you this album. It took us a whole year to make because we're very slow." The crowd met his sheepish admittance with cheers.
We wanted to find out how the rising stars are living while on tour, a run that kicked off in Seattle earlier this month. From finding time to write new music to dealing with bad drivers on the road, check out their tour diary below and make sure to track them on Bandsintown to stay up to date with their upcoming shows with !
Handsome Ghost's Tour Diary
Our winter tour started with a drive across the country from our home in Massachusetts to the pacific Northwest. This was our view for about three days. We've toured quite a bit since the band started, and this has become one of my favorite views in the world. Very peaceful.
We released our debut album a few weeks ago, but we're trying to work on new music whenever we can on this tour. It can be hard to find the time around playing shows and getting from city to city, but it's important to keep creating. Here's Eddie mixing away at what is clearly an extremely swanky hotel room in the Midwest.
Here I am, mid-stroll in the majestic plains of Wyoming, I believe. Would you call those plains? Windswept plains?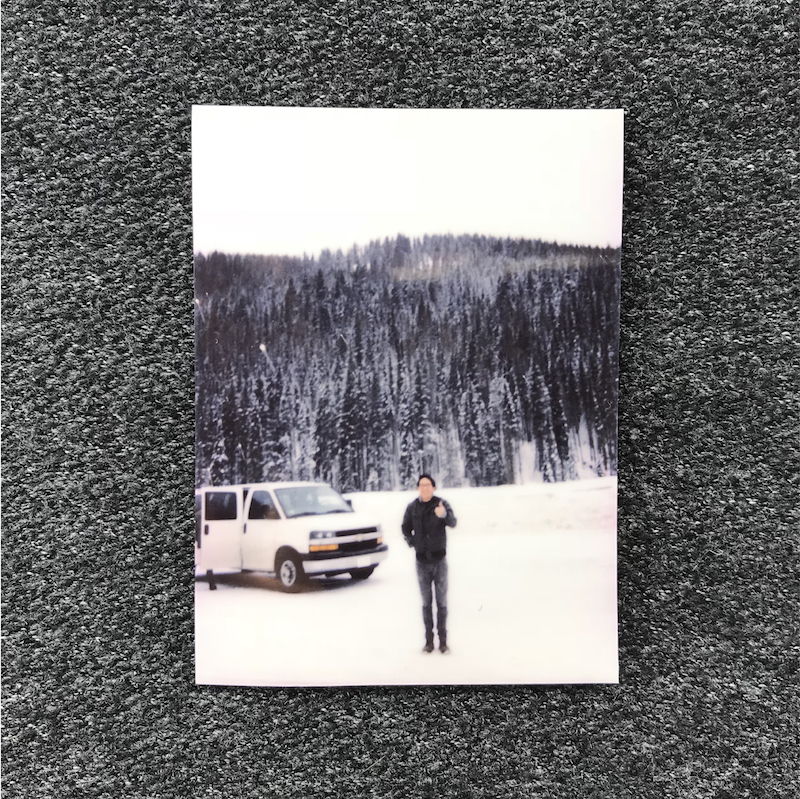 We've implemented a new strategy in dealing with other drivers on this tour. Cut us off? Well, then you're getting a big thumbs down from all three of us. Let us merge? Thumbs up! No middle fingers from this band, the thumbs down is much more effective, we think. The thumbs down cuts deep into your soul. Eddie just witnessed some exemplary driving here, or he's psyched about that winter wonderland. Or both.
Our fantastic drummer and all around great guy, Austin. He's Mr. Consistent, and keeps us all steady, even when things go wrong. And things go wrong quite a bit on tour, it's part of the deal.
The van outside the venue, a daily occurrence. I really love this van...and I trust this van. That is all.
Found a cool dive bar not far from Globe Hall in Denver, CO. This band is pro-dive bar. Or, more specifically, pro- any quiet place where you can find a seat and relax. Are we super lame? I think we might be super lame. Eh.
We drove by a motel in Montana that had a different animal on every door. Eddie made us pull over and take a photo of this bear.
One part of tour that I really love is that you get to see little spots that you'd never, ever see otherwise. The big touristy stuff is fun too, but I like the weird little holes in the wall more than anything. We stopped for gas in North Dakota and came across this fine establishment. Unrelated, I appreciate any place that identifies as a "lounge." Except the fancy lounges. I'm more talking about the "next to a gas station" lounges.
Touring in the winter presents a few challenges because you have to worry about getting stuck in the snow and it's freezing most of the time. But man if it isn't beautiful. The drive across Montana at the start of tour was honestly some of the most striking scenery in all my days. Breathtaking, and I mean that.