Ever since the first single off Acid Dad's debut LP landed in my inbox, I've gradually found myself becoming a superfan of the Brooklyn four-piece. Their self-titled album, which hit shelves March 9, showcases their ability to craft psych-rock ear candy, as evidenced by tracks like "Mr. Major", "Mistress", and my personal favorite, "Die Hard". Ideal listening scenarios for this record include: whilst pushing your way through the subway platform at rush hour, house parties, and whenever you've been passed the AUX cord in a crowded Lyft.
In support of its release, the band—JP Basileo, Sean Fahey, Vaughn Hunt, Kevin Walker—have been hitting venues across the country, including their native Williamsburg where I caught their show at Baby's All Right. Singer and guitarist Hunt walked onto the stage holding a glass of red wine, looking as zenned out as the rest of the band. Thirty seconds later they were blowing the lid off the place, putting on one of the best shows I've seen all year.
There are still several dates remaining on the tour, so if you live in cities like Cleveland, Memphis, Nashville, Philly, or NYC—make it a point to check these guys out when they're in town.
We caught up with Acid Dad to find out what they've been up to thus far on the run, and it turns out they have just as much fun off the stage. From spotting Anthony Bourdain in Marfa to seeing the sights to see in El Paso, we're inclined to say they're having a hell of a time. Check out their Tour Diary below, then make sure to Track them on Bandsintown to stay in-the-know with all their touring news!
Acid Dad Tour Dairy
Leaving the city in a snowstorm and making certain we know where the heck we're going. Two phones are better than one; and three phones are better than two.
Made ya look!
Professional packer.
When you sip on Moonshine and things get weird.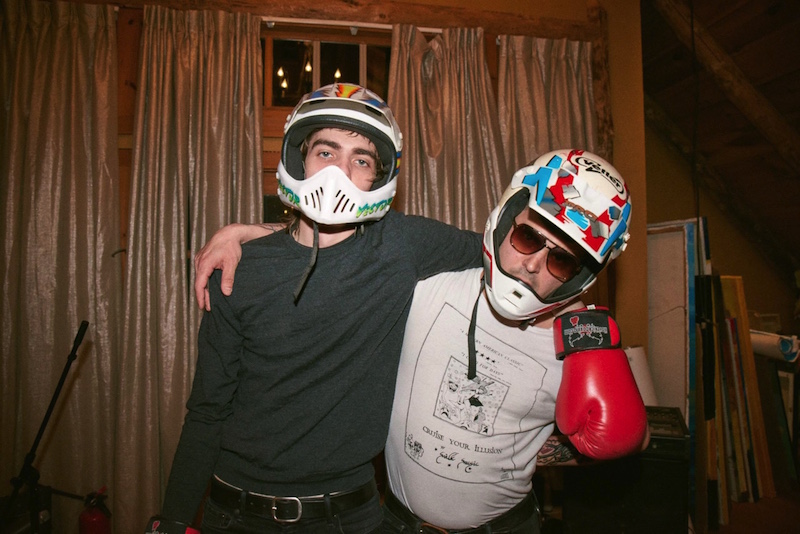 Safety first whilst on the road. We go fast.
When you stumble into the only bar in Marfa, Texas and run into none other than Anthony Bourdain.
Merch game strong. This was at our first show of tour in Providence, Rhode Island at AS220.
One of favorite bands—a band we've covered—inviting us on stage at Savannah Stopover. Pylon, we love y'all.
Hygiene is key.
Fixin' for some stilettos.
Kevin rockin' the Blue Steel in a bubble bath.
The rhythm section on top of the world. Looking over El Paso into Juarez, Mexico.
THE Matt Walsh. Nuff' said. He responded to our tweet and hoped that our show "kicked ass." It did not.