Rhetorik is so much more than Logic's tour DJ. Chase Marchetti's stage name is a perfect fit for this rising star—his lyrics are biting and filled with commentary on the struggles of growing up, dealing with anxiety, and his experiences with homelessness in New York City. His debut single "Shelter" showcases those talents to a T, proving the magic this man can make when you give him a pen and a sheet of paper.
The producer and songwriter has had a busy past few months touring with the "1-800-273-8255" rapper, opening shows across the country, while getting used to performing for arena-sized crowds. It's been a whirlwind, but the Virginia native is loving every moment of it.
Rhetorik let us in on some exclusive behind-the-scenes action from the tour, from cruising around Scranton in a golf cart, to eating Hello Kitty snacks in Little Tokyo, to hitting the stage at MSG. Check our more from his recent adventures below, and don't forget to track him on Bandsintown!
Rhetorik's Tour Diary
Scranton, PA
"We had already spent a full week rehearsing in LA so by the time we got to Scranton, PA, the only things we really needed to do were finalize production and search for Michael Scott. I hopped on the back of the Polaris (fancy golf cart) and went on my way. Unfortunately we didn't find him, but luckily production went great. I still call it a win."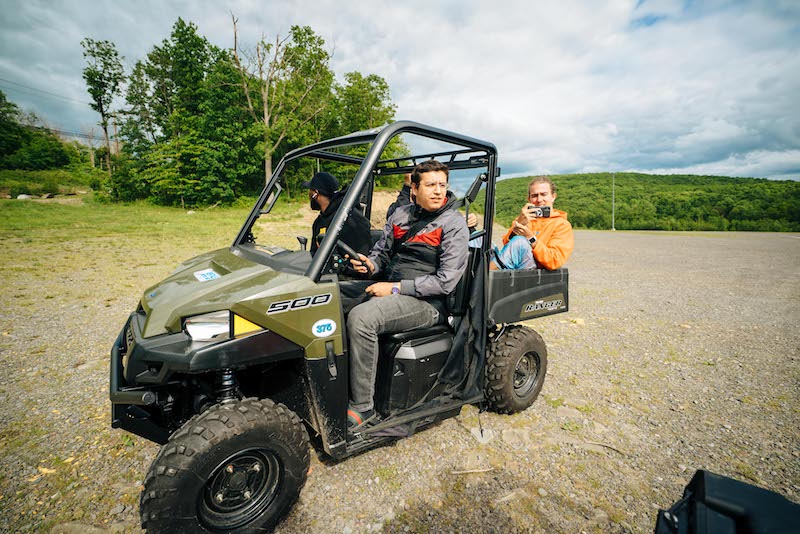 Mansfield, MA
"I went out to batting practice with some fans, and then we all sat down on the bleachers like The Sandlot and listened to my forthcoming EP. Music and baseball - I felt like I was in high school again. I also learned that Mansfield is not, and never will be Boston. It is pretty far away."
"This a shot of the first time I have sang in front of people in almost 10 years - and it was in front of 15,000 people in Mansfield. I think the last time I sang in front of people it was for about 15 people in a coffee shop in high school. Who even knows if they were all paying attention. Talk about being thrown into the ocean and being told to swim…
Bangor, ME
"I think this is me telling the crowd of 12,000 what I had for dinner in case I threw it up. I had just gone on a three mile run and didn't feel so great. Spoiler alert - didn't puke, but did successfully sing my song for the second time ever."
"Day off" in LA
"As an up-and-coming artist, the elusive "day off" on tour is never an actual day off. It is just a day of work without a performance at the end. I had to fly from Connecticut to LA at 6am to be at E3 conference the next day so on the day I had free, I took a couple meetings, did an interview, and met a fan in Little Tokyo while I was shopping for Hello Kitty snacks."
Meeting with fans
"This tour I have been selecting five fans per show that email me why they should hear my debut EP early. I have one rule though - if you are able to find the secret listening location, you are also allowed to listen. I obviously have been better hiding in some cities more than others."
"Day off" in Philly
"This photo explains it all. This is the equivalent to a tour walk-of-shame. Hanging out in almost exactly what you performed in the night before. My face says more than this caption ever could."
Firefly Festival, DE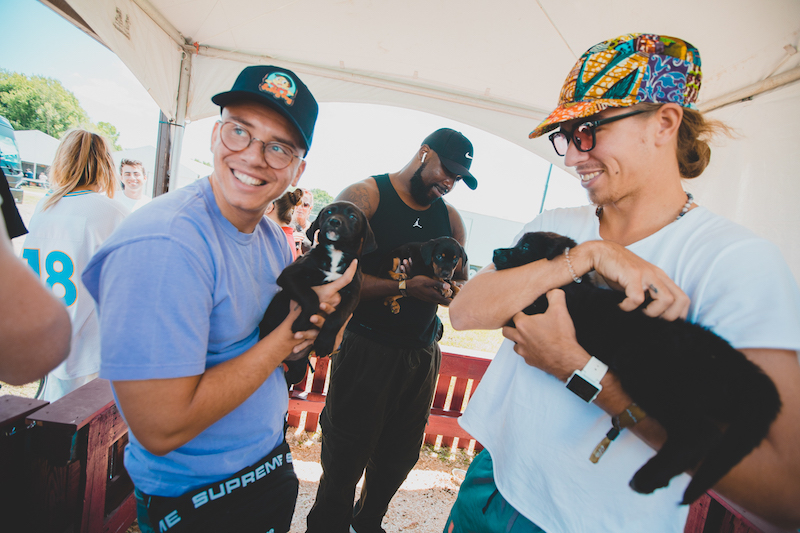 "Some people follow fitness pages on Instagram, others follow beautiful models. Me? I follow puppy pages. I am obsessed with dogs, so this puppy stand right outside our bus was the perfect pick me up after an exhausting week. I would like to say that not irresponsibly adopting one of the puppies is one of my proudest achievements. Moving on…"
Madison Square Garden
"Slightly above not adopting a puppy comes performing at Madison Square Garden. Anyone who has ever even thought about doing music has imagined themselves singing to a sold out crowd at the Garden. I live in New York City, I am deeply in love with New York City, and my song I sang that night was about being broke and not having a home in New York City - so obviously I was a walking talking ball of emotions despite not showing it at all. This was the 5th time I had sang this song (or in front of people in general), so needless to say - I left it all out there. I blacked out. I had to watch the video back to really take it all in. I felt like I was seeing into the future. And watching a video that I'll compare with the next one when I do it again years down the line, laughing at how seemingly amateur I was at the time. It was an amazing experience to say the least, and I don't think any other show will ever be as intimidating as that one."
Atlanta, GA
"This tour has been an incredible experience so far, and nothing has felt more right to me than singing this song and hearing my production ring off in front of 10s of thousands of people a night. When I made these songs, I envisioned them being played for crowds this size, and there's nothing more satisfying than seeing it translate exactly how you had imagined. I can't wait to start getting into the craziness that will be my headlining shows soon…"