Helping music lovers find new acts to obsess over is kind of our thing. With so many emerging artists to choose from, we wanted to let you, the fans, in on who's going to be everywhere soon. That's why we're excited to announce Big Break, a new feature that highlights everything you need to know about the fresh faces turning the industry upside down. From the secrets behind their viral tracks to their big plans for the future, read on for the 411 on the industry's most promising up-and-comers.
Despite what that moniker might imply, there's nothing cautious about Joshua Karpeh's music. From the slinky beats of his debut "Cold War" to the soaring refrain of his recent "French Riviera," the Cleveland native's nocturnal jams have boldly charted new, exciting territory through the waters of R&B, hip-hop, and indie-electronic. While the producer's stylistic choices are laudable, it's his emotional depth and intuition that stir his music's soulful, hot-blooded grooves. "There are a lot of things in art that you can learn by practicing or studying," he's said, "but feel's not one of them."
Indeed, the classically trained multi-instrumentalist already collected a number of production credits before Cautious Clay, but on this project, his gifts for song and writing, atmosphere building, and vibe making are on full display. Released this year, his first two EPs, Blood Type and RESONANCE, have earned him plaudits and landed him on everyone's watchlist.
Hot on the heels of the recent release of his Blood Type Remix EP—which features contributions from HXNS and Mozado, among others—Cautious Clay's taking his show on the road this fall. Below, get an exclusive heads-up on his new headlining dates around the upcoming Alina Baraz tour. Tickets are on sale right now!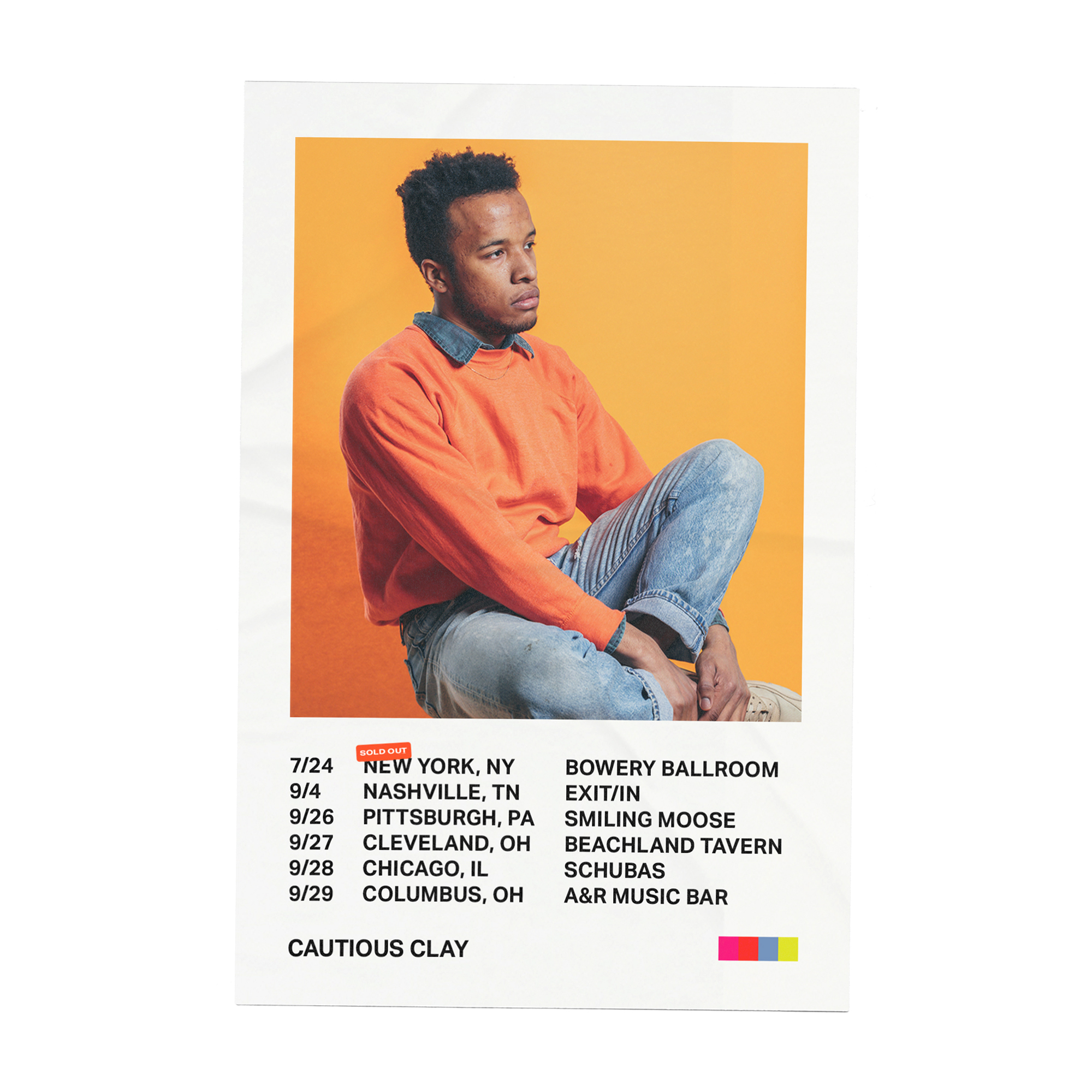 9/4: Nashville @ Exit/In | Get Tickets!
9/26: Pittsburgh @ Smiling Moose | Get Tickets!
9/27: Cleveland @ Beachland Ballroom & Tavern | Get Tickets!
9/28: Chicago, IL @ Schubas Tavern (Early) | Get Tickets!
9/28: Chicago, IL @ Schubas Tavern (Late) | Get Tickets!
9/28: Chicago, IL @ Schubas Tavern (Both) | Get Tickets!
9/29: Columbus @ A&R Music Bar | Get Tickets!
On the brink of his big break and bright future, Joshua opens up to us on nailing his live shows, delivering musical statements, and discovering the perfect melody.
What can fans expect to hear from your latest Blood Type Remix EP?
A lot of good producers doing their renditions of my EP. People I definitely respect in their own right. They all have their own styles, and I feel like the order of things is tailored to that.
You were producing for various other projects before Blood Type. How did those past experiences inform and influence the choices you made on your first EP?
My past experiences with production really helped me to truly go into this project with an open mind and not feel restricted by genre or expectation. It became more about making a clear statement rather than trying to impress.
The lush and soulful uplift of your recent RESONANCE EP is downright irresistible. What was your mindset going into the creation and production of this record?
I wanted to be more direct and decisive with sounds and lyrics in this project. I feel like Blood Type was much more poetic in my lyrical lens, but RESONANCE was a step toward more direct delivery and perspective.
Your classical training in music began at such a young age. What drove you as a seven-year-old to pick up the flute? And what kept you going in music?
I was really into the idea of being a snake charmer as a kid, like from Aladdin, and I thought the flute was the instrument they were playing (even though in retrospect I think it may have been an oboe or clarinet), so I asked my mom if I could get a flute and she said okay. I feel constantly inspired by changing things up though and also playing saxophone.
How does your songwriting process usually begin? Are you sparked off by an idea, a sound, a lyric, etc, for example?
Usually, I will be writing notes in my phone as a way to get my initial ideas out there and then melodies will be in the voice memo. If there is a particular melody I like, I will try to fit it to chords that work for it or a rhythm I really like, so everything works in tandem.
What gives you the greatest satisfaction as a songwriter and as a producer?
Probably finding a perfect sounding melody or lyric that I really fuck with. It almost feels like cracking a puzzle where I know it's perfect; that's such an exciting feeling.
You played some of your first shows as Cautious Clay earlier this year. What was the planning process of putting together these early gigs? What was it like to perform your tracks live?
It was so fun because I have the best guys in my band to play with both attitude and capability-wise. On top of that, because we are all musicians we make the songs a little different for the show, which is exciting and makes shit more fun to play every time.
Were there any artists and musicians whose live shows you admire and took cues from?
I really love Glass Animals' live show. I also played in some projects like this band Lucky Dub that were a bit more jammy/instrumental, so I took away a lot of just getting to know the people you are playing with as a big part of playing well, so that everyone is on page and can take cues on the fly.
How would you describe the Cautious Clay live experience in three words?
New every time.
How are your preparing for your fall run of live dates? What are you most looking forward to on this tour?
I've just been rehearsing a lot with my band. I'm looking forward to meeting all my fans for the first time in a live setting.
What is your biggest hope and ambition for 2018? How would you define a "Big Break"?
I want to release a song that can reflect on a moment in time and have an impact on culture.