Can a band really be categorized as rock'n'roll, jazz, and blues all at the same time? If you're the Rad Trads, the answer is yes. This NYC-based band knows how to work a room with their groovy Americana feel and funky instrumentation. They first swept us off our feet with their debut album, Must We Call Them Rad Trads? and again with their 2014 EP Self Help.
The band's most recent album, On Tap, showcases their playful use of horns and strong vocal range. They have a knack for composing lyrical words of wisdom in songs, evidenced in tracks like "Good Luck Unto Ya" and "Wishing Well".
The Rad Trads recently hit the road to play their new music across the US this summer. Lucky for us, they sent us some pictures of life on the road—meeting fans, riding motorcycles, and crossing the Mississippi River. After taking a brief breather, the five-piece are kicking off another tour throughout Spain today. Track them so you won't miss out on a chance to see them perform On Tap live!
The Rad Trads 2018's Tour Diary
"Good morning gorgeous ;)"
"Patrick and the Missouri River- the backyard view of our Air B&B on a vineyard outside Columbia MO"
"Watching the freight train pass by a block from Knucklehead's saloon in KC- soundtrack : Willie Nelson singing Kansas City"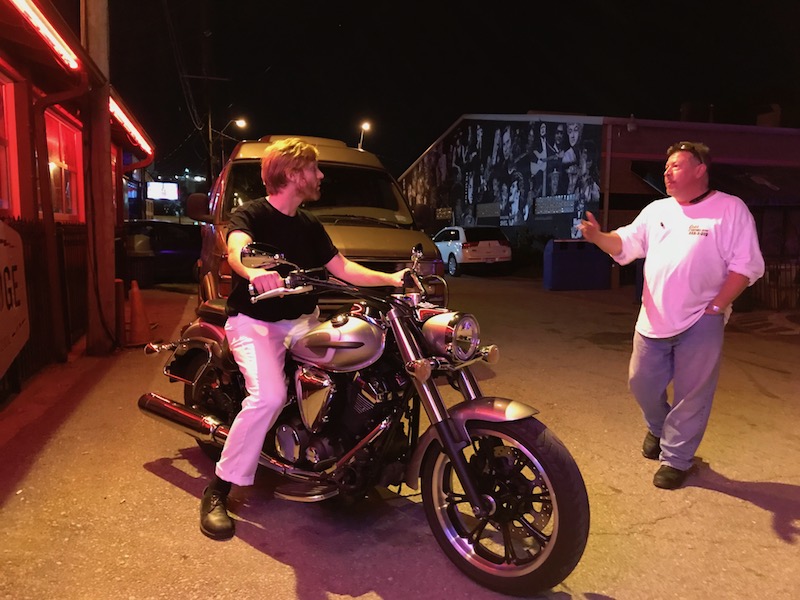 "A friendly local lets Mike ride his Hog"
"John and Michael with Lisa in her new Rad Trads hat- Lisa is a local masseuse and regular at the Zoo Bar in Lincoln, NE"
"Up close to get the full sound bath at Japanese Breakfast, headlining night one at Lincoln Calling"
"Mike and an adoring fan in Des Moines, Iowa!"
"Finding out there are beaches in NYC."
"The giant and majestic cows of central Iowa"
"World's largest truck stop, Iowa - maybe a future van upgrade? "
"Crossing the mighty Mississippi on the way to Indianapolis ... love the river veins of our country."
"Alden sitting back post pizza in the Evanston, SPACE green room . Quiet before the storm!"
"Sneaking in a little harmony rehearsal before the show on "Key Club" ;)"
The Rad Trads' Upcoming Tour Dates
Oct 11 - Valencia, Spain @ Loco Club
Oct 12 - Cadiz, Spain @ El Pelicano
Oct 13 - Estepona, Spain @ Louie Louie
Oct 14 - Sevilla, Spain @ Sala X
Oct 15 - Madrid, Spain @ Cafe Central
Oct 16 - Madrid, Spain @ Cafe Central
Oct 17 - Madrid, Spain @ Cafe Central
Oct 18 - Santander, Spain @ El Amacen de Little Bobby
Oct 19 - Santiago De Compostela @ Outono Codax Festival
Oct 20 - Valles, Spain @ AMC Bocanegra Cultural Club
Oct 21 - Aldeamayor De San Martin, Spain @ Sidreria El Zagal
Nov 6 - Dallas, TX @ (Sundown @ Granada Theater)
Nov 7 - Austin, TX @ Mohawk
Nov 8 - Houston, TX @ McGonigel's Mucky Duck
Nov 9 - New Orleans, LA @ Santos
Nov 10 - Tupelo, MS @ Blue Canoe
Nov 16 - Little Rock, AR @ Revolution Music Room
Nov 17 - Memphis, TN @ Rum Boogie Cafe
Nov 28 - Philadelphia, PA @ World Cafe Live Philadelphia
Dec 9 - Boston, MA @ City Winery Boston