Chicago is the place to be this November. This year's Red Bull Music Festival Chicago is promising performances from 70+ artists throughout the entire month, who are all coming together to celebrate diversity in music. Across the city, you'll find tons of shows from your favorite Windy City natives. It's all kicking off on November 3 on opening night at Wintrust Aerna—believe us, it'll be a can't-miss.
Check out the shows we're the most psyched about below, then be sure to Track the rest of the artists performing on Bandsintown!
1. Opening Night - November 3 @ Wintrust Arena
Try to wrap your head around the lineup that is kicking off this year's festival. Hip-hop veterans and R&B newcomers are joining forces for one night only to celebrate the two genres' influence on each other. Rappers Pusha T, Sheck Wes, Nas, and Valee meet R&B artists Teyana Taylor and 070 Shake for a spectacle you don't want to miss.
2. Drone Activity Chicago - November 9 @ Saffron Rails
Brace yourself for an ear-splitting, rib-rattling night of rock and post-punk. Explore Chicago's up-and-coming noise, drone, and experimental music scene with artists like Sun O)))'s Stephen O'Malley and Merzbow. This three-stage event will also feature acts like Olivia Block, ONO, Thoom, TALsounds, Quicksails, Bruce Lamont, Matchess, Carol Genetti, HOGG, Rebecca Valeriano-Flores, Fire-Toolz, and Katherine Young. Bring earplugs. Or don't.
3. CupcakKe - November 10 @ Thalia Hall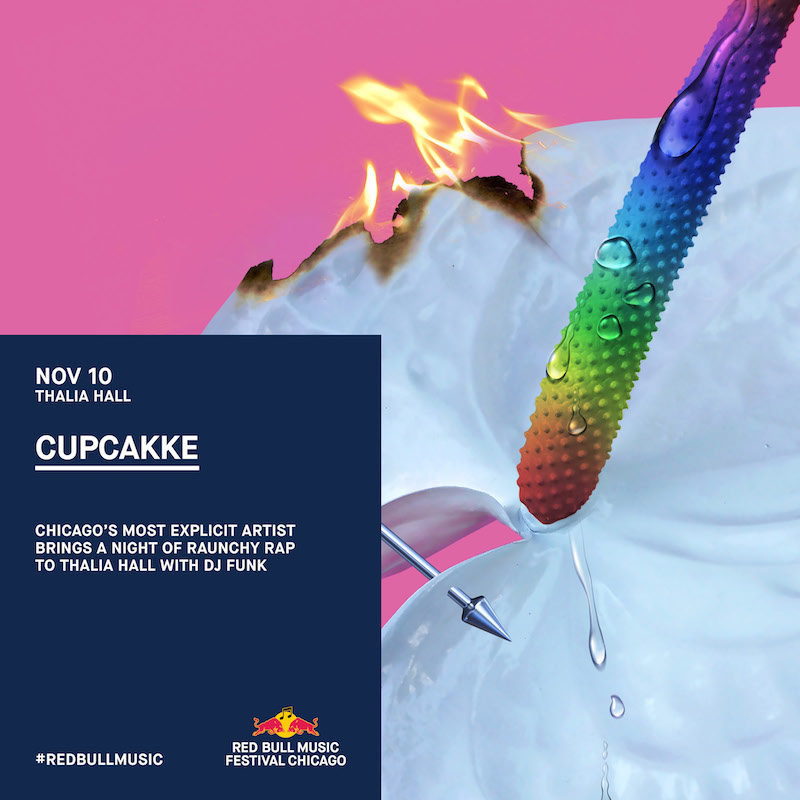 If you haven't heard of CupcakKe, you don't wanna waste another minute in the dark. The 21-year-old dubbed herself as "the most explicit" in her song "CPR", and she's not wrong. Her shockingly XXX songs and music videos went viral for good reason, and in addition to her outspoken sex-positive attitude, she's also a vocal ally for issues such as racial inequality and body positivity. Two hell yeah's from us. She'll be performing alongside DJ Funk and DJ King Marie at Thalia Hall, an opera house-turned-concert venue.
4. Xicago - November 11 @ Saffron Rails
Celebrate Chicago's Latinx community by dancing all night long at Xicago. With two stages to choose from, you'll find R&B, bilingual pop, rap, and even jazz music guaranteed to set Saffron Rails on fire. Catch artists like Pachanga, Future Rootz, Boi Jeanius, ¡ESSO! Afrojam Funkbeat, Tatiana Hazel, Navarro, Dos Santos, Daniel Villarreal-Carrillo, Victor!, and KAINA.
5. Futurehood & Friends - November 23 @ Subterranean
Check out some of Chi-Town's LGBTQ buzziest rappers, DJs, and singers at Subterranean on November 23. Rappers Mister Wallace and Anthony "aCeb00mbaP" Pabey created a Chicago-based LGBTQ-centric record label called Futurehood to showcase up-and-coming artists in the local scene. Catch artists like KC Ortiz, The Vixen, Kidd Kenn, Roy Kinsey, TRQPiTECA, and Rae Chardonnay in Wicker Park.
6. Last Night A DJ Saved My Soul - November 25 @ Thalia Hall
Get blessed at this all-day gospel house dance party. Yeah, you read that right—there is such thing as gospel/house music, and it's awesome. Last Night A DJ Saved My Soul is blending secular singers such as Brian Stingily and Mark Hubbard & the Voices with Chicago DJ's Farley "Junkmaster" Funk and DJ Pierre. Did we mention that it's on a Sunday? Take us to church.
7. Makaya McCraven - November 29 @ South Shore Cultural Center-Robeson Theater
Paris-born jazz composer and drummer Makaya McCraven is bringing his one-of-a-kind musical blends to the historic South Shore Cultural Center. Oh, and did we mention that a 10-piece ensemble band will be joining him to perform the tracks from his new album Universal Beings? Instrumentalists include Jeff Parker, Miguel Atwood-Ferguson, Carlos Niño, Brandee Younger, Nubya Garcia, Junius Paul, Joel Ross, Dezron Douglas, Josh Johnson, and a DJ set by Ayana Contreras.
8. Jamila Woods Heavn Here - November 30 @ Harold Washington Cultural Center
Award-winning poet and vocalist, Jamila Woods will be gracing the stage with her dreamy, melodic tracks. The south side native's debut album, HEAVN, is a beautifully written blend of poetry and protest, so for this special show, she'll be performing it with a string band, choir, DJ, poets, dancers, and visual artists for a once-in-a-lifetime visual display. Get ready for a sensual experience like no other.