Name a better way to wrap up 2019 (and the end of a decade) than by partying with your favorite artists surrounded by a winter wonderland. That's the beauty of MTV's SnowGlobe Fest, which boasts a stacked lineup year after year, and takes place during the three days leading up to New Year's Eve. This year, fans can expect to see sets from both rising stars and forever favorites like Skrillex, Fisher, Gigantic NGHTMRE, Louis the Child, Doja Cat, Dominic Fike, and many more.
Because it takes place in South Lake Tahoe, California, attendees have the freedom to hit the slopes (or drink hot cocoa in the lobby!) in-between performances, bringing together the best of both worlds for skiers, snowboarders, and music lovers alike. The ability to check out a few trails in-between sets? Dreams do come true.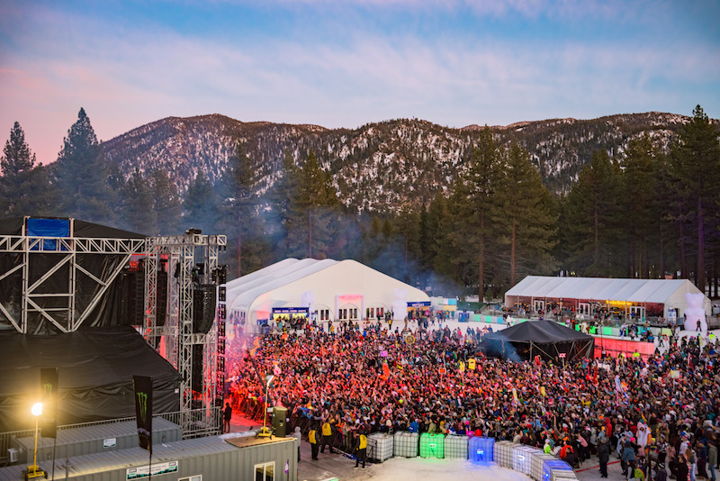 With a little more than a month until SnowGlobe kicks off, there's no better time to scoop your tickets. Pick them up here, grab your snowboard, and check out the acts we're most amped to see this year below!
If you've spent any time on the internet over the past year, you've probably checked out (and been obsessed with) the visuals for Doja's now-infamous track, "Moo!". Since then, she's built an empire of devoted fans and released viral hits such as "Juicy" ft. Tyga and "Tia Tamera" ft. Rico Nasty. Just this past Friday, the LA native released her sophomore album, Hot Pink, so you know she'll be debuting her new material (and stellar outfit changes) for the SnowGlobe masses.
If you missed Channel Tres and Toro y Moi's sold-out tour when it came to your city recently, this is your chance to see the rising star live. The Compton-based musician and DJ has been popping up everywhere lately since releasing his second EP, Black Moses, which features an incredible Stooges inspired hit, "Raw Power." Bringing both his hypnotic beats and suave dance moves to every show, this set will be one you want to have on your radar.
Northern California icon, E-40 is coming to SnowGlobe to unite fans of both new school and old school hip-hop. With more than twenty-eight studio albums under his belt, the esteemed rhyme slayer will have plenty of material to get the crowd moving, including the fan favorite, "Tell Me When to Go". When that Lil Jon-produced bassline hits, there's no telling what's possible. Join him to celebrate over 30 years of west coast bangers in his home territory.
JPEGMAFIA's latest LP, All My Heroes Are Cornballs has been cited by many critics as one of the best albums of the year. With his experimental approach to sampling, and a tendency to pull from a wide array of genres, it's guaranteed that the Baltimore-bred rapper is going to be working the crow from start to finish. If the amount of crowd-surfers and mosh pits at his shows are any indication, this is going to be a wild one so buckle up folks.
With her signature smooth and sultry vocals, Kaleena Zanders has been a go-to for EDM artists when it comes to singing on their tracks. The rising artist had a breakthrough with her collaboration on SNBRN's track "California," where she beautifully interpolates the hip-hop classic, "California Love." Even on acoustic tracks her musicianship is magical, piercing listeners souls with her high clarity vocals.
This Florida native has had quite the year. With exploding singles like "3 Nights" and "Phone Numbers" (produced by Kenny Beats), Fike's versatility can win over fans of any genre. Take his sold out tour earlier this year, for example, which had fans lining up outside venues to scoop last minute ticket drops. Keep your eye on this recent Columbia Records-signee, and don't forget to arrive at his set earlier to get a good spot!
The LA-based electro-pop singer and producer has been amassing a huge fan base since she landed on the scene in 2016. Known for making sincere connections with her fans, she makes a point to bring her passion for storytelling into her music, which are also usually riddled with massive bass drops. "Fuck Your Money" off of her self-titled LP is sure to get the crowd going during her set next month, so don't miss out on seeing her eclectic personality light up the stage!
The whole weekend of festivities will culminate in a blowout performance by the biggest name in electronic music. There is no better way to ring in to 2020 than by sharing this set with your crew, listening to tracks such as "Purple Lamborghini" and "Where are U Now" live in the flesh. His set will make this the most memorable way to dance your way into the new decade.