Bandsintown LIVE: Catch Christian French, PineappleCITI, Pigeon John, MIREI, BOYO
Get ready for this!
Apr 13, 2020 | Maya Georgi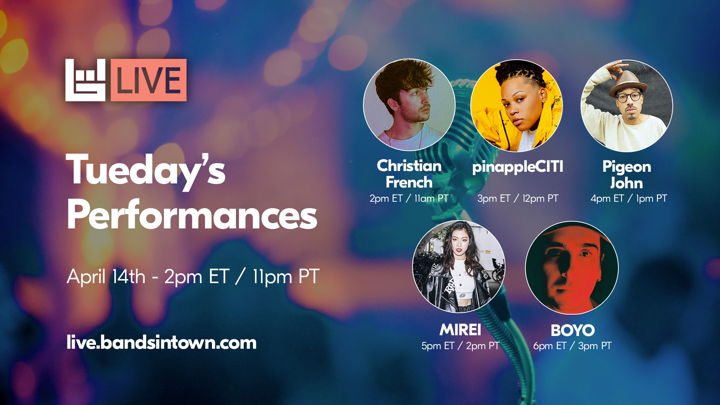 We're bringing you all the chill vibes on Bandsintown LIVE this week! If you need to get out of any quarantine funk, be sure to tune into catch the killer lineup with some of the best emerging artists right now. The livestream show kicks off on Tuesday, April 14th at 2 PM EST.
Christian French will be setting the stage on Tuesday. The 22 year-old artist is a self-proclaimed "indie pop prince" who is sure to bring a lively energy with his mellow pop numbers. Rapper PineappleCITI and MC Pigeon John deliver nothing but positivity in their songs. And who doesn't need some solid beats and a good message nowadays? Japanese singer-songwriter MIREI is sure to get you bouncing along to her glossy, dance-pop. Finally, LA-based multi-faceted artist BOYO will be closing out the livestream. The 23 year-old may as well be the king of chill music with his perfectly curated beats and groovy instrumentation.
Go to live.bandsintown.com to come and relax with these awesome artists!