Billie Eilish is redefining COVID-19 era live music. Her "Where Do We Go? The Livestream" concert on Saturday, October 24 featured a slew of guests, including Steve Carrell, Lizzo, a giant shark, the moon, spiders, and her fans. Nothing short of her spectacular in-person concerts, but with an imaginative, virtual twist.
The livestream included exclusive merch, a restless chatroom and a first look at her Apple TV+ documentary coming out in February 2021. Her brother, Finneas, and drummer Andrew were the only ones by her side on the 60-by-24 foot stage. The XR, camera crew and sound crew stood in front, cheering her on.
Eilish opened with her first single from WHEN WE ALL FALL ASLEEP, WHERE DO WE GO?, "bury a friend," which featured flashing red lights and the iconic shadow monster she often doodles on social media. It fades into "you should see me in crown" where she paced in circles underneath a bus-sized spider -- one you wouldn't want to see in 3D. Next came "my strange addiction," and "ocean eyes," where she sat at the bottom of a barren ocean floor.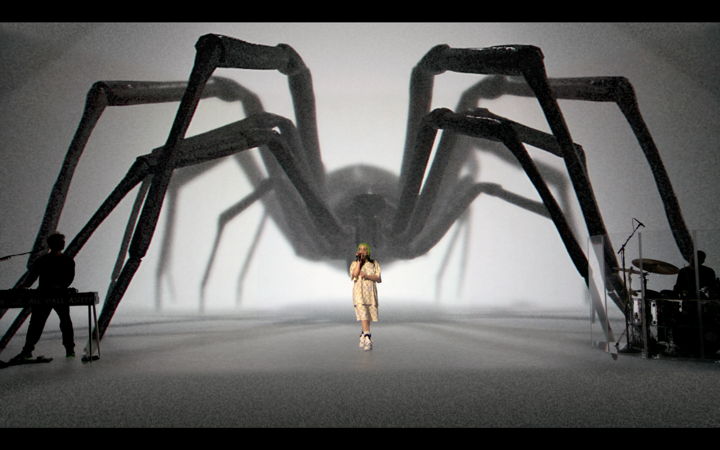 Each song featured a new set of visuals, each more striking than the last. Though "xanny" was a single spotlight on Eilish sitting on a bench, it still kept you drawn in. "when the party's over" was performed with similar effects, but the minimalistic production allowed the emotional connection she has to the lyrics to take center stage. Finneas joined her as they sat on stools in front of the moon for "i love you" where they accidentally revealed they are working on a new album together. As the song progresses, an ever-growing cement tower appears as the camera zooms out showing Eilish and Finneas surrounded by stars and space leaving you haunted as if you were watching them from earth.
A giant, white-toothed shark chomps down on Eilish at the end of "ilomilo" and the floor constantly shifts underneath her for "No Time To Die." Despite the elaborate effects, nothing took away from Eilish's stage presence and love for performing.
"I can't even tell you how bad I wish I could be on tour," Eilish expressed. "During quarantine, I think I realized that the only place I've ever felt myself, like I belong, is in front of you guys and with you guys."
An outcry for young people to vote because they "are the ones with futures" came after "all the good girls go to hell." Eilish's dancing and jumping was accompanied by large screens in the background displaying natural disasters, Black Lives Matter protests, and other social and political issues happening around the world. Her silhouette stood in front of a screen reading "No Music On A Dead Planet" as the song ended.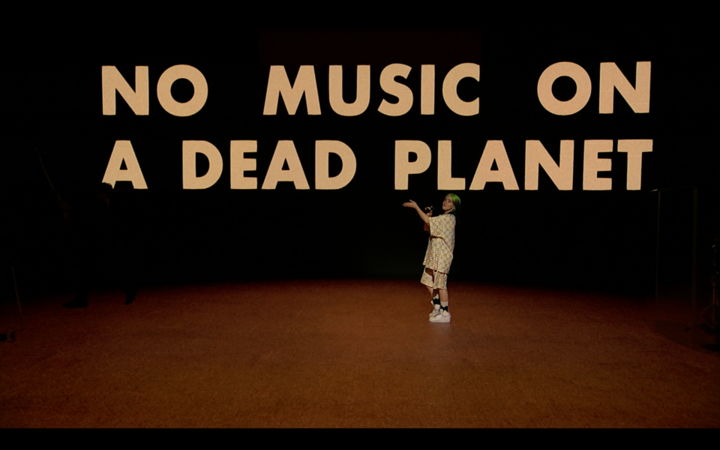 Floating screens of her fans appeared again during "everything i wanted" holding signs reading "You were everything we wanted," wearing the exclusive livestream merch and dancing in their living rooms with their idol.
Eilish's latest release, "my future," leaves her surrounded in an animated jungle with bright blooming flowers—similar to how her career as a teenage pop star is now blooming in the midst of it all.
"Drink lots of water, take care of yourselves, don't take life for granted, say hi to your family friends," Eilish screamed before transitioning into her final, Grammy award-winning song "bad guy."
Though millions were watching yellow strobe lights and drifting sports cars on a computer screen while wearing a t-shirt and no pants, Eilish made the viewers feel like they were in the studio with her or watching on the overhead screen from the nosebleeds at one of her arena shows. Eilish's accolades and obsessive fans are warranted, and this live stream concert proved just that.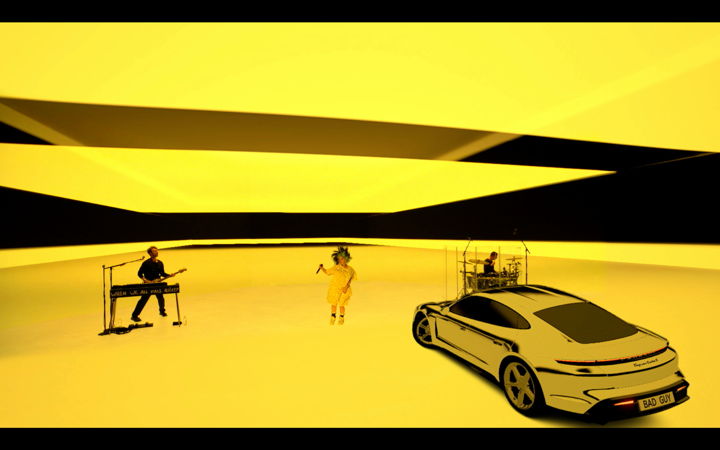 Track Billie Eilish on Bandsintown!