Originally published on January 12, 2021
Bandsintown is proud to announce the launch of Bandsintown PLUS, a first-of-its-kind live music streaming service subscription service. For just $9.99 a month - less than the price of a single concert ticket - fans get an "All Access Pass" to more than 25 exclusive live shows every month.
With its simple subscription model, a state-of-the-art interactive platform and a roster of cutting-edge performers, Bandsintown PLUS democratizes and revolutionizes the live music experience, directly supporting artists in the process.
Fans can sign up for Bandsintown PLUS now by visiting plus.bandsintown.com.
Initial Lineup
Bandsintown PLUS's debut lineup for January and February includes Adeline, Adrianne Lenker of Big Thief's first ever solo livestream, Bakai, Brijean, Bye Beneco, Chrome Sparks, Chromeo, Claud, Diamond Thug, Empress Of, Fleet Foxes (Robin Pecknold Solo), Flying Lotus, HONEYMOAN, Ian Isiah, James Hersey, Jeff Tweedy Of Wilco with a full band and rare fan Q&A, Joe Bonamassa, Little Dragon, Local Natives, Lomelda, mau from nowhere, Mindchatter, Misty Mtn, Mt. Joy, odie, Phoebe Bridgers, Poolside, Prequell, Rexx Life Raj, Rodrigo y Gabriela, Sam Himself, Scarypoolparty, Sir Chloe, Soccer Mommy, Toro y Moi (DJ Set), Trevor Hall, Tycho, Wallows, We the Commas, and former Bandsintown Big Break alumni Omar Apollo with special guest Q, along with more to be announced.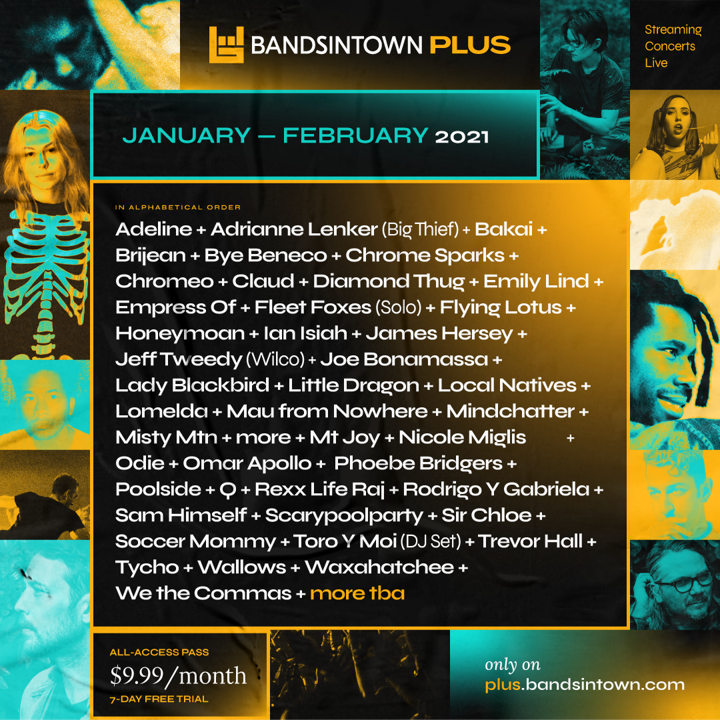 Each month's lineup includes a carefully curated and eclectic mix of emerging artists along with established pioneers in the industry. Members are also entitled to special perks, like intimate chats with artists and access to sought-after concerts on other platforms.
"For the past year, we've been hungry for live shows and for a chance to support the artists we love. Bandsintown PLUS is an opportunity to break the barriers of cost and location that have historically hindered live music experiences. Now, with Bandsintown PLUS, live music can be more affordable, more accessible, and more approachable," says Fabrice Sergent, Managing Partner of Bandsintown.
"Touring artists have been economically ravaged by Covid-19's restrictions. Bandsintown PLUS is a chance to help innovate the industry, creating new sources of revenue for artists, while deepening connections with their fans," says Sergent.
Bandsintown PLUS is available now throughout the U.S. via plus.bandsintown.com.
January - February Initial Bandsintown PLUS Schedule
Thu, Jan. 14
6:00 PM: Melissa Etheridge - RSVP Here
10:00 PM: Sir Chloe - RSVP Here
Fri, Jan. 15
9:00 PM: Toro y Moi (DJ Set) - RSVP Here
10:00 PM: Mindchatter - RSVP Here
Sat, Jan. 16
9:00 PM: Rodrigo y Gabriela - RSVP Here
10:00 PM: We the Commas - RSVP Here
Wed, Jan. 20
6:00 PM: Joe Bonamassa - RSVP Here
9:00 PM: Joe Bonamassa (rerun) - RSVP Here
Thu, Jan. 21
9:00 PM: Phoebe Bridgers - RSVP Here
Fri, Jan. 22
9:00 PM: Adrianne Lenker (Big Thief) - RSVP Here
Sat, Jan. 23
8:00 PM: Trevor Hall - RSVP Here
9:00 PM: Jeff Tweedy (Wilco) - RSVP Here
10:00 PM: more - RSVP Here
Thu, Jan. 28
9:00 PM: Rexx Life Raj - RSVP Here
10:00 PM: mau from nowhere - RSVP Here
Fri, Jan. 29
9:00 PM: Chrome Sparks - RSVP Here
10:00 PM: Empress Of - RSVP Here
11:00 PM: Bakai - RSVP Here
Sat, Jan. 30
9:00 PM: Flying Lotus - RSVP Here
Thu, Feb. 4
7:00 PM: Adeline - RSVP Here
10:00 PM: Adeline (rerun) - RSVP Here
Fri, Feb. 5
9:00 PM: Chromeo - RSVP Here
10:00 PM: Ian Isiah - RSVP Here
Sat, Feb. 6
9:00 PM: Tycho - RSVP Here
Thu, Feb. 11
10:00 PM: Waxahatchee - RSVP Here
Fri, Feb. 12
9:00 PM: Omar Apollo - RSVP Here
10:00 PM: Q - RSVP Here
Sat, Feb. 13
9:00 PM: Claud - RSVP Here
Thu, Feb. 18
9:00 PM: Hundred Waters - RSVP Here
Friday, Feb. 19
9:00 PM: Wallows - RSVP Here
Thu, Feb. 25
9:00 PM: Poolside - RSVP Here
10:00 PM: Brijean - RSVP Here
Fri, Feb. 26
9:00 PM: Little Dragon - RSVP Here
10:00 PM: Diamond Thug - RSVP Here
Sat, Feb. 27
9:00 PM: Fleet Foxes (Robin Pecknold Solo) - RSVP Here
10:00 PM: Lomelda - RSVP Here