Photo by B+
Ready or Not: the Fugees are back!
After a 15 year hiatus, Lauryn Hill, Wyclef Jean, and Pras Michel will join forces once again to celebrate the 25th anniversary of their historic album, The Score.
"The Fugees have a complex but impactful history," said Lauryn Hill in a statement. "I wasn't even aware the 25th anniversary had arrived until someone brought it to my attention. I decided to honor this significant project, its anniversary, and the fans who appreciated the music by creating a peaceful platform where we could unite, perform the music we loved, and set an example of reconciliation for the world."
Wyclef Jean added, "As I celebrate 25 years with the Fugees, my first memory was that we vowed, from the gate, we would not just do music we would be a movement. We would be a voice for the un-heard, and in these challenging times, I am grateful once again, that God has brought us together."
To kick off their reunion, the trio have partnered with Global Citizen for a special NYC performance on Wednesday, September 22, kicking off a campaign to end the hunger and shine a spotlight on the crisis in Haiti.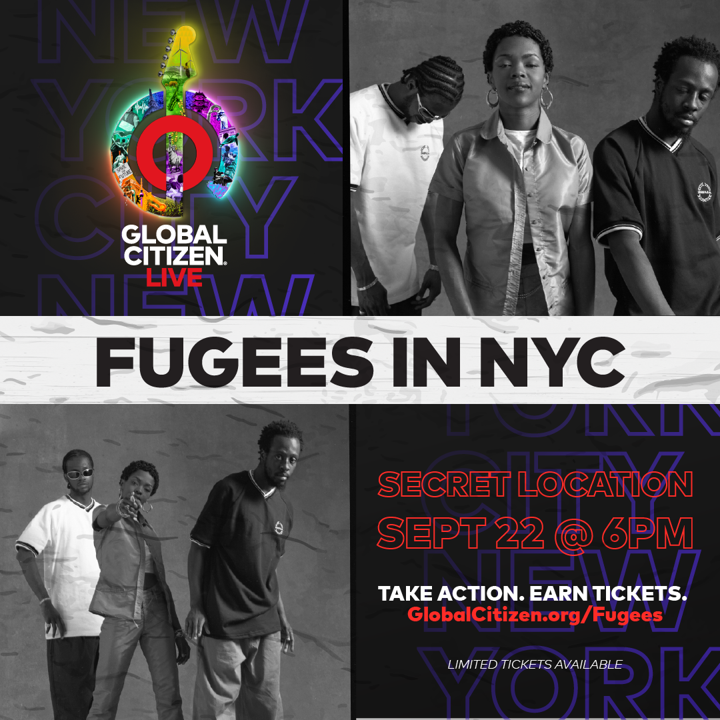 "Since the pandemic began, even more people have been pushed to the brink of famine, with 41 million now facing starvation," said Global Citizen in a statement. "Climate change is making this situation even worse, with rising temperatures and water scarcity making it harder to produce and distribute the food that people need."
"This situation is especially acute in Haiti, where climate change, frequent natural disasters, and poverty have pushed nearly half of the population into food insecurity."
For the chance to see the Fugees reunion live in New York City, take action now via Global Citizen to earn tickets here.
Following the NYC show on Wednesday, the "Killing Me Softly With His Song" hitmakers will kick off an international tour that will take them to cities like Chicago, LA, Atlanta, Paris, and London before final shows in Nigeria and Ghana.
Check out their upcoming dates below, and make sure to follow them on Bandsintown to find out when they announce new shows and to be notified when tickets go on sale!
September 22 – NYC @ TBA
November 2 – Chicago, IL @ United Center
November 7 – Oakland, CA @ Oakland Arena
November 12 – Los Angeles, CA @ The Forum
November 18 – Atlanta, GA @ State Farm Arena
November 21 – Miami, FL @ FTX Arena
November 26 – Newark, NJ @ Prudential Center
November 28 – Washington D.C. @ Capital One Arena
December 4 – Paris, France @ La Defense Arena
December 6 – London, U.K. @ The O2
TBA – Nigeria @ TBA
December 18 – Ghana @ TBA