Photos by @yesmusicjpg_
On October 28th, Thundercat's It Is What It Is tour with Channel Tres brought some much needed funky, freaky vibes to New Orleans just in time for Halloween. On the first tour since releasing his fourth studio album back in April 2020, Thundercat proved to fans that he has had time to sort through the ups-and-downs he was reflecting upon last year.
It's only fitting that he held this symbolic Jazz funeral in a place like New Orleans, where the locals prefer to celebrate life during the grieving process. The record that was once created in a time of uncertainty in everyone's lives has now become an opportunity for Thundercat to tour with a renewed spirit full of positive energy, turning a rather melancholic reflection into an appreciation of the present. The two artists put on a show to remember giving the people what they had been missing for so long.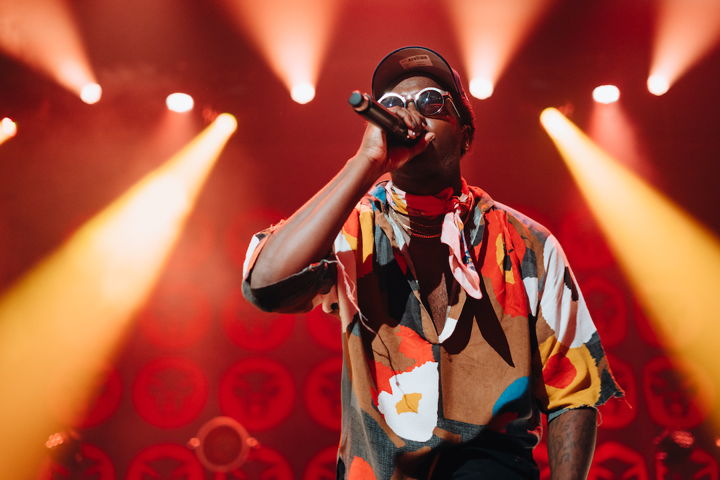 Fans were excited to get back out to hear live music and packed into the Civic Theatre, New Orleans' oldest performance venue. Strangers were talking and having a good time as the lights went down and Channel Tres opened up. The stylish record producer and rapper from Compton, California, came out donning a Dodgers cap paired with his signature circular shades and started to spin some deep house cuts, quickly getting the audience to chat less and dance more. As the bass pumped, he let the crowd know early that there was one goal—to get everyone ready for the amazing show to come.
Everybody went wild when Channel Tres stepped out in front of his equipment gripping the mic, making it clear that it wasn't just a DJ set. The dark house kicked while he sang and rapped in his usual controlled deep tone and performed singles like "Controller." Feeling the energy as he danced his way across every part of the stage, he led the audience bouncing and moving into something that became more like a brisk cardio workout. His last song "Topdown" had everyone more than warmed up for Thundercat with the whole building getting down, from the floor up to the third terrace.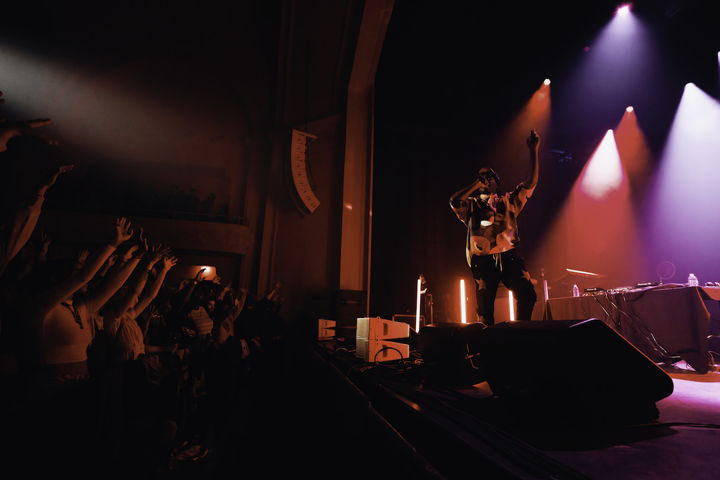 When Thundercat made his appearance, he arrived in style as usual; but this time he was dressed as a little turtle with red short shorts and a red beanie, holding his huge six string bass with ease. Right away he serenaded everyone with "Lost in Space / Great Scott/ 22-26," the first track of It Is What It Is with everybody singing along, "Breathe for me. Breathe for me."
It was good advice to take a deep breath for what was to follow. Thundercat's albums are tame compared to the amount of face melting solos that take place in his live show. He played games with the band, bouncing back and forth off his drummer Justin Brown and keyboardist Dennis Haam, two equally talented artists who somehow kept up with his fierce shredding. Thundercat would mesmerize the audience with his warp speed finger work and his tremendous amount of stamina with each solo lasting 5, if not 10, minutes at times.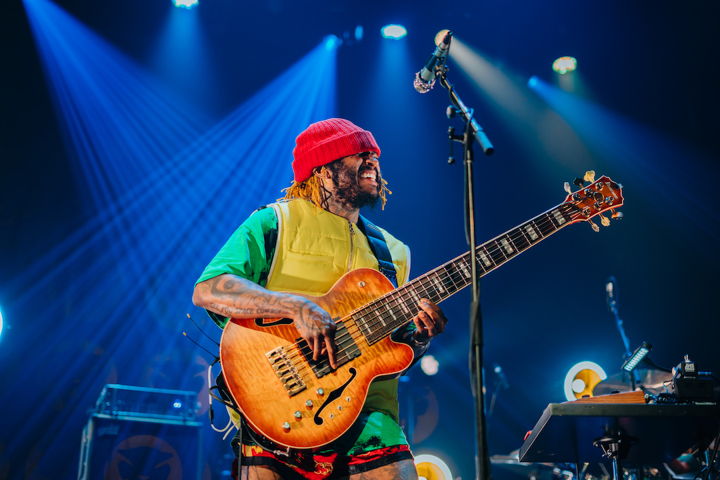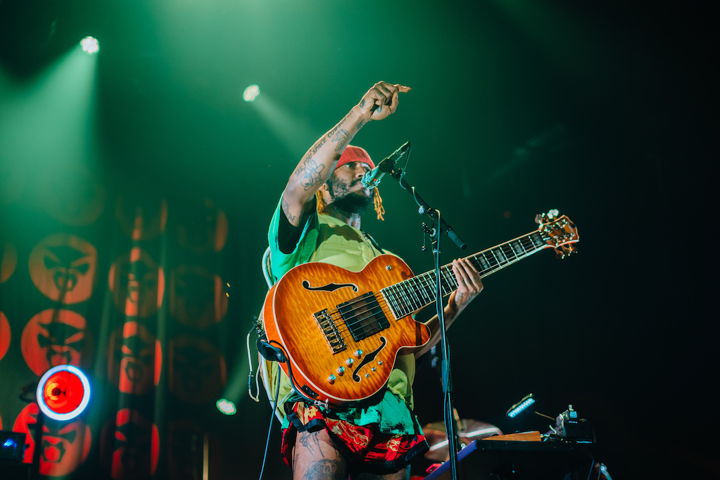 The entire set confirmed that while Thundercat was out of this world, he remained very down to earth. Throughout the evening, he'd humbly reveal more and more about how he was doing mentally in an effort to open up a conversation and seek solidarity with his audience. He talked about being an alcoholic in the past but being sober for the last 3 years, holding back tears at times as he hinted at starting to feel good again. He talked about losing Mac Miller among a few other friends and how hard the past few years had been. However, the overall message was one of hope and gratitude, as he gave shout outs to special friends and played tributes to those who have helped inspire him on his journey like Louis Cole, Flying Lotus, and Chick Corea, to mention a few.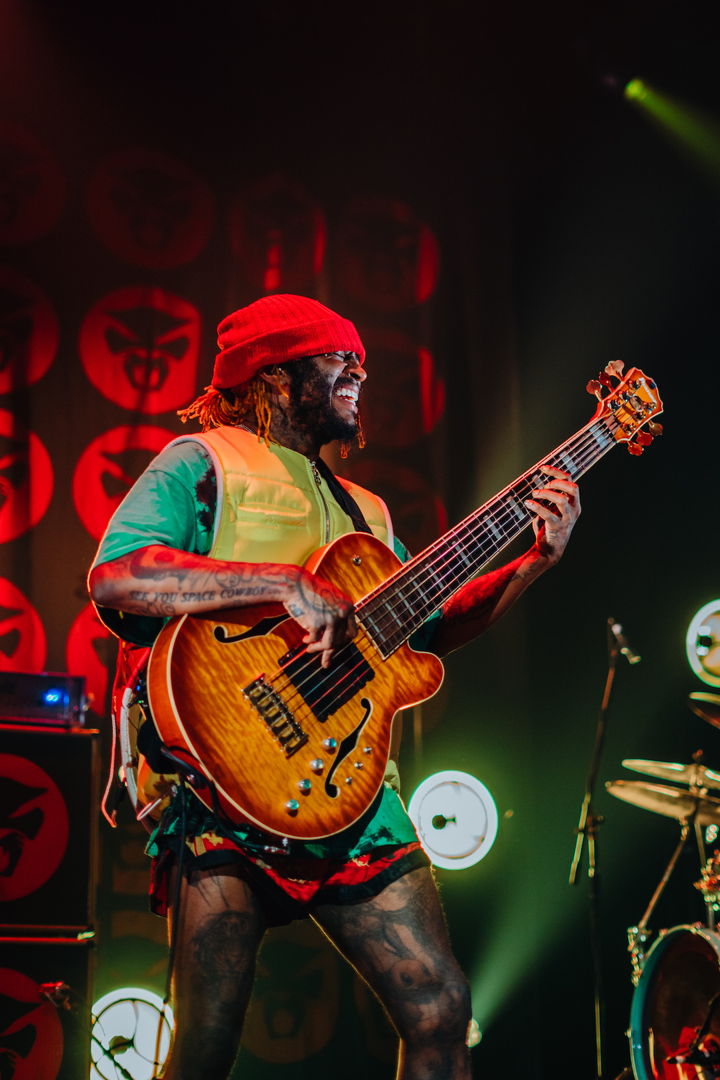 As the show moved along through the highs and lows of his new album, Thundercat played classics from Drunk, his 3rd studio album, saving top singles like "Friend Zone" and "Them Changes" for later in the night. He chose to finish the evening the same way it started—keeping everyone moving. Not once, but two times he played "Funny Thing" an uptempo hit from his latest album and left the crowd happy and on their feet until the very end.