Photo by Jimmy Fontaine
The Band CAMINO is riding a hot streak. The Tennessee-based group dropped their self-titled LP last September via dblblk/Elektra Records and indie lovers have been all over it. It's a project that finds the band in an upbeat mood, and it's an infectious energy that pervades every track (just spin singles "Roses" and "1 Last Cigarette" to see what we mean).
If there's anything the band does as well as they do making records, it's hyping up fans for tour. They've pulled no punches on socials when it comes to "The Tour Camino". Couple the custom posters they made up for each city on the bill with their hints at additional dates after an enthusiastic fan response to the announcement, and you've got a recipe for a rabid fanbase come March.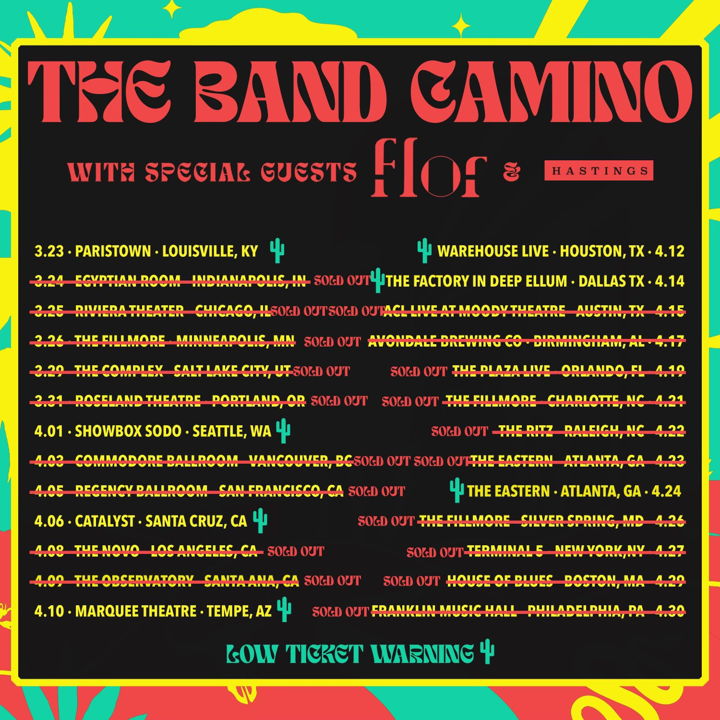 Their last tour came in late 2019, so it's understandable where that appetite came from. Of the 26 dates currently on the schedule, 19 have already sold out, and the other 7 have been slapped with a "Low Ticket Warning" label.
We're only too happy to help The Band CAMINO get ready for their upcoming string of shows. Ahead of their hometown gig at Orpheum Theatre in Memphis tonight, Jeffery Jordan, Spencer Stewart, and Garrison Burgess gave Bandsintown an exclusive look at the songs they'll be throwing on during their downtime on tour. The list is quite the eclectic collection; their own native genre is represented, as are grunge and European techno-pop. Thank us later.
"We've been friends with Martin (The Night Game) for years and he actually took us on one of our first tours. Then we met the Revolverheld guys in Germany – they're awesome."
"Extremely British. We've been Mura Masa fans for a while and just learned about slowthai and are loving his music. It reminds you of the throwback grunge era."
"Sucker for a good piano ballad. The song's chorus melody is also A1."
"The production is WILD. It has a cool take on a very simple chord progression."
"Fantastic – it has really specific lyrics that paint an awesome picture."
"Love how simple this song is, and the repetitiveness in the chorus just feels so comfortable."
"Just love the quirkiness of this one."
"It sounds like you're listening to a show at a metalworking shop."
"Love the full-time indie rock vibe on this track."
"It's just a vibe; love the simplicity of all the parts."