Ever since Kings of Leon made headlines for becoming the first band to release an album as an NFT back in March 2021, superstar artists from Grimes to 3LAU have embraced the new technology. One area we haven't yet seen explode, however, is NFTs within the emerging artist community. To bring these opportunities to a new generation of musicians, Bandsintown and Bondly, the premiere NFT solutions provider empowering the next generation of NFT creators, announced today a new partnership surrounding Bandsintown's data-driven emerging artist program, Big Break.
Since its launch in 2017, Bandsintown's Big Break has identified and supported some of your now-favorite artists on the rise, including alumni like Yungblud, Omar Apollo, The Marias and Cautious Clay. Continuing its mission to promote emerging artists across Bandsintown's network of live music fans and beyond, the program will now bring the immersive world of NFTs into the fold during monthly livestreams, where audiences will have the opportunity to not only discover new music, but receive a free, exclusive Big Break NFT associated with each artist.
Available only during one-time livestreams, the Big Break NFTs will be made in collaboration between each Big Break act and an emerging visual artist. Mixing the visual artist's aesthetics and each act's unique taste and style, the NFTs come in the form of a collectible virtual tour laminate that commemorates the show details and celebrates their creative effort. Via blockchain, fans will forever own proof of attendance of the artist's early show and have a vested interest in supporting their future. Artists will be able to nourish the relationship with their NFT holders and fans through the Bandsintown for Artists Direct to Fans free messaging platform.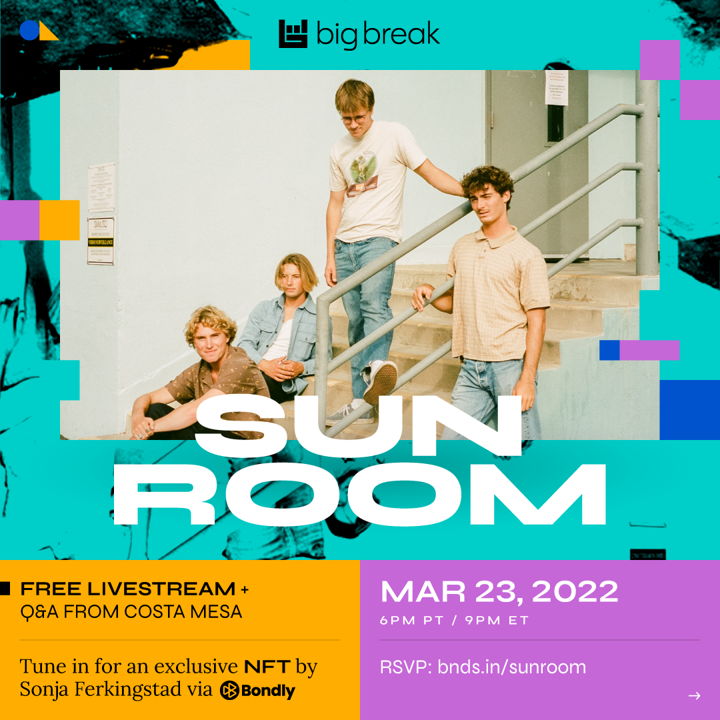 The first stream is set to take place March 23 at 9pm EST / 6pm PST with surf rock band, Sun Room, who recently announced an opening spot on Louis Tomlinson's U.S. tour and Inhaler's E.U. run. The Southern California quartet have teamed up with visual artist, Sonja Ferkingstad to create their virtual laminate, which will be minted and distributed by Bondly. Additional acts and livestream show dates will be announced on Bandsintown's social channels and blog in the coming weeks.
Throughout 2022, these livestreams will see a pairing of 10 emerging music acts and 10 emerging visual artists. Collecting all 10 NFTs unlocks a bonus NFT of the 'Big Break' poster art which will showcase the entire series, in addition to a physical print of the poster. More than ever before, audiences can showcase their support for rising talent with the added benefit of blockchain-based evidence that they were there to watch these artists in the early phases of their career.
"So many large artists have profited off NFTs, but not enough has been done across Web3 to support emerging artists when they need it most -- at the earliest stages of their careers,'' said Fabrice Sergent, Bandsintown's managing partner. "Bandsintown has always been first to leverage technology to help artists build sustainable futures."
Be sure to set a reminder to tune into the show on March 23 here to claim your free NFT!