Last month we announced the launch of our monthly livestream series that not only spotlights the 10 emerging artists that have been rising the fastest on Bandsintown, but also allows fans to snag a free NFT during the show.
We're pumped to announce that the second act to take the Big Break virtual stage will be Brooklyn-based bedroom-pop duo Boyish.
From securing opening slots on tours with Hippo Campus and Remo Drive to being named the recipient of the 2021 LGBTQ+ Emerging Artist Award, the Berklee College of Music alums have been busy the past few months to say the least. Before they embark on their next tour, Boyish will be giving fans who haven't gotten the chance to see them IRL the opportunity to do so during this one-time-only stream.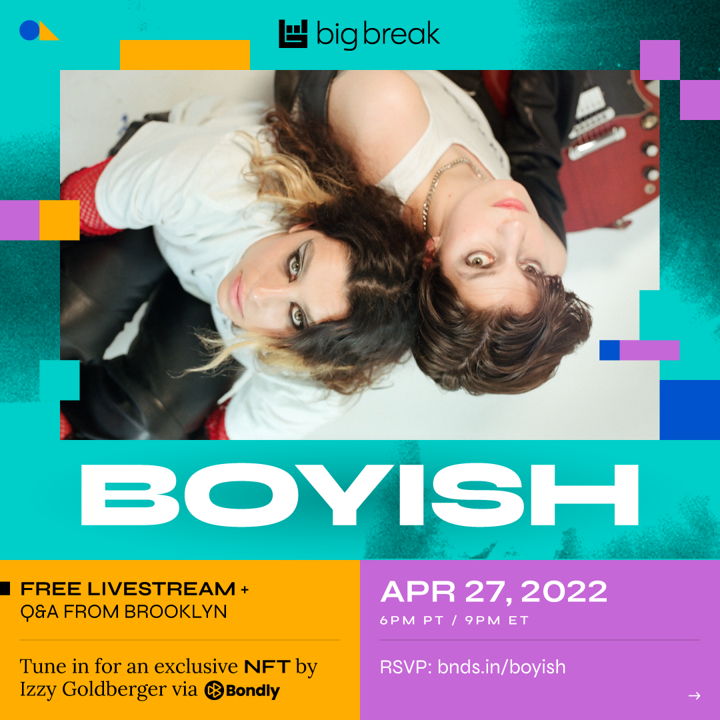 Taking place on April 27th at 6pm PT/ 9pm ET, the show will be followed by a live Q&A hosted by Hannah Rad. The duo have also teamed up with visual artist, Izzy Goldberger, to create their NFT virtual laminate, which will be minted and distributed by Bondly. Fans who tune into and collect all 10 NFTs throughout 2022 will unlock a bonus NFT of the Big Break poster art which will showcase the entire series, in addition to a physical print of the poster.
Make sure to set a reminder for the livestream here so you don't miss out next week!