It's hard to believe that Alex O'Connor, better known as Rex Orange County, is already on a tour for his fourth album at the ripe age of 24. I clearly recall stumbling upon his 2016 EP "bcos u will never b free" on Soundcloud over six years ago, and telling all my friends about this kid. Even then, Rex was not only an incredibly talented singer-songwriter/rapper, but also a musician whose seemingly nonchalant melodies express a vulnerability that is well beyond his years. But how would that translate into a live show to thousands at Forest Hills many years later?
Kicking off the concert season at Forest Hills and playing his first NYC show since Radio City Music Hall right before COVID, Rex appeared before the crowd in a bright orange sweats set - his presence alone appeared to break the dense fog that had assumed the city on Saturday night.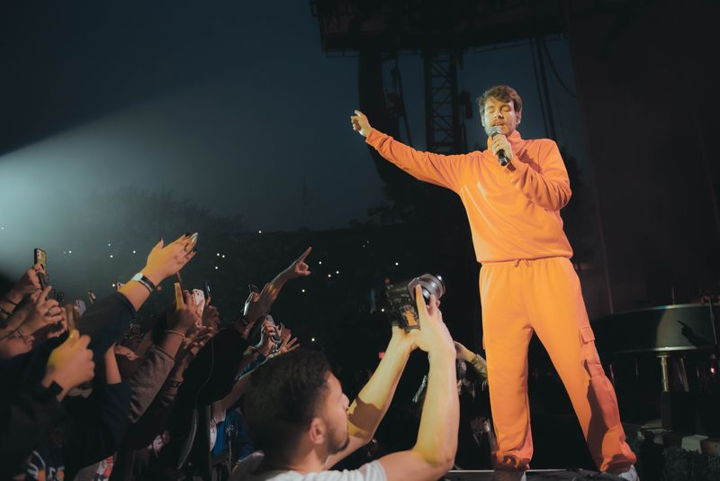 Photo by Joyce Lee
It's hard to believe, but Alex already has a long collection of greatest hits. Although none of his songs can even be remotely considered sleepers, it's clear that after playing a new song that's barely been out, he has a multitude of bangers to pull out to get the crowd going. He kicked off the show with a few songs from his new record "Who Cares?" before jumping into "Television/So Far So Good," which has a dramatic chorus that paired perfectly with the music-synced lights, the combination of which electrified the crowd like no other. As he meandered seamlessly through his setlist, Alex switched between piano, guitar, and playing front man. Buzzy moments were softened with his cover of "Loving You" by Minnie Riperton and the near a capella whistle, sing-songy "Corduroy Dreams" from his debut EP, which he played alone without a backing band. Truthfully, Alex could have played a show alone with no instruments, no backing band, no stage props and still deliver a stellar show, but the live jazz band, neon thumbs-up figures (his current logo!), and sunflowers adorned with disco balls all add to the happy and otherworldly atmosphere.
During the last half hour of the show, Alex asked the crowd to up their energy and the crowd responded by stomping the bleachers, screaming, and clapping as Alex played through "Never Enough," "Best Friend," and "Sunflower." Although these songs are his older ones, they retain the same effervescence as they always have, and exude a type of pure joy that is rare in a world where bad news frequent headlines. Throughout the night, Alex showed his growth as a performer who has grown up quickly in the industry. The version of Alex at Forest Hills has a lot more knowledge in life and love than the kid who played one of his first American live shows at the Music Hall of Williamsburg years ago. On Saturday night, despite playing in dreary weather on an outdoor stage, Alex fought the elements with uninhibited energy and demonstrated he is both a veteran and just starting his career at the same time as he exhibited a care-free energy that is matched with immaculate crowd control.
Photos by Joyce Lee