For the fourth Big Break livestream of 2022, we are spotlighting Los Angeles born and bred, Brandon Banks, who recently released his stellar third EP, Natural Progressions.
Following shows earlier this year with Sun Room, Boyish, and La Doña, the Big Break performance on June 30th will give us a peek into the world and music of Banks, who has become known for his buttery vocals, introspective lyrics, and cinematic visuals. Off the back of two critically acclaimed EPs, Brandon recently wrote "Mountains" off Charlotte Day Wilson's album ALPHA, which was sampled for Drake and Travis Scott's global hit "Fair Trade".
Fans who attend this livestream will be among the first to hear his spectacular collection of new songs live ahead of his upcoming US headlining tour this fall.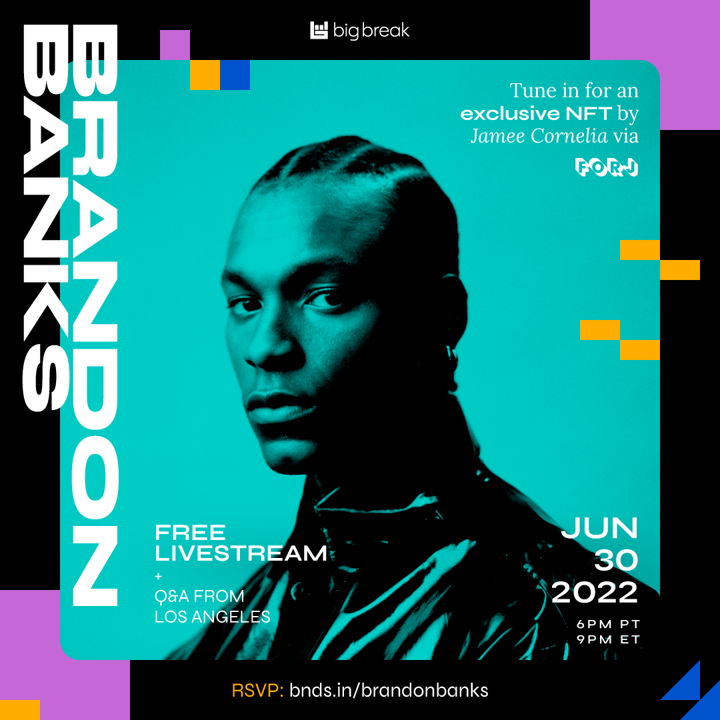 The show is taking place on June 30th at 9pm ET / 6pm PST, and will be followed by a live Q&A with our host for the evening, Hannah Rad. Those who tune in will be able to claim a free NFT designed by Jamee Cornlia, made exclusively for attendees of this stream. Minted by Forj, this one-of-a-kind NFT will be the fourth in our Big Break series. Fans who collect all 10 NFTs throughout 2022 will unlock a bonus NFT of the Big Break poster art which will showcase the entire series, in addition to a physical print of the poster.
Make sure to set a reminder for the livestream here so you don't miss out next week!