To follow Shamir through the years is to witness an artist constantly at work on their craft—a true creative who is consistently dabbling with genres, soundscapes, and mediums to produce something that speaks to his here and now. From 2014's effortlessly cool single "On the Regular" that touches on the prospect of youth to 2021's chapbook of essays that chronicles his collection of paintings, the Las Vegas native never fails to let us in on where he's at in life.
This year saw the release of Shamir's eighth full-length album, Heterosexuality, which sees the multi-hypenate artist confront his queerness explicitly in music form. Produced by Isaac Eiger, a member of the band Strange Ranger, the LP is a dazzling display of what happens when relentless drum machines, poignant lyricism, and a strong visual aesthetic come together cohesively. Give songs "Gay Agenda" and "Abimination" a spin for a quick rundown of what we mean.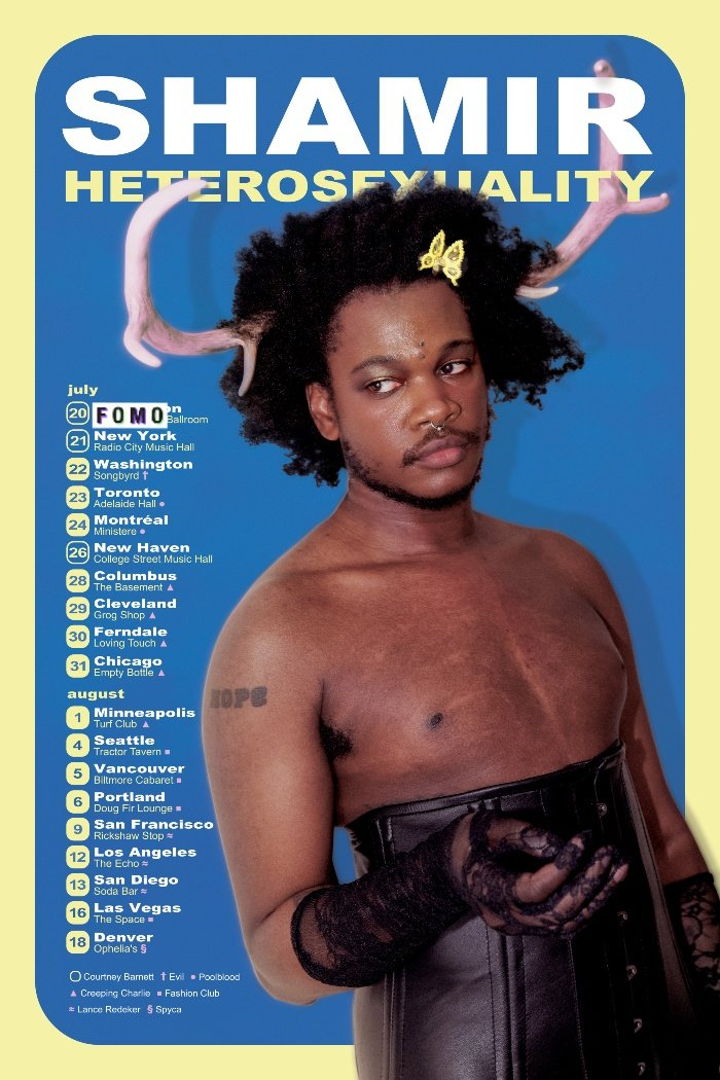 Since the album was released in February 2022, we've been imagining what this collection of songs will sound like live, and how Shamir will present them to fans IRL. Luckily for us the wait is over, as Shamir's Heterosexuality tour kicks off this week. Starting on July 21st at Radio City Music Hall where he'll be opening for Courtney Barnett, this run includes headline dates that will take him through cities like Toronto, Montreal, Chicago, Portland, and LA before wrapping up on August 18th in Denver.
Before he hit the road, we asked Shamir to compile a playlist of songs that he'll be bopping to in-between shows. Check out why each of the tracks made the list below, then make sure to follow him on Bandsintown.
"This is such a catchy and relatable jam. I cannot wait to see what the future holds for Wallice."
---
2. 'Don't Wanna Talk' - Wallows
Track
"This is to be expected.... Everyone knows I'm a Wallows STAN."
---
3. 'All Your Exes' - Julia Michaels
Track
"Julia Michaels at peek scorpio vibes."
---
4. 'Your Life Your Time' - Christian Leave
Track
"Love this song and his voice. I'm also excited for the future of this young artist."
---
5. 'I Eat Boys' - Chloe Moriondo
Track
"What a fun and sweet song. Great voice!"
---
6. 'Brutal' - Olivia Rodrigo
Track
"What can I say? She did what she had to do, she's successful for a reason!"
---
7. 'Last Day on Earth' - beabadoobee
Track
"I've loved beabadoobee for the longest. She simply doesn't miss."
---
8. 'Hank' - Friendship
Track
"This is literally a perfect song. 10/10 no notes!"
---
9. Knifey - Amyl and The Sniffers
Track
"Amy is one of the most exciting voices in punk. God bless this incredible band."
---
10. 'Gameboy' - Hook
Track
"Hook is on an absolute different plane than the rest of us..."