If you've not yet familiarized yourself with SoCal singer-songwriter, Alix Page, get ready—this indie pop powerhouse is here for the long haul. The newest member of the Big Break family has had us under her spell since the January release of her debut EP, Old News, which was self written and produced by Half•Alive's Brett Kramer. And we're not the only ones, either—the "Stripes" songstress has recently hit the road with everyone from Gracie Abrams to Waxahatchee to Ricky Montgomery.
Now she's going to give us a taste of the what the album sounds like live during a performance and Q&A from Long Beach exclusively for Bandsintown. As the fifth show in the Big Break 2022 series, the stream will take place on July 27th at 6pm PST/9pm EST and will be hosted by Hannah Rad.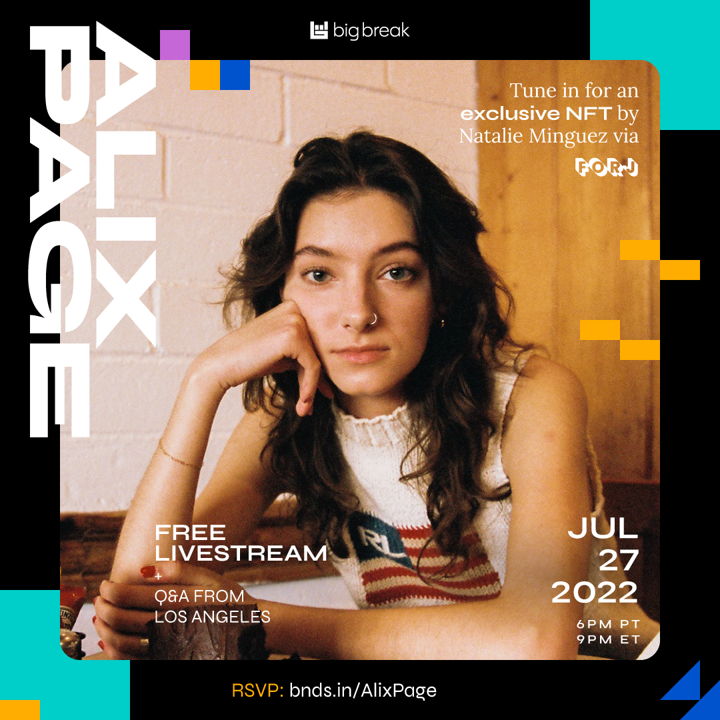 Fans who attend the livestream will be able to snag a free NFT minted by Forj and designed by Natalie Minguez, an award-winning multi-disciplinary artist based in Orange County. Minguez is one of Alix Page's ongoing collaborators for all-things-design, and the NFT itself is an adaptation of the Old News album artwork.
As a reminder, attendees who collect all 10 Big Break NFTs throughout 2022 will unlock a bonus NFT of the Big Break poster art which will showcase the entire series, in addition to a physical print of the poster.
Make sure to set a reminder for the livestream here so you don't miss out next week!