It only makes sense that a stellar bassist has created some of the best funky, disco-indie pop tracks that we've heard in recent years. Bass isn't her only passion though—Blu DeTiger is also a badass singer, songwriter, producer, and DJ that has been cutting her chops since she was a kid growing up in NYC, performing in clubs like CBGB since she was seven-years-old.
After two years at NYU Tisch's Clive Davis Institute of Recorded Music, the rising multi-instrumentalist began writing and recording her own music, which culminated in the release of her breakout independent debut EP, How Did We Get Here?. The album played home to "Figure It Out," a stellar song that took on a life of its own during the rise of 2020's TikTok takeover.
While her TikTok fame and exceptional bass skills are both of note, her distinct sound is what makes her stand out from other artists out there. Her discography is incredibly diverse, containing songs that range from club kid anthems to indie pop bangers. She does, however, always stay consistent with her signature bass lines which give an inherent groove to her songs—something we've come to expect and love from her.
She's entranced us once again with her latest single "Elevator," which was released in October. A song about the ups and downs of a toxic relationship, "Elevator" perfectly encapsulates youthful nonchalance and being completely over someone for good. The lyrics are fun and campy, and she's blessed us with a reminder that sometimes cuffing season approaching doesn't mean settling for lames.
To accompany her new music, DeTiger is setting out on tour today, November 3rd in Boston with opener Tiffany Day. Blu DeTour is running across the US and hitting some killer venues like The Observatory in Santa Ana and Scoot Inn in Austin. Tickets are on sale now, but you have to snag them quickly because they're going like hot cakes.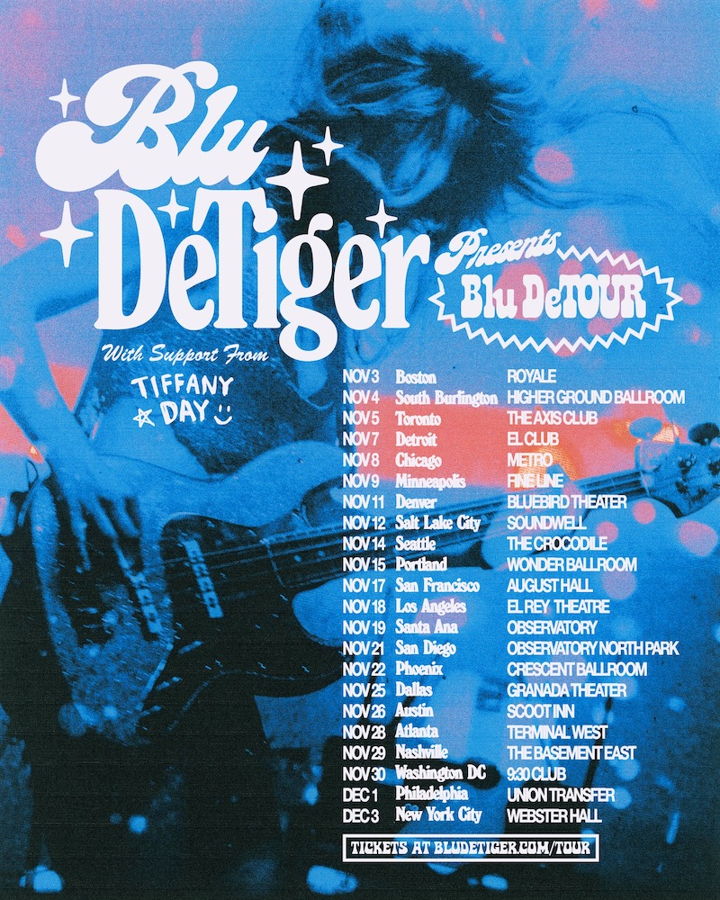 If you can't wait to see Blu DeTiger live, she's got you covered. She compiled a playlist of her favorite songs to listen to on the road between gigs. It's got everything from LCD Soundsystem to Charli XCX, so you're bound to find something you love. Keep reading below, and don't forget to follow her on Bandsintown!
"Prince always gets me in the right mood."
"I was obsessed with this song when I was about 14 and every time I hear it now it brings me back to those memories."
"Ravyn Lenae is so cool and I really like the groove of this song. It gets me moving."
"A classic."
"An older track from Doja that is really fun."
"I can't help but move when that beat kicks in. It always gets me."
"If this comes on I'm jumping and screaming the words."
"I used to play this song a lot in my DJ sets a lot. The drum beat and guitar stabs are just the coolest thing ever."
"I love this Ting Tings album. It's so fun."
"Suddenly I'm in a dark club on Halloween."
"Makes me feel hot! Perfect for right before the stage."