Concert Review: Lucius At First Avenue
Live from Minneapolis, MN!
REVIEW
Live from Minneapolis, MN!
When you have the chance to see Lucius live, you do not stay home! My friend and photographer Emmet Kowler and I were excited to see the Brooklyn band's set at First Avenue Mainroom last Wednesday. After entering the venue, we strolled over to the merch tables and cheap coat check. There, nonprofit—and nonpartisan—voter registration group Headcount had set up their booth. They lured people over with stickers, buttons, earplugs, and other fun takeaways. Traffic looked a little slow at the start of the night, but most people were angling to get a good spot on the floor early on for an up-close view of Lucius later. Still, Brandon Londo, Headcount's Minneapolis Team Leader, and two volunteers, were at the ready for questions and to get eligible voters registered ahead of this fall's coming election.
I took advantage of their free time to ask a little bit about the organization. These days it seems so rare for any cause to be nonpartisan, let alone one related to voting, and still yet, at the merch table of a concert. "The goal is just to increase participation in the process," Londo explained to me. "So, increase civic engagement, and get people out and engaged in the democratic process in this country, because it's a privilege, right? We get to vote, and a lot of people can't vote in other parts of the world. So get out, exercise that right, participate, understand what affects you, and let your voice be heard."
Being present at rock shows, with audiences that skew under thirty years old, is a great way to get noticed and accomplish that goal. I myself was even registered to vote back in 2008 outside of a music venue (though not by Headcount). What doesn't change over the years, Londo pointed out, is that "the young folks get really excited about it. It's their first election, they're really passionate about their candidates, passionate about what affects them, so that kind of stuff gets them excited about what we're doing…. We show up and we just hope we can get as many people registered as possible."
Pure Bathing Culture | Photo by Emmet Kowler
Pure Bathing Culture opened with dreamy crooner "Dream the Dare" off their 2013 LP Moon Tides. Lead singer Sarah Versprille embellished the notes in a style similar to Lucius, aggressively charming the crowd with searching eyes. Her immediate comfort and control onstage brought the crowd to attention. While most of the people in attendance weren't familiar with their repertoire, I didn't see anyone texting or choosing an alternate distraction. The band's full surround sound and energy on stage were infectious; they proclaimed themselves on their second tune, the "charm brings you in."
"We're so excited to be here with Lucius!" Versprille announced, to the roar of the crowd. It was hard not to get caught up in the excitement, even while wedged between bodies at the front of a sold-out show. They continued with many more songs from their latest release Pray for Rain, including the dance-y "She Shakes"—showing off their talented bass guitarist, Zach Tillman. Their sound is undeniably influenced by the '80s, yet I have the feeling it's a genuine interest, as they probably lived through that decade at an age to remember it. That haze and synth is joined by modern jazz, rocking anything from ballads to bossa novas; Versprille as their fearless leader and Daniel Hindman close by on guitar.
The anticipation for Lucius was like static electricity, sparks of whispers darting between friends and strangers alike. The clapping started early, shouts and yells impatient, but as the screen on the stage finally rose to reveal the duo, the roar was slightly deafening. Decked out in the fabulous and original costumes they're known for, Jess Wolfe and Holly Laessig opened with "Dusty Trails" and the appropriate words, "We've been gone for such a long time, that I'm almost afraid to go on." They've had a strong fan base here ever since they graced the stage at Rock the Garden last summer, and First Avenue was rejoicing in their return.
They hailed back to loyal fans with "Tempest" and "Telescope", to which everyone sang along. There were white haired men in the front row, dancing, and underage kids excited to be out at a show they love and that their parents would approve of. In response to this reception, Jess Wolfe shouted back at us: "First night of tour, and this?!" Both her and Laessig were beaming most of the evening, having fun onstage, playing the songs for essentially the first time, as they admitted.
Lucius | Photo by Emmet Kowler
Departing from strict album arrangements, Lucius has created something rather new for the stage and tour: live, vibrant, and in the moment. It was absolutely glorious. Their voices stood out even better without effects, and you knew there were no pre-recorded pieces hiding in the mix. Despite the continued focus on their appearance, the frontwomen transcended their costumes; these elaborate fabrics allowing them to be something more than human. This truly was a live production, a show, a piece of quality entertainment driven by a passion for the music and a desire to communicate that delight to the rest of us.
The men in the shadows, Dan Molad, Peter Lalish, and Andrew Burri, even got their turn in the light. The previous day had been Dan's birthday, and a cake was brought onstage with candles. He blew them out after both band and crowd sang "Happy Birthday", and he took a piece to eat right then and there. "Danny LOVES cake!" Wolfe couldn't help adding. In that moment, I finally identified the atmosphere of the evening: it was one of celebration—of their album, the beginning of tour, their success as a band, and simply the joy of live music.
Lucius | Photo by Emmet Kowler
Out in the crowd, we were having our own massive dance party, caught up in the rush. Lucius built on that this intensity by reenacting the fight they had right before recording the album version of "Good Grief". Ripping out their ear monitors, Wolfe and Laessig shook and writhed in their skin, almost exploding in the energy they exuded. In the rows just in front and below them, we were the ones going insane.
Lucius with Gaelynn Lea | Photo by Emmet Kowler
However, it was when they left and returned for their encore several songs later that us Minnesotans truly lost our minds. 2016 NPR Tiny Desk Winner Gaelynn Lea, a native of Duluth, joined them onstage. Wolfe and Laessig were judges in this year's contest, and they couldn't resist wanting to share their love of live music with this very special someone. I started tearing up as the noise from the audience reached a ridiculous level, coming from a place of sheer pride. Then in rapture, this proud Minnesotan crowd stood silently as Lucius and Lea performed "Two of Us on the Run."
(video via The Current)
Lucius | Photo by Emmet Kowler
Lucius | Photo by Emmet Kowler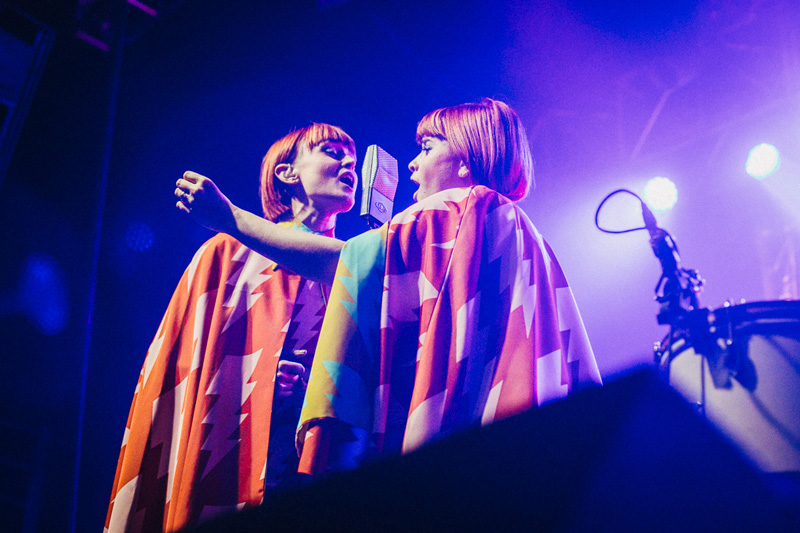 Lucius | Photo by Emmet Kowler
Lucius | Photo by Emmet Kowler
163001
Lucius
No upcoming concerts. Track Lucius on Bandsintown to see when new tour dates have been added!
More from Bandsintown